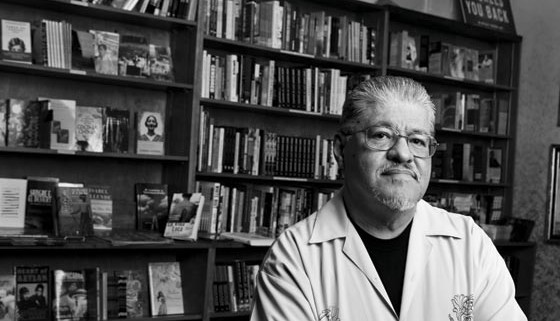 Luis J. Rodriguez, author of the memoir Always Running: La Vida Loca, Gang Days in L.A., understands that his former lifestyle is public knowledge and is often used to suppress him.
However, he embraces this inescapable "cholo" image. He says it shows his exemplary transformation, which is something he believes he can bring as governor of California.
"We need to have real voices that are going to take on the system," Rodriguez said about his background and the issues of poverty that government officials pass over. "We need to put power back in the hands of the community, back in the hands of the gente."
Rodriguez advocates for exposing the reality of California. His campaign emphasizes that California has the eighth largest economy in the world, but some of the worst poverty rates in the country. California, also, is among the worst states in arts and education funding but has the second largest prison system after the U.S. federal prison system.
Poverty is Rodriguez's platform because he asserts, "everything stems from there." He states that the poor are left out of the decision-making process and that financial budgets are balanced on the backs of the poor—balanced in ways that limit their resources. For instance, Rodriguez said that Governor Brown's budget includes cuts to CalFresh, CalWorks, and other needed services.
Money is there to effect what he wants to do, Rodriguez says. The state just needs to re-prioritize, and distribute the necessities: health care, education and housing to those who are in need, not only to those who can afford them.
With the largest commercial port on the Pacific Rim, a fair taxation policy, will bring in billions of dollars, Rodriguez believes. He supports an oil severance tax, of which California is the only location on the planet to not have one.
Furthermore, Covered California, he says, is wasting billions of state dollars. He states that a single payer fully subsidized healthcare system will save money. In addition he feels that current tax dollars used to house adult and youth prisoners—more than $40,000 for adults and more than $200,000 for youth—can be used instead for mental and drug rehabilitation, job training, arts, education, and mentorship programs and facilities.
With an ambitious plan ahead of him, the first task for Rodriguez is getting his name on the ballot for the 2014 primary election for governor. His campaign has aimed at receiving 20,000 registered voter signatures, although the requirement is 10,000. February 20th is the deadline to sign Rodriguez's petition.
"Students have been one of the largest group of people that have come out," Rodriguez said. Currently being planned is a "Rodriguez for Governor" campaign event at UCLA. Rodriguez senses that students share his same frustrations and seeks to foster that support.
He's received the support of the Green Party. Rejecting corporate endorsements because he doesn't want any and won't receive any, Rodriguez is relying on a grassroots plan. Despite having a long way to go, Rodriguez remains confident that he'll get his name on the ballot.
He encourages those who'd like to learn more about his vision and his petition, to visit rodriguezforgovernor.org.
https://lagente.org/wp-content/uploads/2014/02/Luis-Rodriguez-For-California-Facebook.jpg
373
560
Michael Reyes
https://lagente.org/wp-content/uploads/2014/04/LAGENTE156H.png
Michael Reyes
2014-02-04 17:21:55
2014-02-06 04:10:04
Believing in a New California, Luis J. Rodriguez runs for governor