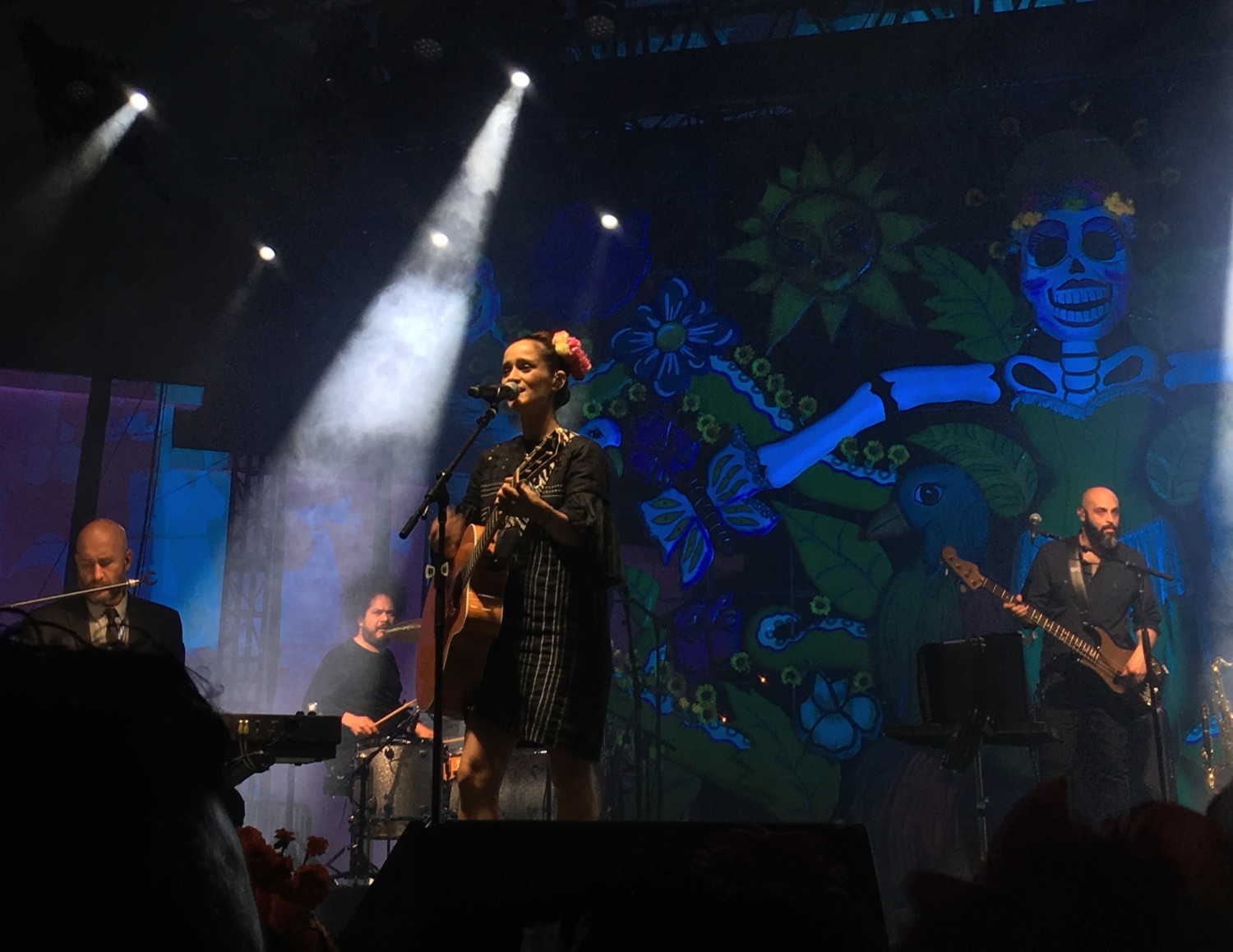 On Saturday October 29, many gathered at Hollywood Forever Cemetery to celebrate its 17th annual Día de los Muertos festival.
Dia de los Muertos originates from indigenous cultures and continues to be practiced today within families and across communities. It is a day in which both death and life are simultaneously celebrated, exhibited perfectly with the setting and celebrations that took place at the venue.
Hollywood Forever is the only cemetery that allows for a Día de los Muertos festival to occur on its grounds. This yearly festival began as a way to celebrate the holiday while bringing communities together. Modern visuals and traditional altars created by the Latina/o community bring tradition and the contemporary together.
This year's theme, "El Arbol de la Vida," filled the venue with excitement and vitality.
The day began at noon with altar exhibits, folklorico, Aztec dances and rituals, arts and crafts, and an abundance of musical performances. The event was filled with a multitude of people dressed in their very best costumes and Catrina attire to celebrate, remember, admire and enjoy Día de los Muertos, their ancestors, and loved ones.
As people entered the event, they were greeted by a multitude of food, flowers and other excited patrons. Alongside the cempazuchitl filled pathways were altars created in remembrance of family members, friends, and poets.
Among the musical performances was a special tribute to the late singer, Jenni Rivera. The musical tribute to Jenni Rivera created anticipation among the crowd as the stage was closed off from the public's view to prepare for the surprise. The crowd waited anxiously as the screen revealed a hologram of the singer performing "Cuando muera una dama." Fans revelled in surprise as they Jenni Rivera's voice.
As the night continued, the beautiful Tree of Life performance by Long Red Feather narrated traditions of Dia de los Muertos. The performance depicted Aztec mythology of the underworld and life through dance.
Mexican singer Julieta Venegas arrived to an excited crowd. The singer, known for her bold accordion, took the stage alongside her band. The set opened up with "Esperaba," a song off their latest album Algo Sucede. Julieta Venegas' contagious charisma and dance moves moved through the crowd. The singer's setlist consisted of other new songs, among them "Ese Camino" and "Buenas Noches, Desolacion." Old favorites such as "Limón y Sal," "Eres para Mí," and "Amores Platónicos" were also performed. Julieta Venegas' funky folk tunes resonated throughout the Hollywood Forever Cemetery.
As the singer and musicians walked away at the end of their set, the crowd chanted in unison for an encore. After a couple of minutes filled with praises and chants, the musicians appeared on stage for a final song. The singer finished off her set in an upbeat tone with a fan favorite, "Andar Conmigo," a single off of her Grammy nominated album, Si. All across, fans joined in singing along with the artist.
After the last verses were sung, Julieta Venegas and her band gathered at center stage to take a final bow marking the end of Hollywood Forever's musically infused Día de los Muertos festival.
https://lagente.org/wp-content/uploads/2016/12/IMG_6860-1.jpg
2325
3011
Cristina Gonzalez
https://lagente.org/wp-content/uploads/2014/04/LAGENTE156H.png
Cristina Gonzalez
2016-12-01 20:24:42
2016-12-01 20:25:59
Dia de los Muertos at Hollywood Forever