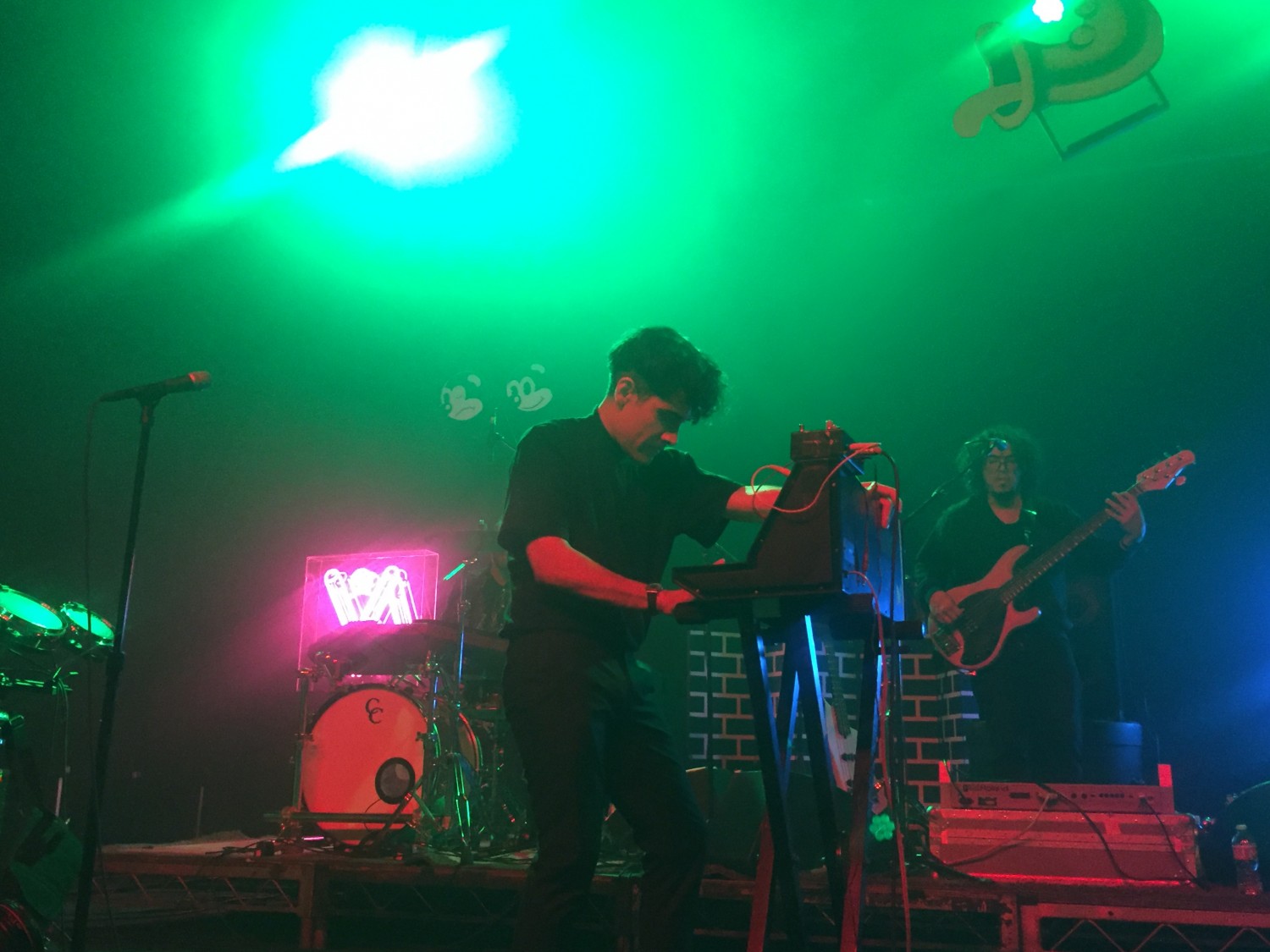 After a five year break, Neon Indian played a sold out show at the Fonda Theater in Los Angeles this past Wednesday night. Alan Palomo, who heads the project alongside his brother Jorge Palomo and other fellow bandmates, released their third album on October of 2015 titled VEGA INTL. Night School. The album met favorable reviews from both critics and fans alike, and excitement sparked on the possibility of a tour, especially after such a long period of inactivity. As many hoped, tour dates were announced back during the month of December 2015.
The night of, several fans lined up outside the theater by 6 p.m., sat on the ground, ate snacks, and talked with fellow fans about their expectations for the show. Doors were scheduled to open until 8 p.m., so there was ample time to hear hushed and loud declarations of how for some this would be their first time seeing the act live or how they had waited a long time for such an opportunity to arise.
The lineup included two opening acts: Charles and Palmbomen II. Charles, who identify as Dream Pop and Italo Disco, consists of Charlotte Harlott and Uncle Charles. They began playing at 9 p.m. and had a set that lasted about 25 minutes. Their set up was intriguing, to say the least. With a screen tripod that displayed repetitive images and videos of people dressed in 70s disco fashion, a couch, and a living room table, Uncle Charles sat lounging on the sofa as he simultaneously played bass, ate Doritos chips, and drank beer, while Harlott stood and attempted to brighten up their image with upbeat dancing. They received a mixed reaction: some fans liked their no pretensions and no trying approach, while others looked on in a state of confusion.
At 9:45 p.m., Palmbomen II took the stage only armed with his synth board. A one man show led by Kai Hugo, from Amsterdam, Netherlands, he stood center stage framed by long and bright strobe lights on either side and gave the audience some pumping beats that had people bobbing their heads along. Hugo's songs followed one another seamlessly and played at the same rhythm of the lights that flanked him by his sides. The lack of vocals, though, made the set seem much longer than it was and some fans felt impatient for 11 p.m. to come, with Neon Indian in tow.
When time finally came for Neon Indian, the curtains lifted up from the stage to reveal a set up that resembled the album cover of VEGA INTL. Night School. The blue neon sign announcing "Night School" in cursive letters was nestled in the background to the right of the stage and the VEGA logo to the left. Palomo and his fellow bandmates walked onto the stage and assumed their positions as fans cheered incessantly.
They opened with a track from their new album, titled, "Dear Skorpio Magazine," which produced an urgency to dance upon the entire audience. Palomo swiftly sidestepped, shimmied, and thrusted all throughout as he multitasked between playing electronic drums, turning knobs on his synthesizer, and singing. He did all this despite being sick, which he announced shortly after their first song. Every once in awhile, he could be seen drinking from different containers off to the side, which appeared to hold water, coffee, and medicine to soothe his throat.
Neon Indian kept the great energy going by playing a lot of material from their new album, as well as some old fan-favorites. Highlights included "Annie," "Terminally Chill," "61 Cygni Ave," "Slumlord," and "Deadbeat Summer." "Deadbeat Summer" marked the ending of their set, which lasted about an hour, and though Palomo pretended that they would not come out again to perform an encore, about five minutes later they were up on stage playing "Polish Girl," their most popular song to date and ultimate hit amongst fans. They ended on a positive note by closing with "News From the Sun," as a gentle reminder that after the darkness of the night, everyone always looks forward to the light of the sun.
As first impressions go, this concert did not reveal what an amazing night it was going to be. In spite of a few bumps, Neon Indian successfully took fans through a tour of their night school and rewarded them with dancing hearts.
Neon Indian's tour will continue on in the U.S. until Saturday, May 14th. If you have the chance to see them play at any of their stops, don't hesitate to do it!
https://lagente.org/wp-content/uploads/2016/02/IMG_2996.jpg
2448
3264
Maria Perez
https://lagente.org/wp-content/uploads/2014/04/LAGENTE156H.png
Maria Perez
2016-02-26 16:42:26
2016-02-26 16:44:00
Neon Indian Leads a Party at–6126 Hollywood Blvd?!