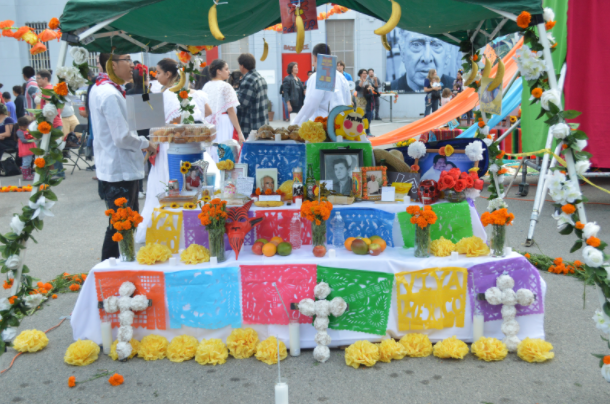 Bad weather conditions did not stop UCLA students from celebrating Dia de Los Muertos.
UCLA Professor Martha Ramirez-Operaza, in collaboration with UCLA's Chicana and Chicano Studies students, organized a Dia de Los Muertos event that took place this past Sunday, October 30th, at the Social and Public Art Resource Center historic headquarters in Venice Beach, California.
"Dia de Los Muertos" is a festive holiday celebrated in Mexico and in various parts of the United States where there is a strong sense of Mexican heritage. For many, November second is often viewed as a day of celebrating–rather than mourning–the dearly departed. It is believed that on this day the spirits of the ancestors will visit the altars and enjoy the ofrendas, which consist of food and other objects with sentimental value that they enjoyed during their lifetime.
More than ten colorful altars representing different regions of Mexico surrounded the Social and Public Art Resource Center. Pictures of the departed, sugar skulls, papel picado and flores de cempasuchil (Mexican Marigold) were some of the various ornamental elements used to decorate the altars.
The event began with a ceremony traditionally carried out to invoke the spirits to join the celebration followed by ten minute presentations by UCLA students at the altars, where they explained the significance of Dia de Los Muertos and other special traditions.
The attendees were able to enjoy the traditional pan de muerto, champurrado, and ponche, among other typical Mexican dishes.
For many, Dia de Los Muertos highlights the idea of community. Hector Sanchez-Perez, a fifth-year Biology student at UCLA, cherishes the strong sense of community that such a significant celebration brings, which is strongly encouraged by Professor Ramirez-Operanza. "[Professor Ramirez-Operanza has] is really driving home the theme of the community." Professor Ramirez-Operanza is often called "temachtiani," which according to Sanchez-Perez, means "teacher of great things"—a testament to the respect and admiration she has garnered from her students and the wider UCLA community.
Similarly, Sra. Maria Conde, a participant of the event, believes that community is very important. "Visitar a los amigos que tienen sus ofrendas puestas, poner la mia y visitarnos unos con otros es mi tradición favorita," Sra. Conde said.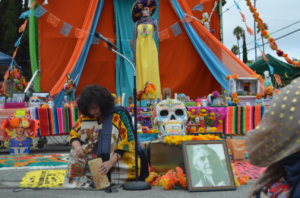 Individuals of all ages, who commemorate the spirits, have traditions that make this day even more special. Some people like setting up the altar and ofrendas, others making sugar skulls, or simply the idea of honoring their loved ones.
For third grade  Broadway Elementary student Karla Gonzalez and fourth-year UCLA student Veronica Martinez, the experience of setting up an altar is at the top of their favorite Dia de los Muertos traditions. "The best thing about making an altar is honoring the person that has passed away and most importantly, making this event be about the celebration of life, and having a happy connotation to death rather than the darkness [and] sadness typically associated with death, " said Martinez.
"My favorite tradition of Dia de Los Muertos is when you make the altar, because I like setting up pictures of people who passed away and setting up the food," said Gonzalez.
In many cultures, the skull represents a sign of death. For Dia de los Muertos, this holiday symbol can turn into a fun and creative activity. For Zac Reyes, a second-year political science major at UCLA, face painting of the half-skull continues to be his favorite tradition.
"[The half-skull] is supposed to show the quick transition between life and death," said Reyes.
Likewise, Rosa Contreras, a second-year student at UCLA, enjoys the sugar skull and face painting aspect of the festivities because she "really likes being creative."
UCLA educators and students understand the importance of maintaining tradition alive. By conducting the celebration of Dia de los Muertos every year, they continue to preserve the memory of their beloved while informing others about the beautiful customs of this significant day.
https://lagente.org/wp-content/uploads/2016/12/Screen-Shot-2016-12-15-at-7.14.46-PM.png
404
610
Maria Amaya
https://lagente.org/wp-content/uploads/2014/04/LAGENTE156H.png
Maria Amaya
2016-12-15 22:07:48
2016-12-15 22:07:48
UCLA Students Keep Dia de los Muertos Tradition Alive