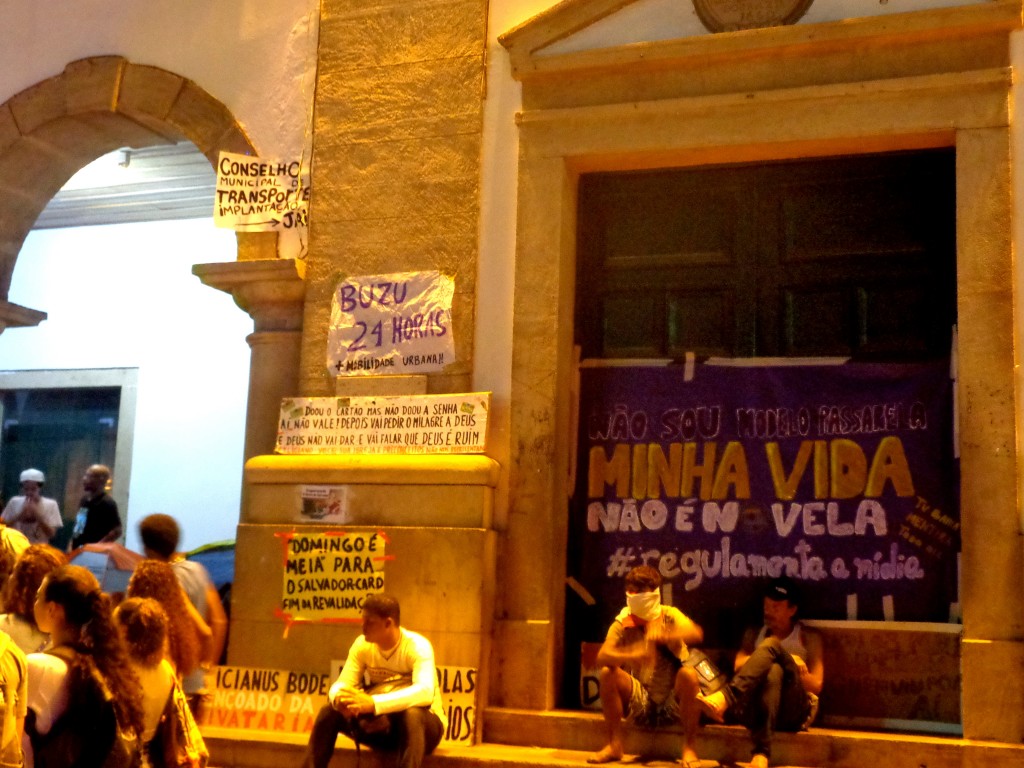 On Monday July 22nd the Movimento Passe Livre, who is fighting for an improved transportation system in the city of Salvador in Bahia, Brazil, occupied the city hall of Salvador and have been occupying since.  The people occupying have been releasing documents to communicate updates with the outside.  The first publication states that the occupation is a measure to push the government into negotiating with the movement and to actually listen to the people.  There has been much dialogue in the city hall about the transportation system, but the movement's demands have not been taken into consideration.  The objective is to have Salvador's government take action and lower the transportation fares to zero.
Meanwhile, the Passe Livre members on the outside have been organizing many demonstrations of solidarity with the occupation.  On July 24th and 25th, the people watched a film outside the city hall as a means for gathering together. On Friday July 26th around 5 pm there was a manifestation at a plaza named Campo Grande that moved to the city hall.  This demonstration resulted in a huge traffic jam, as the movement's chants echoed in the streets where they made themselves present for everyone to learn about them.
A supporting teacher from a private Catholic school has served as one of the main spokesmen for the occupation.  I spoke to him during the gathering outside the city hall on Friday after the manifestation and he shared his personal insights on this movement.  One of his main arguments was that, "As pessoas pagam para ser exploradas,"  the people pay to be exploited.  What the teacher is saying is that the working class people work at locations far from their homes and need public transportation the most; however, they are forced to pay high bus fares to travel to their jobs where they ultimately earn very little money for their labor.
The people who live in the peripheries of the city have the least access to public transportation, and the middle class people who own cars have greater access to public transportation. Therefore, the movement is also looking to increase organization with the people who live in the peripheries because the movement is mostly composed of middle class students.
In the meanwhile, Passe Livre will remain resistant, occupying Salvador's city hall until their demands are heard:
https://lagente.org/wp-content/uploads/2013/07/DSC00427.jpg
3456
4608
Michelle Salinas
https://lagente.org/wp-content/uploads/2014/04/LAGENTE156H.png
Michelle Salinas
2013-07-29 15:11:56
2013-09-02 18:33:27
Salvador City Hall Occupation