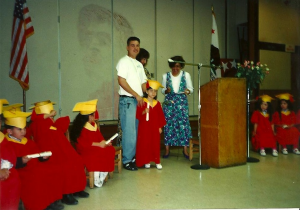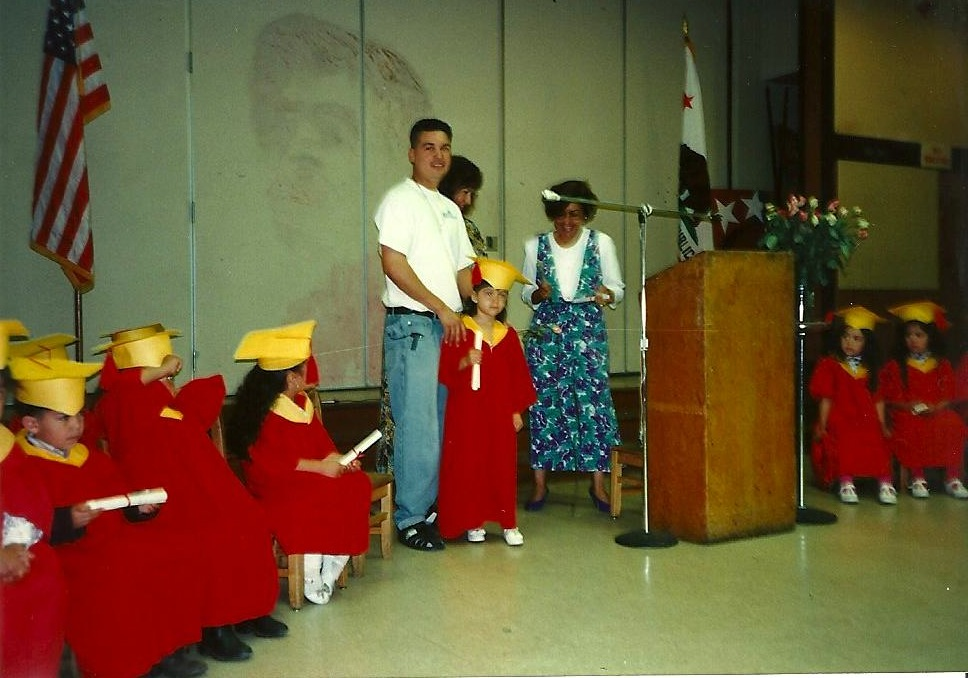 A young girl stands apart from the other children with her father, looking away from the camera. A red gown, a yellow cap, and a mini diploma in her hand—it's Manzanita's preschool graduation day.
As I browse through old photo albums I stop and stare at this picture every time. I try to remember this moment in time. When I was five years old, when I was bilingual, when I went to Manzanita preschool in Oakland, CA. My mom amusingly says, when I attended Manzanita my favorite thing to say was apoco to muse about gossip I couldn't have possibly understood.
I've been going to school for so long, I can't fathom going to an all-Spanish speaking preschool—but I did. After this, I always attended schools taught in English. But this fact has always affected me, especially when I went to college.
Growing up my parents did not speak Spanish to my brothers and me, only English. I did not realize how much this affected my cultural identity until I grew older. Although I may not be a native Spanish speaker, fortunately I was still able to learn plenty from my family as a whole. This is primarily due to the fact that whenever I went to family functions I was always spoken to in Spanish. However, ashamed that I did not speak it fluently—I've always responded in English. But more importantly, I understood what was being said, regardless of whether or not I responded in Spanish.
Luckily, these family functions indirectly helped me retain some of the language even as an adult. My reading, writing and oral skills were strengthened even more when I attended college and decided to study Spanish. I have always felt that I was lacking an important aspect of my identity: the native tongue. However, I've always had pride in my roots and acknowledged my ancestry, but the language has always been something I've desired.
Language is not just another part of one's identity; it is a way to connect with others who share those same abilities and backgrounds. Despite the fact that I am not fluent, I have never felt it has made me "lesser" of a Mexican.
Nowadays the current generations are completely alienated from all aspects of their cultural and linguistic identity. I am thankful that I was told to have pride in my roots. As I've grown older, I learned to appreciate the things I took for granted as a child. My family has always inspired me to do better, and that is why I know that one day I will be able to confidently speak Spanish without second-guessing myself.
Even today I sometimes tease my mom about not teaching me Spanish as a child, but she responds that I did not want to learn. When we are kids we are stubborn, so I get that. But sometimes I wish I could return back to that picture and pick up where I left off.
Yo quiero crear unidad adentro de mis dos lenguas y demostrar que yo puedo expresarme en dos maneras—porque no hay limitaciones con mis palabras. 
https://lagente.org/wp-content/uploads/2013/05/JEanelle-Pic.png
678
968
Jeanelle Horcasitas
https://lagente.org/wp-content/uploads/2014/04/LAGENTE156H.png
Jeanelle Horcasitas
2013-05-21 12:06:28
2015-01-29 17:38:44
Un Dia No Habra Limitaciones Con Mis Palabras!