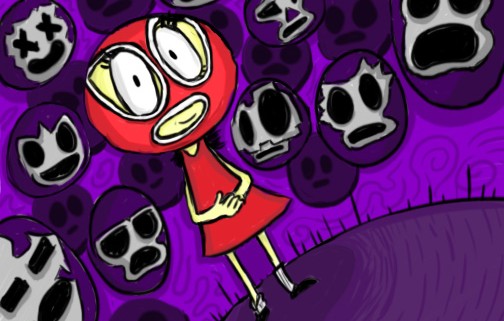 Editor's Note: The Latina students asked us not to use their names. But, they wanted to share their stories of how social determinants of mental health in the Latino community influenced how they wrestled with their conditions.
Think of it like lucha libre. The wrestling ring is like our house. Los luchadores enmascarados—the masked fighters—brawling in the ring are us, foreign-born and first generation US-born.
We, the US-born, typically bend the traditional rules. We want to unmask our parents' views because they complicate the unconventional identities that we wish to reveal.
"So you guys are the rudos—the bad guy wrestlers!?," my mother says, as I try to metaphorically explain my view of mental health.
"Seems like it," I say.
Among the lucha libre greats was Mil Máscaras—the man of a thousand masks—my mother says. He was strong, self-assured, courageous, and unfeeling. He was acrobatic and high-flying, as he brawled with the rudos. With his mask on he was a symbol of greatness, a symbol of what one should be like. People generally didn't want to see a luchador unmasked, my mother says. A luchador who is unmasked loses respect. He faces a lot of humiliation.
Immigrant parents and their US-born children generally have different and conflicting perspectives. This cultural disconnection complicates the children's upbringing. Immigrant parents may not be able to offer sufficient guidance to their child's views and problems. What US-born may see as noble, foreign-born may see as shameful or frowned upon. This is the case when it comes to mental health in the Latino community, specifically treatment for mental health conditions.
According to reports found on the website of the National Alliance on Mental Illness (NAMI), 88 percent of Latino children have unmet mental health needs. Latino children with diagnosable mental health conditions are typically told by relatives that they have anger or conduct problems.
Talking about mental health shows Samantha's more vulnerable side, like I'm speaking to her without her mask on. She said the anxiety condition that troubled her life went undiagnosed throughout her childhood. Her foreign-born parents forced her into counseling with the idea that she had behavioral issues, but her condition was only repressed.
Transferring to UCLA drove Samantha's anxiety to overwhelming levels. She had extreme moments of self-doubt, questioning whether or not she could be successful at UCLA. Unaware of her condition and afraid to unmask her emotions, she suffered in silence. "(My parents) are not my go-to people," Samantha said. "They can be judgmental; they simply cannot understand. They just say, 'Get it together.'" Her parents related her problems to weakness and incompetency. So was the case throughout her childhood.
Foreign-born Latinos generally disassociate from mental illness, stigmatizing it with a shameful image of locura—craziness. Families dismiss dialogue and professional help, self-diagnosing mental health conditions as nervios—nerves—or other negligible moods. However, one in five children, birth to 18 years of age, has a diagnosable mental health disorder, according to NAMI reports.
Lack of knowledge about mental health drives this stigma, over which many US-born Latinos wrestle with their parents. However, Latino cultural stigma is not the only story said Francisco Javier Iribarren, mental health researcher and Assistant Director of UCLA's Chicano Studies Research Center. "We must acknowledge the differences that make the Latino community unique."
Other social determinants, too, are shaping Latino mental health experiences and views. Barriers for immigrants to access mental health treatment include poverty, undocumented status, rates of incarceration and deportation, English language proficiency, discrimination and underrepresentation in mainstream media, and higher education disparities. There's an interlocking of factors that impact Latino mental health outcomes. US-born youth, like Samantha, don't grow up with any emotional literacy due to the lack of access and knowledge in their communities.
Help is actually something that Latinos want, Iribarren says. However, there is so much to wrestle besides the stigma. A cycle of not seeking help is easily passed on.
Jennifer's anxiety condition, too, went undiagnosed throughout her childhood. She developed severe anxiety issues at age 7 when her foreign-born parents divorced. She grew up in a complicated financial and familial environment. , According to reports on NAMI's website, 21 percent of low-income children ages six to 17 have mental health problems.
She knew she had anxiety problems, but they were dismissed–something common among Latino families–Jennifer said. "I heard things like: 'You're just sad, you're having a bad day, or you'll get over it.'"
Coming into UCLA, Jennifer's anxiety flared to levels of crisis. She experienced severe insomnia and unease over exams, rent and financial aid. Unable to focus in class, her academics suffered. The new culture and work difficulty at UCLA added to Jennifer's anxiety.
Acculturation plays a huge factor in US-born perceptions. College, too, functions like an awakening to Latinos who've had a traditional upbringing.
"I didn't know I had it (anxiety) until someone recommended UCLA's CAPS (Counseling and Psychological Services)," Jennifer said. Similarly, Samantha said she did not understand her emotions or how to manage and express them. Her US-born relative encouraged her to try counseling.
Jennifer said, "I told (my mother) I went to CAPS—she freaked out—she thought I was crazy, or going crazy." Hesitant about professional help, Jennifer questioned if maybe she was over-exaggerating or being over-dramatic. She doubted the therapist and the method of talking. "Everything about the stigma of society started to play a role," Jennifer said.
Not knowing what she was doing, Samantha described her first session as overwhelming. She felt lost. It was a new experience. She didn't feel like she was getting better. Samantha was unable to connect with the therapist, and stopped going for a while before she returned and met with another Latino culturally sensitive therapist.
Over arguments about trying to get her parents to understand her emotions, Samantha grew disconnected from them. Emotional support, she says, was not there. At stake if not addressing this emotional illiteracy is the disconnection between families and the continuance of troubled Latino youth.
There are many gaps in the Latino mental health field: one in four Latinos lives in a linguistically isolated household, NAMI reports say; and there are about 29 Latino mental health professionals for every 100,00 Latinos in the US.
"The mask makes one feel safe, like they belong, especially within a traditional family," my mother said when I asked her if she understood my metaphor. "But, underneath they're feeling the opposite. There's a communication gap."
https://lagente.org/wp-content/uploads/2013/08/3rd-picture.jpg
360
504
Michael Reyes
https://lagente.org/wp-content/uploads/2014/04/LAGENTE156H.png
Michael Reyes
2013-09-26 02:25:15
2015-01-29 17:38:44
The lucha libre culture that is Latino mental health