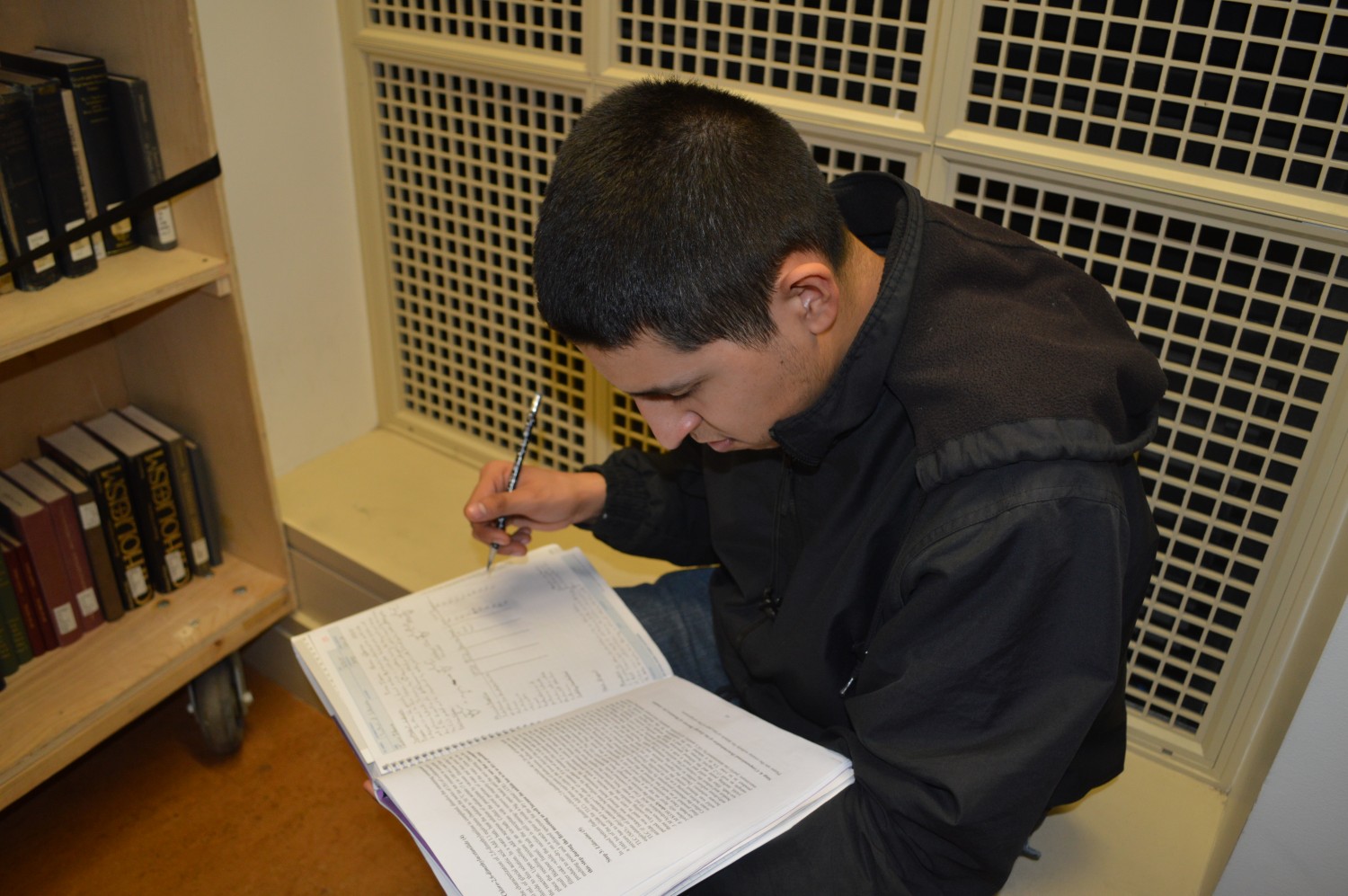 Antonio* travels on public transportation for a total of four hours everyday. Two hours to campus and another two hours back to Compton, his hometown. A busy schedule prompts the chemistry major and applied mathematics minor to frantically study on the train and bus before and after classes. He adds, "It's easier to get work done when you get a seat."
Antonio wakes up at five in the morning every day for his first class that begins at eight. He walks to the train station, takes the Blue Line, transfers to the Purple/Red Line, and finally takes the 720 bus to get to campus.
In an attempt to graduate on time, Antonio has taken four classes since Fall quarter of his Freshman year. Three days a week he assists in guided research. He is responsible for running reactions that he believes would be a good addition to the lower division organic chemistry labs. Although the research is not entirely his own creation, he is given a lot of responsibility with little to no supervision.  
Antonio routinely checks the food closet located on campus throughout the day rather than spend money on a campus restaurant or store. Other times he eats at the dining halls on behalf of the meal voucher program.
Hoping he makes it just in time before sunset, Antonio rushes to the bus after classes to prevent any possible trouble with the local gangs that have harassed and mugged him in the past while on his way home from school. Upon arriving home, he eats his mother's home-cooked meal and is ready to crash on his bed. This cycle is repeated the following day.
Despite the little to no educational background (his mother only finished elementary school and his father only finished high school), Antonio has exceptionally broken academic barriers.
Antonio was brought to the United States at 3 months old from Mexico, which is now a foreign country to him. He barely holds onto his maternal language and is in many ways more American than Mexican, yet there is an uneasiness that lies ahead. The uncertainty of being deported or the enforcement of discriminatory laws always looms ahead.
As an undocumented student, Antonio thanks the greater political strides that have been undertaken to ease the hardship for undocumented students. "I probably wouldn't be here if it wasn't for DACA (Deferred Action for Childhood Arrivals), AB 540, and the Dream Act (AB 130-131 University Aid) because of the money," he says. Luckily, he can now also apply for loans (SB 1210).   
Many undocumented students give up on their hope of attaining higher education due to the financial burden and uncertainty of investment. To Antonio, however, "Motivation is the key to success."  
A lot of Antonio's high school friends left their education behind, prioritizing a day-job instead. Antonio says, "I'm really fortunate [because] I probably would have been those students."
To all those who are undocumented, Antonio advises them to have a support group nearby. Antonio has his family and is involved with Improving Dreams, Equality, Access and Success — or IDEAS — at UCLA. IDEAS is a group on campus dedicated to providing resources to undocumented students.
Antonio currently holds a cumulative GPA of 3.5 and hopes to continue research in a STEM (Science, Technology, Engineering, and Math) related field. Upon graduation, he said he also hopes to promote higher education among undocumented youth at King Drew High school, his old high school.
*Disclaimer: name changed in order to protect the identity of the student.
https://lagente.org/wp-content/uploads/2016/05/DSC_0617.jpg
4000
6016
Miranda Edmonds
https://lagente.org/wp-content/uploads/2014/04/LAGENTE156H.png
Miranda Edmonds
2016-05-18 11:12:03
2016-05-18 11:12:03
Commuter, Undocumented, and Undeterred