I am one of those always-hungry college students, so I awaited excitedly for my tamale and for the truck to sputter into the parking spot where I stood. Obviously, this is not a restaurant, but a food truck. And I was not waiting for an ordinary tamale, but a Chinese tamale known as a chimale, made of corn masa and filled with kung pao chicken. At this food truck, Don Chow Tacos, that I waited anxiously for, is where "Chino meets Latino."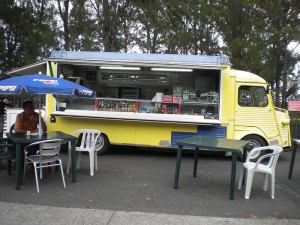 Food trucks have a long history within the United States. Historians consider the chuck wagons that fed the cattle ranchers of the rural west to be the very first food trucks. Food trucks have always been around LA, being spotted on construction sites and in Downtown LA where the Business District is located. "Street meat," once considered lower quality food, is now prepared by chefs as high-end cuisine and fusion foods from their kitchen on wheels. People no longer avoid eating from trucks for fear of illness, but rather follow the trucks using Twitter and the trucks' websites to find where they will be parked for lunch.
Since 2008, food trucks have become an LA cultural phenomenon and have come to represent the city. LA is one of the most diverse cities in the country. You are exposed to food from different cultures, ranging from Vietnamese and Mexican to French and Jewish. So it's no surprise that a person can find the Chinese-Mexican fusion food served at Don Chow Tacos.
"My business partner and I grew up in Los Angeles and in very traditional Chinese households.  Growing up in LA, we are surrounded by so much good Mexican food," said Dominic Lau, co-founder of Don Chow Tacos. "We figured why not put the two together."
On this day, Don Chow Tacos was parked at the Santa Monica Business Park..There were a lot of first timers at the truck, including a couple, Jomny and Meera George, who were visiting from Chicago. "We saw the truck featured on the food network. We looked it up online and figured we would try it when we visited LA. Food trucks weren't big the last time we came," said Meera.
Don Chow has many different menu items from carne asada burritos to soy ginger tofu. The staple must try items according to Dominic is carne asada chow fun noodles and the taco sampler consisting of bbq pork, kung pao chicken, and LA asada taco. The LA asada taco is your typical Mexican carne asada taco garnished with onion and cilantro. But what makes it the LA asada taco is the fact that it is topped with pieces of bacon. It tastes like the taco version of the bacon wrapped hot dog that you find on the street corners of Downtown LA. Don Chow is known for their bbq pork tacos made with sweet and savory pork and Asian marinade. But the kung pao chicken taco is where Chinese hot chile paste combined with Mexican chile de arbol creates an amazingly spicy marinade—the best combination of the two cuisines. If you can't even handle Tapatio, then you want to stay away.
Carne asada chow fun and chimale take classic dishes and give them a cultural twist. The chimale comes in either bbq pork or kung pao chicken. Don Chow Tacos knows how to make a great chimale with the corn masa being moist and the meat full of flavor. Don Chow offers a favorite for everyone: " Definitely the BBQ pork chowfun! I'm getting tacos for lunch, and taking chow fun home for dinner, my husband and son love it," said Diane Grant, VP of Human Resources for the Tennis channel. Diane is a regular of Don Chow Tacos; she checks everyday to see if the truck is making a stop near her.
The food fusion phenomenon is definitely a success in LA because it represents the city's cultural diversity. These trucks can serve all of LA, as they move to different locations around the city for lunch and dinner. According to Dominic, Don Chow covers 25 to 35 miles per day, catering to the working professional, the tourist, and the college student. Food trucks like Don Chow Tacos represent various tastes and offer great food, and good portions at reasonable prices. What hungry college student doesn't love that?!
https://lagente.org/wp-content/uploads/2014/04/LAGENTE156H.png
0
0
admin
https://lagente.org/wp-content/uploads/2014/04/LAGENTE156H.png
admin
2013-04-24 21:07:57
2015-01-22 19:45:24
Fusion Food for a Fusion City