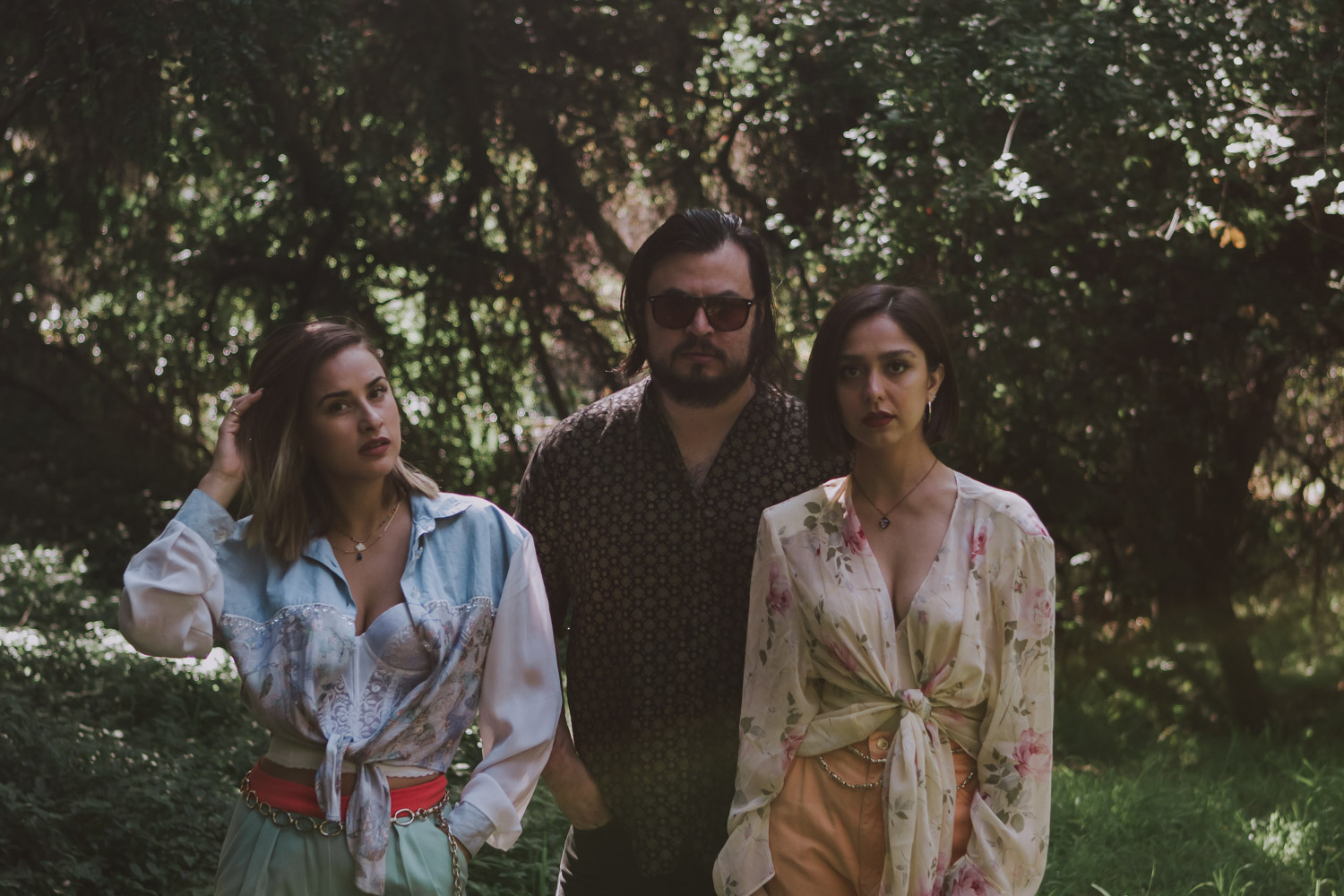 2019 brought great offerings to ex-Chamanas, Manuel Calderon and Paulina Rezain, who are joined by Adria Del Valle, in the formation of their new and rising band, Estereomance. The band took the pleasure of expressing their stories of activism, forming connections with their audience through familiar backgrounds, and representing their hometown, Juarez and El Paso, Texas, through their jazz and soul singles. 
Having toured Texas, New Mexico, Arizona, and California starting in September of last year, the band granted La Gente the opportunity in October of last year to sit down with them to discuss the trio's inspiration behind their music and new singles, "Up" and "Crimson Queen," leading into their EP which will be released later this year. Their songs pave the way for the rising of untold stories and awareness of tragedies and injustices that they aim to give voice to through their soul-pop. 
Find out more about Esteromance, as they provide a deeper insight into their formation and share about their upcoming projects in the new year.
Alvaro: So you had an experience with The Chamanas. How did that transition into Estereomance? 
Manuel: Estereomance is a new project. When this happened Adria was like, "Hey! I'm here. Let me know if I can help. I want to join." We're a hundred percent focused on Estereomance right now, and it's our only baby right now. Estereomance is a more jazzy, a little more on the soul side. We enjoy a lot of Roy Ayers, like jazz fusion from the 70s, especially Madlib and all those hip-hop artists. The first song we did with Estereo, mance was "Riviera." 
Alvaro: Are there any activists, aside from musical inspirations, that influence your creativity throughout the process?
Paulina: The inspiration is our hometown, Juarez and El Paso, Texas. There's a lot of sad things happening right now. For example, women activist are fighting for los derechos de las mujeres que fueron asesinadas.  In Juarez, I feel like everyone is an activist and this is our —nuestra—arma, la music.  Nuestra música puede dar ese mensaje de "you got this."  Puedes expresar y puedes ser activista. You have to choose a beautiful way. We choose art. 
Manuel: If you want to see a real activist, interview any of the mothers of the girls who have been murdered in Juarez. You don't understand until it happens to you. It's intense. Paulina had a classmate that was murdered a month ago; they pinned it as an accidental overdose.  Who overdoses on alcohol these days?  
Paulina: Mis compañeros, estamos alzando la voz. We are in this together.  Es triste pero nos ayuda tener inspiración y poderle dar voz a la gente que no puede hablar, que no puede expresarse.
Adria: The shooting happened recently, and we had a "wow" moment. It's a reminder that we are lucky to be safe and to have the opportunity to be in both countries. 
Manuel: Never take any of this for granted. Our music is mainly about that.  Especially "Up," our first single. It was a collaboration between the three of us. Cody, from The Holy Knives helped with some of the lyrics.  Instead of telling people how fucked up everything is, we want to emphasize that we have elements to become a good society. We want to be optimistic about humankind. 
Alvaro: That's really inspiring. What are some tips that you would share with musicians nowadays? 
Adria: When I went through a really difficult part of my life, I would listen to a lot of Cultura Profetica. He talks about being yourself and doing what makes you happy. It has a great message. 
Manuel: In Juarez and El Paso, the music and art scene is not very big. People don't take music seriously. I  lived in LA for three years ten years ago; this is where I was born as an engineer and producer. I worked at Westlake Studios, where Quincy Jones made a lot of his records. After I moved to El Paso and worked at Sonic Ranch for ten years. Animal Collective was there, Beach House, Yeah Yeah Yeahs, Natalia Lafourcade, and Bon Iver were there this year. In Juarez there's not much exposure to that. It's hard; Paulina and Adria understood that. My parents don't understand what I'm doing, but they've been supportive. Paulina's parents support her. 
Paulina:  I feel grateful. I remember my beginnings and now I'm here. Quiero más y más pero por ahora estoy disfrutando–como dice Manuel, "to be here in el momento." 
Alvaro: Now you guys have a record deal with Cosmica Artists. How is working with them? 
Adria: To me, it was huge. I played the violin since I was six years old and I never imagined I would be in a band with two amazing artists. We like this label, they represent Latin music. They have cool artists, like Carla Morrison, Gaby Moreno, The Marías, and David Garza. 
Alvaro: And now you're up there with them!
Adria: Yeah! We're grateful to be part of Cosmica.
Paulina: De hecho, ayer cenamos con ellos. Tocamos en un café muy bonito.  Se llamaba "Stories." It was a really intimidating performance. We got dinner y estaba David Garza and Gil from Cosmica. 
Manuel:  I met David Garza at Sonic Ranch, and I worked with him on a lot of records.  When I was working with David, I was doing some demos with an artist back then. I showed them to David and he said, "Wow, brother! This is amazing! Let me show it to Gil." That's how The Chamanas was born back then. He's [Gil] a great human to begin with, which is hard to find in this industry. When we finished our [Estereomance] demos, I sent them to Gil and ten minutes later he calls me, very excited–
Paulina: Estaba en el tráfico y dice -me quería esperar para escucharlo en un buen sonido pero, I can't wait! Y lo escuché en el tráfico, y estoy muy emocionado.-
Manuel: Gil is one of a kind. We are very happy to have him as a friend and as a manager.  We are confident they're going to do a great job with our music. 
Alvaro: Do you have any upcoming albums? Any new singles that you've been working on?
Adria: We're releasing our second single in December. It's called "Crimson Queen." Nowadays we have Instagram and social media, and we see all these influencers have this "perfect" life.  We want to point out that it's not a perfect life; everybody is human, everyone has problems. 
Paulina: Nuestra canción se trata de eso. Uno de los lyrics dice, "Why can't I be like her, why can't I be a queen? I want to be like her." Y eso la está haciendo sentirse mal. Porque nos estamos comparando. 
Adria: You can see it in many different ways. We want everybody to feel connected to it. Everyone has different stories.  
Manuel: We want people to interpret our songs and lyrics. It's a song that's encouraging people to be who they want to be. It's interesting to see how people pick up on the message. 
Adria: Next year we release our album.
Manuel: It's a seven-song album. We're not set on a date. This tour we're doing right now is actually a DIY tour; we planned it before we even had a name. 
Alvaro: How did the band name come about?
Manuel: It's just a made up word, like a stereo or boombox.  Stereo can also mean two-sided. Like El Paso and Juarez. The border. Romance, because we like romantic music. 
Adria: We made like 30 names.
Manuel: David [Garza] asked me if I had a name for the band. I told him "Stereomance," but Paulina wasn't sold on it yet, and we didn't want to do a name if Paulina wasn't convinced. David is always drawing and writing lyrics. He just added an E to Stereomance. He said, "Hey brother, what about Estereomance?" I ran it through Paulina, and–
Paulina: I was like, how can a letter make such a difference!? 
Manuel: Visually, it's nice because it starts with an E, ends with an E, and there are 5 E's! One of my biggest influences is Soda Stereo, so it's nice to have Stereo there. We ended up convincing Paulina. 
Paulina: Me tuvieron que pagar! 
Manuel: It was driving us crazy, but I said, "Whatever name we come up with is going to end up becoming special with time." It represents the nerdiness of the project, which is me, and the romantics, which is them. It's a little bit of both worlds.
Visual by: Jessica Martinez
https://lagente.org/wp-content/uploads/2019/12/Featured-image.jpg
1000
1500
Alvaro Hernandez
https://lagente.org/wp-content/uploads/2014/04/LAGENTE156H.png
Alvaro Hernandez
2020-01-16 19:13:41
2020-01-16 19:43:42
Getting to Know Estereomance