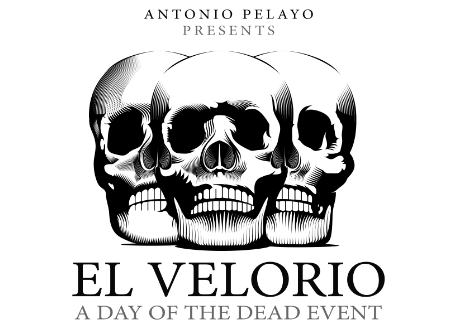 On November 8th, Plaza de la Raza will host El Velorio's 4th annual Day of the Dead celebration. El Velorio is a multicultural event celebrating the Mexican traditions of the Day of the Dead by featuring an art exhibition, live music, an altar installation and much more. Every year, thousands of people come together at El Velorio to celebrate the aesthetic convergence of Latino culture and heritage.
El Velorio began in 2010 with the sole purpose of creating a platform for emerging artists to exhibit their work. It quickly transcended into an event that has benefited various non-profit organizations. In 2014, El Velorio choose to donate a portion of the proceeds to  Plaza De la Raza, Los Angeles' only multidisciplinary community arts venue dedicated to serving the Eastside neighborhoods of Los Angeles
This year's exhibition was curated by Erika Hirugami, a recent UCLA graduate who focused on Art History and Chicano Studies. It will feature a wide selection of works in a variety of  two-dimensional media that range from painting to photography, in an array of genres relating to the Day of the Dead and its subjectivity as interpreted by contemporary artists of the greater Los Angeles area.
The exhibition will feature the hyperrealist depictions of Otto Stürcke's paintings, alongside the suprarrealism of Isaac Pelayo's drawings. There will also be Steve Grody's historical view of the city's gang culture via photographs and Miguel Angel Mejia's modern Mexican issues in mixed media via photograph, colliding and conversing about the myriad of ways in which the Latino community is affected on both sides of the border.
Antonio Pelayo, founder of El Velorio, will display an introspection about his own aesthetic development and the footprint he leaves behind as an artist in his own community. Nikko Hurtado and Mark Mahoney, tattoo artists by trade, give us a glimpse into a wider range of art forms and converge with UCLA Chicano Master's own Alma Lopez, Frank Romero, and Patssi Valdez to bring together an array of instances and subjectivities towards discussing greater Chicano, Latino, and Mexican American concerns of the people in Los Angeles.
El Velorio seeks to generate an alternative space where artists from different backgrounds can come together and aesthetically converse Day of the Dead and modern concerns of Latino society and heritage. By showcasing emerging artists, El Velorio seeks to celebrate the Day of the Dead in a transcendental way that allows visitors to contemplate locally produced aesthetic developments. Also, featuring some renown artists alongside these emergent artists creates a space to converse aesthetically about the Latino subjectivity within the confines of the Latino experience, free of borders and limitations, generating an artistic convergence capable of transcending the local borders of the city, time and space.
For tickets, location, and all other details visit www.elvelorio.com
Images courtesy of Ralph Guzman
https://lagente.org/wp-content/uploads/2014/10/Screen-Shot-2014-10-06-at-8.57.04-PM.png
333
456
Erika Hirugami
https://lagente.org/wp-content/uploads/2014/04/LAGENTE156H.png
Erika Hirugami
2014-10-29 19:27:30
2015-01-27 14:44:21
Latino Subjectivity: Contemporary Artistic Convergences and El Velorio Celebration