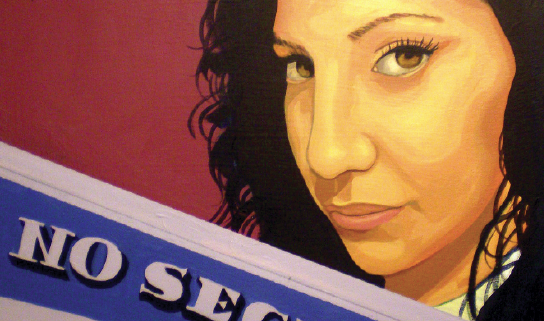 After a three day drive to Alabama from East Los Angeles, Jonathan was finally confronting his biggest fear. Reflecting on his anxiety at the time, he chuckles and said, "I felt like I had been taken back to medieval times, and was in a dark dungeon about to face a dragon." The goal was not only to enter the border patrol office and get arrested but also to get deported.
According to many immigration and human rights community organizers, the Obama administration failed to meet its promise to end the separation of families and deportation of people with no criminal convictions. Although Immigration and Customs Enforcement (ICE) claims to "prioritize the removal of criminal aliens, those who pose a threat to public safety, and repeat immigration violators," routinely people with no criminal records are being deported for minor infractions or traffic law violations. So on Thursday, November 10, 2011, Jonathan Perez, 20, and Isaac Barrera, 24, two undocumented immigrants, walked into a Border Patrol Office in Mobile, Alabama purposely seeking arrest. Jonathan and Isaac wanted to challenge immigration authorities and the fear that currently paralyzes undocumented communities. It is a fear that has intensified since Obama came into office—according to Immigration and Customs Enforcement, Obama has deported nearly 400,000 people every year, surpassing the deportation rate of every president before him.
Jonathan and Isaac have been part of civil disobediences before, but this one was unlike any they had ever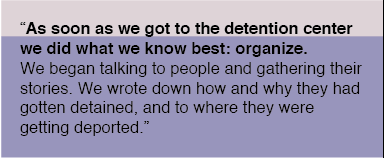 participated in before. This was an attempt to challenge the immigration system literally from the inside, by organizing within detention centers. As two DREAM Act eligible students, they aimed to attract not only media attention via their deportation, but ultimately to gather the stories of undocumented people who were now detained and in the process of deportation.
Once in the office, Jonathan accused two officers of separating families and of deporting innocent people. After defending the deportation of undocumented immigrants, one of the officers asked, "What is it to you, anyways?" And Jonathan replied, "Because I am undocumented too!" He was arrested and sent to detention.
Once searched and finger printed, they were transferred to a prison in New Orleans where they spent the next five days. After which, they were transferred to the Basile detention center in Southern Louisiana, where they would spend another five days detained with 70 others.
While at the detention center, they spent endless hours speaking to people and trying to provide them with information to fight their deportation and "Know Your Rights" workshops.
"As soon as we got to the detention center we did what we know best: organize. We began talking to people and gathering their stories. We wrote down how and why they had gotten detained, and to where they were getting deported. Many of them were there for minor offenses like driving without a license," recounted Jonathan. "It's sad, because they all have families, but with the help of the Undocumented Youth Action and Resource Network, we connected many of them with their families and with our lawyers. Mind you, prior to our arrest, we had fundraised a lot. Phone calls are expensive in there, five dollars a minute! But the Undocumented Youth Action and Resource Network provide the funding for that."
Prior to Jonathan and Isaac's arrest, the Undocumented Youth Action and Resource Network (dreamactivist.org), a Los Angeles-based organization had been working tirelessly to fundraise and secure community support to launch a national campaign on their behalf.
"You know what was so amazing? That as soon as people heard that we were from California and intentionally entered the detention center, people began to organize among themselves," said Jonathan. "They gave out our information to one another and that's how we got more and more people coming up to us providing their stories."
Unlike many at the detention center, both Jonathan and Isaac were DREAM Act eligible and as soon as Immigration and Customs Enforcement (ICE) verified their eligibility, deportation proceedings were dropped. According to Obama's administration in August 2011, people deemed "low priority" deportees—such as DREAM Act youth, non-criminals and people with family ties to the United States—would not be deported.
"The most impactful moment was when the guards called our beds for release. As we gathered our things to leave everyone crowded around our bed. They came to me asking if I could help them get out, so I quickly tried to write down their information," said Jonathan. "The look they gave me was incredible…I had never been looked that way in my life, their eyes were filled with so much desperation and hope."
Getting teary-eyed, Jonathan said, "You should have seen their faces, the way they looked at me. I wanted to stay and help them in any way I could. We were leaving and returning to our families just in time for Thanksgiving, while they all had to stay behind."
Jonathan continues to advocate for undocumented youth through the Undocumented Youth Action and Resource Network. He hopes that his experience at the detention center will bring awareness to the mass deportations of undocumented people, and the criminalization of both Black and Brown communities. Jonathan believes that the criminalization of communities of color has become a state sanctioned project that seeks to terrorize communities. In an effort to refute this, Jonathan urges undocumented youth to come out of the shadows and organize—"We are less vulnerable when we come together."
https://lagente.org/wp-content/uploads/2012/06/Screen-shot-2012-06-25-at-9.35.40-AM.png
569
544
Tracie Sanchez
https://lagente.org/wp-content/uploads/2014/04/LAGENTE156H.png
Tracie Sanchez
2012-06-25 09:34:55
2013-09-02 19:10:08
"Undocumented. Unafraid. And Now Undercover."