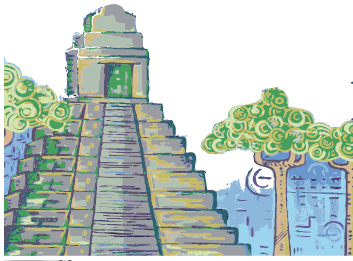 Art hangs from the painted green walls in an apartment filled with paintbrushes and containing a canvas with a work in progress. In a small apartment near Echo Park, there lies bright paintings that have helped a young woman reconnect with her heritage.
Ana Ruth Castillo was born in Los Angeles in 1982 to Guatemalan parents, economic refugees during the civil wars of the 1970s. She grew up in various parts of LA such as Inglewood, Southbay, and eventually graduated from high school in South Central. At six years old, she had the opportunity to visit Guatemala because of the access allowed by the government to the refugees. Her parents took Ana and her sister to visit the family members that still resided in the country.
It was through those visits when she first realized the difficulties in relating to her parent's country. "I was always considered gringa," she says when talking of her childhood visits. It was her first time she was introduced to poverty. Before then she didn't know another world less privileged existed, fueling her desire to learn more about her parent's native country.
She became attracted to the trajes of Guatemalan's indigenous villages. It was difficult to learn about the culture she was not part of, but loved since a young age.
In the US, she was disheartened that there was never a space where she could learn more about her parents' country. Her visits to Guatemala showed her there was another world, and she looked for its history, her ancestor's heritage, but could never find it.
Ana asked herself, "Where the hell am I from?"
That sense of displacement was a big push for Ana who graduated from UC Santa Cruz in 2006 with a degree in Latin American and Latino Studies. It was in college where she first took a chance in art. Ana and her friends began to have "art nights" by bringing different art supplies to paint for a fun night in on a Friday night. Soon creativity took over. She took art as a means to put onto canvas everything she had learned and felt about her culture. "How do you give continuity to everyone who came before you?" said Ana.
Ana sees her paintings as a responsibility toward her culture and her ancestors. Through her most personal art pieces, called "My Ancestors Presente," Ana believes that she honors her ancestors for this space and time.
Her sense of cultural displacement from it is a "big part of why I paint what I paint," said Ana. "The more I paint the more I want to get better. At this point I have to get better." Her art incorporates Guatemalan cultural myths like her painting "Ixel" depicting grandmother moon, or the common problem of searching for identities in a world with man-made borders shown in "Borders and Struggles." Her art is like a collage of everything that she associates with on a personal or cultural level to her parent's homeland. Ana looks toward the future on how art can now allow her community to connect to their culture
Ana is a strong supporter of the reviving the LA mural movement. In addition to taking part in the Restoration Project at the Great Wall of Los Angeles, she is also painting a mural in Xela, Guatemala, her mother's hometown, at Café R.E.D.
Café R.E.D. focuses on the arts as a way to support the local the community and its economy. She explains that whenever she is taking part in creating a mural, many people, especially the youth, come to help. "Public art is important," said Ana, "[it] has that function to bring people in and public art should represent the people who live there."
"As central Americans, my parents were the first generation to come to America and stay here," said Ana. She believes it is important to create something for the next generation. She hopes a museum would be available for children so they could have a place that would teach them where they come from. She believes that this is the responsibility of the Latino community, which she expresses through her art.
She recently became a part of the Central American Writing Arts Collective in Los Angeles. It is a one-year old collective where painters, writers, musicians, poets, and media makers of various generations come together to share their work.
Ana's vision is the same as the collectives: a space where artists and other members of the Central American community could teach history through art to the children of future generations.
"I can not go back to practices that have become lost over time and conquest, but I can honor what I have learned and retained and put in canvas," said Ana.
https://lagente.org/wp-content/uploads/2012/06/Screen-shot-2012-06-06-at-3.35.04-PM.png
261
353
admin
https://lagente.org/wp-content/uploads/2014/04/LAGENTE156H.png
admin
2012-06-06 15:42:16
2013-09-02 19:11:53
Connecting to Her Ancestors through Art