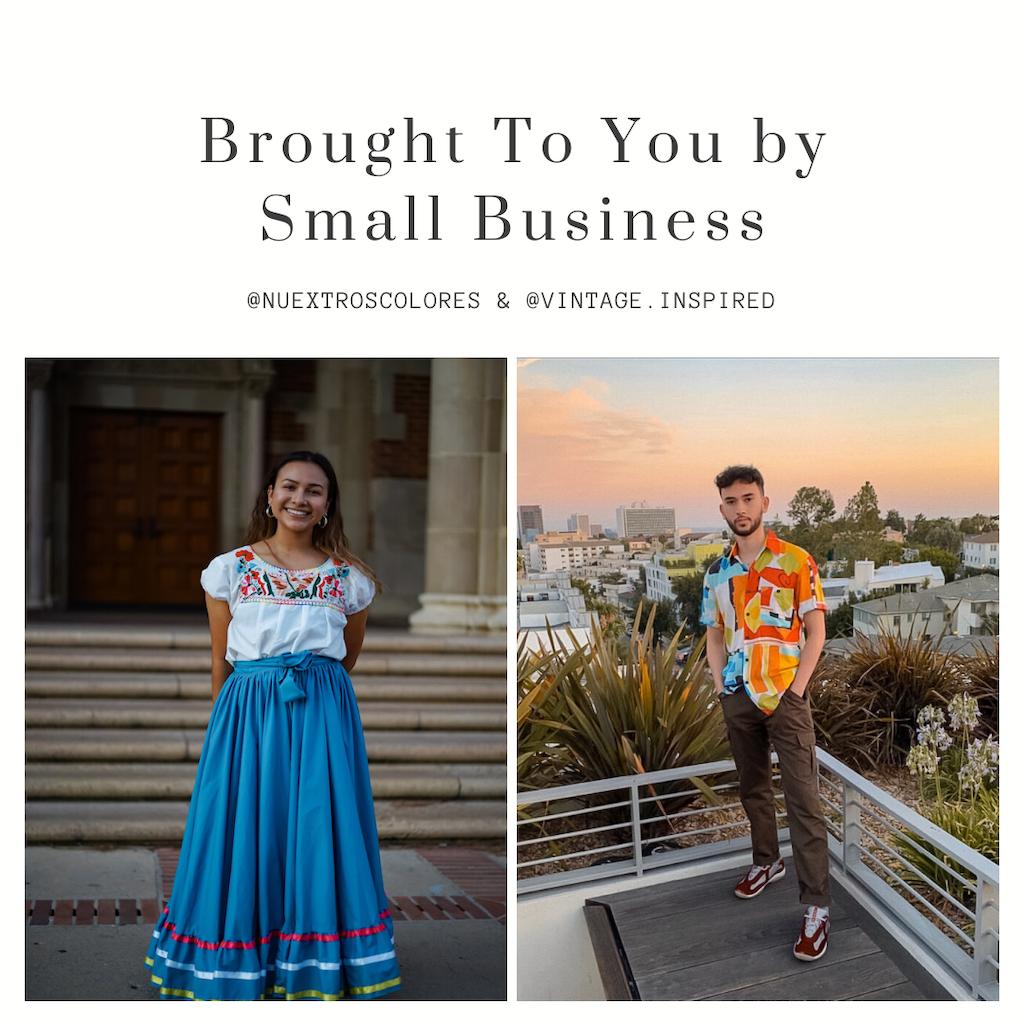 Proudly representing their culture and identity while excelling at contributing billions to the US economy, small Latinx-owned businesses are booming. According to NBC News, Latinx-owned businesses in the United States contribute more than $700 billion to the American economy every year. Never near a perfect world, however,  Stanford Graduate School of Business reports small Latinx-owned businesses having to make do with a large opportunity gap when it comes to outside funding and operating expenses in comparison to white-owned businesses. To gauge the Latinx small business world and their contributions to the nation,  I will highlight the survival and growth of two small Latinx businesses specifically, two managed by Latinx UCLA students. So, take advantage of their proximity and support them!
1. Nuextroscolores (Instagram)
Rebecca De La O is a second-year Business Economics student with a minor in entrepreneurship and accounting. Her hobbies include Folklorico and managing her business, Nuextroscolores. Although relatively new to the business world, De La O always knew she had an interest in business and entrepreneurship, handling "little artisan businesses here and there," such as sewing bags and selling them to teachers as a kid. 
In high school, however, she developed an eating disorder. 
"That [eating disorder] took away from a lot of the things that I was interested in, so I couldn't explore the business side of me anymore," she said. "I started recovery last year, and so it's kind of prescribed to start a passion that you've always wanted to do and I was like, 'Oh, it's a perfect time to start my business.'"
Learning from her experiences in trying to recover from an eating disorder, De La O recognizes that recovery and treatment centers for eating disorders are very expensive. Due to inaccessibility, De La O began her own form of recovery by using CAPS as a resource. As a way to combat this inaccessibility, a percentage of the money she earns from selling her products is going to Project Heal, a nonprofit organization that helps people suffering from eating disorders pay for treatment. 
"Eating disorder recovery is not cheap and insurance hardly ever covers it because it's not seen as very important or deadly, but it has the highest mortality rate of all mental illnesses. Only 20% of 30 million people [suffering from eating disorders] get treatment," she said. 
In addition to mental health, De La O is also inspired by her Latinx culture and identity. Nuextroscolores offers several designs inspired by Latinx culture. Some of the pieces Nuextroscolores offers carry the patron saint of Mexico, the Guadalupe, or take inspiration from Aztec symbols. She says, this move was a way of embracing a culture she did not grow up feeling very connected to. 
"I wasn't really raised like Hispanic and I don't know Spanish that well and I kind of felt left out. I feel like I don't fit in with a certain culture and so joining Folklorico helped with that a lot," she said. And of course, through her business, De La O believes she will embrace her Latinx culture even more. 
"Instead of shying away from it, feeling left out, I wanted to thrust myself in there, and embrace the culture more."
De La O isn't just stopping there when it comes to connecting with her Latinx community either. When it comes to her jewelry's materials she makes sure to buy from other Latinx businesses. 
"I make sure to support them, and they support me," she said. 
De La O caters to college students when it comes to selling at affordable prices. 
"We don't want to spend $20 on an earring, we want to spend $20 on like five earrings, and I can give that and still make somewhat of a profit off it," she said. 
As for advice to the aspiring Latinx students wanting to manage their own business one day, De La O encourages you. 
"You were raised by powerful Latinx immigrants and family, and so you are strong enough to start this even if you're scared," she said. 
Don't be afraid to reach out to her for business support and advice. Not only is one of her many goals to connect students and Latinx run businesses to form a community that supports each other, but she's thinking of beginning a series that will allow those interested in business to learn about investing, budgeting, and overall financial wellness. One of her other goals, to complete a website, has just been met. As of March 1st, Nuextroscolores offers the perks of pre-ordering on a new website. Exclusive items will only be available on the Nuextroscolores Instagram.
Don't forget to support her business on Instagram at @Nuextroscolores and her website at nuextros-colores.mybigcommerce.com.
2) Vintage.Inspired 
Felipe Valdovinos Jr., a second year student from Ontario, CA, studies Economics and co-runs a business called Vintage.Inspired with his cousin Erik Guerrero.
Mainly ran through Instagram, Vintage.Inspired is a business selling thrifted 80s, 90s, and even early 2000's designer and streetwear clothing. 
"I started thrifting before it was cool or whatever. I started in middle school because of my cousin and there was a point I almost got addicted to thrifting. I've always really liked fashion and I would find a lot of cool stuff, so it just got to a point where I had way too much stuff," he said. "[Vintage.Inspired] started more or less with my friends in high school. They'd be like, 'That's a dope jacket. Let me buy it off of you.' And then it just grew from there. More or less it started as a closet clean up kind of thing."
The need for the business came early on with the employment loss of his mother during his sophomore year of high school. This meant losing a big source of income for his household. So, as Vintage.Inspired began picking up, Valdovinos helped his mom with some of the financial stressors his home was dealing with.  
However, the business world isn't perfect for Valdovinos, as expressing some of his political opinions has cost his profits. Specifically, expressing his political views against Donald Trump has led the business to lose customers, but this doesn't sway him,  asserting that "we don't care, we keep posting it". 
Although not necessarily the business's initial intention, today Valdovinos recognizes the impact Vintage.Inspired is adding to the notion of sustainability. He recognizes how, "it's kind of outstanding to see how much clothes go to waste, so why not just recycle it?". 
As for future aspiring Latinx business owners, Valdovinos reminds you that it is possible to manage a business and keep up with your studies, but the priority should always be school. By doing so, he says, "you will put yourself in a better situation for your future." 
Today, Vintage.Inspired can proudly boast sales to almost every country in the world. With over twenty-five thousand followers on Instagram and big media platforms like Depop reaching out to them, Vintage.Inspired has certified itself as the vintage plug. Vintage.Inspired continues to grow with plans to open up a future website and small store in his hometown.
Don't forget to support his business on Instagram at @Vintage.Inspired today.
https://lagente.org/wp-content/uploads/2020/04/Brought-To-You-by-Small-Business.png
1080
1080
Amanda Vest
https://lagente.org/wp-content/uploads/2014/04/LAGENTE156H.png
Amanda Vest
2020-04-18 15:02:03
2020-04-26 14:34:45
Brought To You by Small Business