If you're a time traveller about to go gallivanting into the medieval times, you should stop by the Echo Park Time Travel Mart to pick up any last-minute chain-link armor or bottled humors.
The playful time travel-themed storefront doubles as the entrance to the main room of 826LA, the Los Angeles branch of the national 826 non-profit organization that provides both on and off-site writing and tutoring support for kids ages 6 to 18.
Each branch has an idiosyncratic storefront, eccentrically themed and stocked. They follow a tradition stemming from the original site's pirate supply store at 826 Valencia – conceived because the building happened to be licensed to the organization as a business.
The whimsical storefronts attract community members who learn about the 826 upon exploring the interior while sales from specialty items alongside student work help fund the non-profit organization.
Off-site, 826 helps local public school teachers develop or work with existing curriculum to facilitate the student progress.
Former high school teacher Joel Arquillos' social studies class at the Galileo Academy of Science and Technology in San Francisco was
one of the first that 826 teamed up with to provide in-class support for four years.
Arquillos, a 39-year-old Eagle Rock resident, remembers when his class participated in 826's Young Authors Book Project in 2005.
Over the course of the school year, students wrote and published a collection of family legends, titled "Home Wasn't Built in a Day." Actor and comedian Robin Williams funded the project, wrote the book's forward, and much to students' disbelief, attended the kick-off event and final release of the book.
Now the executive director of 826LA, Arquillos said that on top of providing the in-class support, and free community workshops and after-school tutoring services on-site, 826LA hopes to improve outreach to high school students by offering them services tailored to their needs.
One way Arquillos said the organization hopes to do so is through direct communication. Michelle De Leon, a 16-year-old student at Downtown Magnet High School in Los Angeles, serves along with fellow high school teenagers as part of 826's Youth Advisory Board.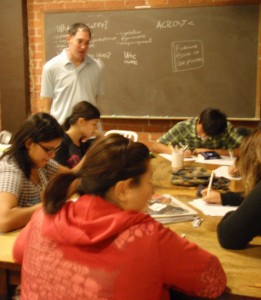 De Leon has experienced first-hand the resources 826LA offers. She and her friends approached the organization with a proposal to publish a fashion magazine.
826LA did not only provide tools to print the magazine, but brought in professional writers and editors to guide them through their first publication, even throwing them a launch party for the magazine's debut.
826LA's impressive services consistently go above and beyond. The organization manages to encourage students to develop their creative writing skills with fun, engaging activities, and tangible results. According to Arquillos, in just five years, 826LA has served over 10,000 students.
In an 826LA field trip, classes come out to the writing lab where they're met by the voice of Mr. Barnacle, a particularly finicky editor – played by an unseen volunteer – who hates clichés and demands original work.
A professional artist illustrates the stories as volunteers type them up. In two hours or less, each student leaves with a bound book as a published author.
Paulina Aguilar, 826LA intern and fourth-year UCLA sociology student, volunteers an average of 15 to 20 hours a week at 826LA East, the organization's Echo Park location.
Aguilar said she feels lucky to have found a venue that allows her to connect with students and enjoys fostering their creative growth.
"We're all there to be cheerleaders, encouraging them and complimenting them along the way," she said.
From her first visit to 826LA in March, she immediately saw how committed the organization is to serving children and knew right away she wanted to be a part of it. Almost half a year later, Aguilar said she still remembers feeling a child-like amazement at the quirky and unique space.
As De Leon put it, "Impossible doesn't exist here. There's always room for more."
Get involved!! Learn more at 826la.org
https://lagente.org/wp-content/uploads/2010/10/826la-class.jpg
2808
2443
admin
https://lagente.org/wp-content/uploads/2014/04/LAGENTE156H.png
admin
2010-09-30 01:30:14
2010-09-30 01:30:14
Education with Imagination: 826LA innovates student services