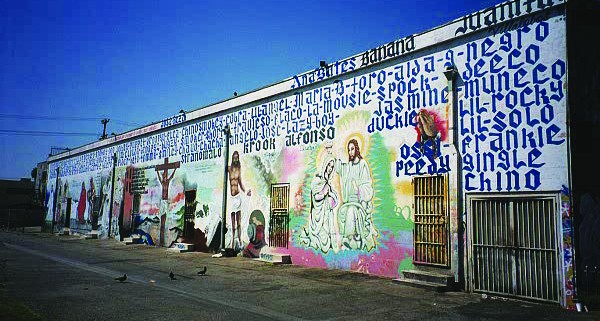 The paint is peeling and fading on a mural amidst signs in Spanish and local super markets in the barrio community on Pico and Union. The Catholic images and names that are written across mural hint at la historia behind it. Que onda con los nombres? What do they mean? Digging led to Burlington Homeboy and Homegirls Industries, a partial history of Pico and Union, and an art group named Earth Crew.
Touched by the tragic death of one of their friends, the vision of Earth Crew was born. "We all kinda wanted to show the muralists; hey this is what we can do with a spray can. This is what our generation can do," says Joseph Montalvo.
Better known to his Earth Crew members as Nuke, Montalvo is a graffiti writer who tells a story through the power of his can as well as a muralist of Boyle Heights. Behind a strip mall on Pico and Union in 1990 is where the story of this mural begins.
They included highly influenced Catholic images, expressing the "L.A. cholo culture aesthetic," said Montalvo.
The wall became the canvas for local gang members, transforming into a homage for community members who died in gang crossfire by writing their names across the mural.
"Three or four names that we added of people who got killed while we were there. One of those names is of a ten year old girl who was killed due to gang violence in the community," Montalvo said.
However, the L.A. gang culture aesthetic has faded. The sense of community that the mural carried is no longer felt. Que onda, why has the graffiti mural to begin to disappear?
Mothers and grandmothers of the community decided to have an image of La Virgen de Guadalupe along the right hand wall of the strip mall.
Today the original Virgen de Guadalupe no longer resides on the wall. It has been redone, but not by Earth Crew and not with their permission. For them, this is a violation of integrity and disrespect.
"We're still here. We're alive!" Montalvo said.
The dedication that reads "Dedicado a todos aquellos que no tuvieron la oportunidad de disfrutar la vida en paz y a la esperanza que témenos de evitar más muertes" is halfway gone.
The Burlington Homeboys and Homegirls mural is in need of restoration, or else the story and community history it carries will be lost as the paint fades away. The mural carries with it the beginning of not only Earth Crew, but also of the role and effect it had on the local gang youth who participated in its making.
"It played a cathartic role in those guys who were painting it. It reflected the violence that was all around them, and that they had probably caused themselves," Montalvo explained.
While speaking to Montalvo, he expressed the influence of Helen Samuels, Earth Crew's mentor and guide once on the crew. Seeing their passion to create art through graffiti, Samuels always sought to help Earth Crew carry out its purpose such as finding locations for the murals or filing paperwork.
"Helen was always making sure that we knew the type of role we were playing in the neighborhood. That we were there as medicine people," Montalvo said.
Earth Crew struggles to survive, but as Montalvo kept emphasizing, it is still very present.
https://lagente.org/wp-content/uploads/2011/11/susy.mural_.before.jpg
400
600
Aranzazu Medellin Guerrero
https://lagente.org/wp-content/uploads/2014/04/LAGENTE156H.png
Aranzazu Medellin Guerrero
2011-11-30 19:12:00
2011-11-30 19:12:00
Memories Fading on Pico and Union