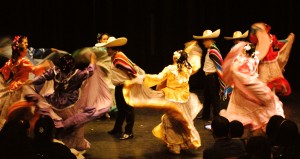 Every Tuesday and Thursday night, Grupo Folklorico de UCLA practices on the Bruin Plaza stage. From bailes folkloric del Norte to bailes de Veracruz, Grupo Folklorico performs regional dances to tell the stories of Mexico's past. Grupo Folkorico attracts students who wish to express their love for Mexican traditional culture.
Beginning in 1966, Grupo Folklorico was originally housed in the UCLA Dance Department. Due to budget cuts in the 1980s, the group lost its place but was rescued by alumni and community members. However, under new overseers, student members had little influence in decision-making. With cabinet meetings held in East Los Angeles and lasting up to four hours, students went out of their way to participate in the organization that supposedly served their demographic. "They were using student registration fees to fund [the group] when students were not getting some of the privileges of being in [it]," said Rosemarie Molina, a fourth-year sociology and global studies student.
Student members took action, developing a student constitution to consolidate the non-student membership into one vote. In 2007, with the help of mentors, the student members transformed Grupo Folkorico into student-run organization. With a new administration, Grupo Folklorico wrote proposals to USAC and held fundraisers to revive the organization.
With less than 10 students members in 2006-2007, Groupo Folklorico tripled in size by the end of 2008. Grupo Folklorico further expanded its horizons by reaching out to the community. "We have a program at Freemont High, which is a Title I school in South Central," said Jearelly Pinedo, third-year sociology and public health minor and the 2008-2009 assistant coordinator. "We teach the students dances and hold workshops on nutrition and overall health. It's a fun experience and you feel good doing it."
"Grupo Folklorico promotes culture and diversity. No experience is necessary, and it helps students do something outside of school," said Ruby Rivera, fourth-year Spanish & Community & Culture and Chicano/a studies student. Grupo Folklorico is a home-away for its members.
Grupo Folklorico has flourished into a strong, unified dance troupe. With its madrino and padrino buddy systems, current members reach out to new members to make them feel welcomed into the familia. Futhermore, Grupo Folklorico has also built networks with other Latino/a clubs on the UCLA campus.
Grupo Folklorico has endured successes and losses in the past 40 years, but the group maintains an inexhaustible enthusiasm and dedication to its art.
Printed Winter 2009
https://lagente.org/wp-content/uploads/2014/04/LAGENTE156H.png
0
0
admin
https://lagente.org/wp-content/uploads/2014/04/LAGENTE156H.png
admin
2009-11-16 22:36:24
2009-11-16 22:36:24
Grupo Folklorico de UCLA: Becoming a reality