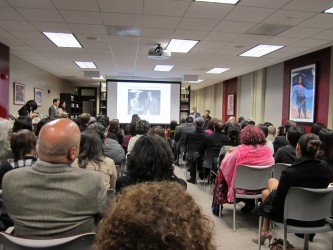 After 40 years of piles of papers, white walls, aged computers and limited space, the Chicano Studies Research Center (CSRC) decided it was time for a well-deserved change. On March 8 they revealed their newly remodeled site in an event to celebrate their re-opening.
The library's importance is not limited to its updated appearance.  "[The CSRC] disseminates knowledge to the public; it's not just functional but a breathed culture," said library director Chon Noriega.
With newly-painted red walls displaying original art pieces from Chicano artists, books, and new computers, the library can clearly represent the progression of Chicano studies.
Pro Bono architect Fred Fisher, with the help of a young Chicana architect Victoria Padilla- Lima, helped to plan the remodeling of the library. The color red gives one the sense of being in a Chicano library and feeling welcomed, Padilla-Limas explained.
The CSRC currently holds 1/3 of California's Chicano collections, including original US and Mexico audio recordings.
The Chicano Archive Series has four books in print, including two books by a Loyola Marymount professor Karen Mary Davalos, a speaker at the opening event, whose research was principally done in this library.
A graduate student in the theater department at the time, Chantal Rodriguez, described how the library helped her launch her career. She confessed her hardship at the beginning of the program to unable to find a niche were she felt she belonged.
However, an offer to write a book about Chicano theater changed her life. She published her book in 2011 titled  "The Latino Theatre Initiative/Center Theatre Group Papers, 1980-2005." Now Rodriguez teaches at the California Institute of the Arts.
Raul Pacheco, co-founder of musical group Ozomatli, spoke about the importance of the role of activism in the arts and that a place like this library helped to preserve this.
Many students and researchers have found their home and life's work here with this renovation only continuing that tradition. "Most students see the library as a home away from home, now there's an upgrade to that home," said Lizette Guerra, CSRC libriarian.
https://lagente.org/wp-content/uploads/2011/03/csrc1-e1299984261535.jpg
250
333
Monica Ponce de Leon
https://lagente.org/wp-content/uploads/2014/04/LAGENTE156H.png
Monica Ponce de Leon
2011-03-13 02:40:33
2011-03-13 02:40:33
Chicano Studies Research Center Reopens