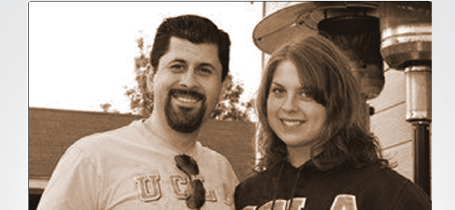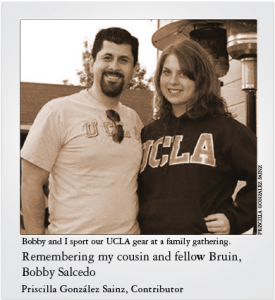 People come into your life for different reasons. I met Claudia last quarter in a Chicana/o studies literature class and we briefly got to know each other, though we didn't form a personal connection. In another class together this quarter, I realized we have a strong connection involving my cousin Bobby.
La Gente reported on the murder of the beloved El Monte educator, Agustin Roberto Salcedo, 16 months ago. He was a community activist, president of South El Monte Sister Cities Association, and assistant principal of El Monte High School. But he was also my cousin Bobby: "ocurrente," hilarious and compassionate. The big cousin who always gave me advice about school and listened to me complain about people who told me I wasn't Mexican enough.
Bobby was also a mentor to many students, including Claudia. He was her teacher at her high school, South El Monte High, where he helped her get involved in her community and, ultimately, with her successful application to UCLA.
On the day Claudia and I had our first in-depth conversation, she told me she had known about me for years. Bobby told her about my involvement at UCLA and had suggested she meet me. Now we are friends.
People have told me that Bobby often spoke to them about my accomplishments and how proud he was of me, but I never took it to heart. Claudia proved to me that it was true. She told me that Bobby would talk to her about my admittance to UCLA, my involvement with La Gente, and my scholarship. My heart swelled as bittersweet tears rolled down my face.
I feel that I have been stuck in a dream this past year and a half, trying to rediscover meaning and goals for my life, but Claudia helped me breathe again. She reminded me of the person I was a year and a half ago and of the ambitious goals I lost sight of – the young woman Bobby believed in. I know that I can still pursue social change for my community.
I think that Bobby brought Claudia into my life for many reasons only time will reveal, but I wish he were here to see that. With graduation quickly approaching, I have agonized over where I will go next, and I wish I could turn to Bobby. But I know he is always with me: his memory, his words, and his spirit continue to guide me and surprise me in my everyday life.
UPDATE:
As of today, Bobby's murderers have not been identified. In March 2010, Rep. Judy Chu passed a resolution honoring Bobby Salcedo and calling for more US assistance in Mexico's war against drug cartels. Drug and gun-related trafficking across the border are among the issues surrounding the case.
Bobby's murder was devastating, but my family is committed to honoring Bobby's life and mission. To sustain Bobby's commitment to education and empowerment, we began the Bobby Salcedo Memorial Foundation, which provides educational scholarships to students from South El Monte High School. Recently, the El Monte City School District administration building and the state Route 60 were also named in Bobby's honor.
https://lagente.org/wp-content/uploads/2011/06/Screen-shot-2011-06-15-at-1.41.43-PM.png
210
455
admin
https://lagente.org/wp-content/uploads/2014/04/LAGENTE156H.png
admin
2011-06-15 13:41:20
2011-06-15 13:41:20
Bobby, Never Really Gone