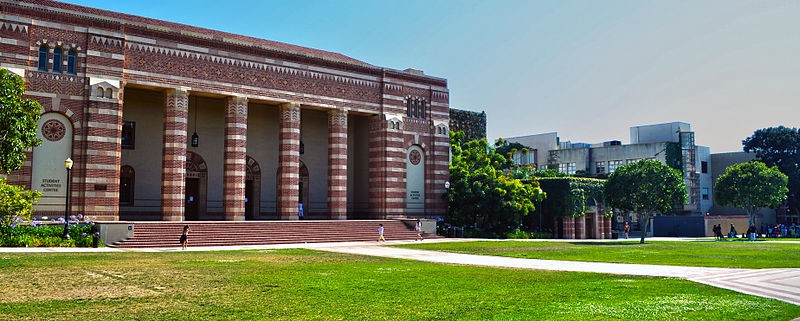 Photo by Josh Lee
The University of California of Los Angeles, founded in 1919, started with 4 buildings. Today, it has grown to 163 buildings, with thousands of workers and students.
The Students Activities Center (SAC) is located at the bottom of Jans steps in Wilson Plaza. For students, it serves an oasis from the monotonous lectures. Inside SAC, you can find Olga Lopez working from 5 pm until 2 am on a regular basis.
Olga arrived to the United States in 1974. A friend recommended the job to her and she has now worked at UCLA for five years. Olga sees her job as a great blessing.
She cares about the students and worries about them as if they were her children.

Similar to her, the students also feel a very strong bond with her. "Los estudiantes son una belleza (the students are a beauty)," she said while looking around with a smile on her face.
Olga has taken time to get to know these students and grow to love them. One of her wishes is to win the lottery "para ayudar a los estudiantes (to help the students)."
"She is like a little piece of home to me, she always gives me advice and tells me things my mother would say," said Cynthia Montano, first-year psychology student at UCLA.
One of the offices she cleans is the UCLA Community Programs Office (CPO). It is a student-run department that works toward helping communities within  Southern California. "What is beautiful about CPO is that it takes advantage of students and develops them into leaders. It is the greatest place to really develop leaders," said Layhearn Tep, a fourth-year political science and Asian American studies student.
CPO aspires to encourage students from underserved communities to pursue higher education, graduate and give back to their communities. "We focus on the needs of all students, the major one is making the students feel they are part of a community. The different projects offer different components that reach this goal," said Emilio Hernandez, a fifth-year year transfer, Chicana/o studies student and Campus Retention Committee chair.
These students come from different backgrounds and have different needs. They all help one another by working in unison in CPO. "On campus we work together to create a community, we also do wonderful work outside the university," said Tep.
The CPO encourages students to learn about different cultures and the issues that exist within the different communities. Through this, the students will see that although their communities are different, they sometimes face the same issues.
"I have learned about a lot of people from different backgrounds, it has given me different perspectives about different cultures," says Katherine Herrera, first-year international development studies student.
SAC, CPO, workers like Olga, and students are all irreplaceable components to this amazing chain of life within the community of UCLA. This chain will hopefully produce amazing leaders that will take what they have experienced and learned back to their communities and make change. They will be the leaders who will encourage youth to become future leaders of their communities.
https://lagente.org/wp-content/uploads/2012/06/800px-UCLA_Student_Activities_Center.jpg
530
800
admin
https://lagente.org/wp-content/uploads/2014/04/LAGENTE156H.png
admin
2012-06-06 15:26:03
2013-10-07 23:51:52
UCLA Community Comes Together in SAC