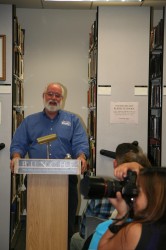 Father Gregory Boyle, founder of Homeboy Industries, spoke of his gang intervention experience at the Chicano Studies Research Center on Jan. 26, as he promoted his first book, "Tattoos on the Heart: The Power of Boundless Compassion."
He began his mission as a priest looking for a safe spot for neighboring youth and now Father Boyle is an award-winning speaker, gang consultant to various agencies, and member of the National Gang Center Advisory Board.
Growing up in the Los Angeles area in a large Irish-American family, Father Boyle knows the dangers youth face in gang involvement. He accredits his family support system as the reason for not joining the gang life. "I never would have joined a gang, but that doesn't make me morally superior," said Father Boyle.
After receiving his master's in English from Loyola Marymount University, he received a Master of Divinity from the Weston School of Theology and a Master of Sacred Theology from the Jesuit School of Theology. After doing missionary work outside of the United States, he returned to Los Angeles in 1992 and established Homeboy Bakery, an independent nonprofit organization that provides former gang members with a safe environment and skills to join the workforce. It has expanded to Homegirl Café and Catering, Homeboy Silkscreen and Logo Service, and Homeboy Maintenance. The organization offers services including counseling, free laser tattoo removal, and skill development workshops.
As the largest gang intervention center in the United States, he admits that he and the organization have had their share of difficulties financially, as well as with the public and the police. He has had to endure bomb and death threats, receive hate mail, see his bakery burn in 1999, and survive leukemia, but he still holds strongly onto his mission. "There is no 'us' or 'them;' it is an illusion," said Father Boyle in relation to how people may be reluctant to relate to gang members.
The book, which took 20 years to write, is meant for a broad audience. He describes the novel as talking about what matters, "It is a string of stories bound together using vague themes. It is about the lethal absence of hope," said Father Boyle.
Rather than promote his achievements at the reading, he did as he has done throughout his 20-year career: promote understanding. "Knowing my truth is your truth; your truth is the gang member's truth," said Father Boyle.
https://lagente.org/wp-content/uploads/2011/03/Boyle-e1299892351320.jpg
250
166
admin
https://lagente.org/wp-content/uploads/2014/04/LAGENTE156H.png
admin
2011-03-11 16:53:12
2011-03-11 16:53:12
20 Years of Building Hope Through Jobs