Students march down Avenue Daumesnil in Paris, France carrying signs and yelling: "L'expulsion c'est pas la solution," expulsion is not the solution. In solidarity, they march for a specific community that the United States is no stranger to—undocumented students. Leonarda Dibrani and Khatchik Kachatryan are two students who were detained at their respective high schools, expelled, and later deported to Kosovo and Armenia because of their undocumented status.
Immigration is a global issue and DREAMERS are global citizens. DREAMERS are in almost every country, and in each country they face their own set of difficulties. I have friends who are DREAMERS; they are students, leaders, and activists fighting for an education, fighting for resources while at the same time living in fear of the unknown. I look at my friends and have admiration and respect. Yet, in all this time that I have known my friends I have never stopped to think about their counterparts throughout the world.
During my study abroad experience in Paris, I witnessed the three-day-long student protests, and learned about the issues affecting undocumented students in France through research and talking with Parisian citizens. I was amazed at the different obstacles facing DREAMERS in France versus those in the United States.
The United States is a country composed of differences. People have different religions, identities and races. The acknowledgment of differences allows for policies to be created that assist diverse American communities. Policies like DACA, California Dream Act, and the Trust Act assist undocumented immigrants. The obstacles affecting French dreamers are the lack of policies available to them.
French policymaking is complex because of its foundation, which is based on universal rights and equality. If all men are equal then differences do not exist. Through this ideal, French society ignores the existence of diverse communities, and does not acknowledge the struggles that these communities face. As a result, the creation of laws to help different communities do not exist.
While laws can be created in the United States to help DREAMERS, their French counterparts do not have this benefit. They live in fear, unknown to most. Not even school is a safe-haven, as the Leonarda Dibrani case demonstrates. She was detained on a school trip and deported with her family to Kosovo.
Undocumented students in France share struggles with undocumented students in the United States. However, those in the United States find themselves in a society that is more steerable.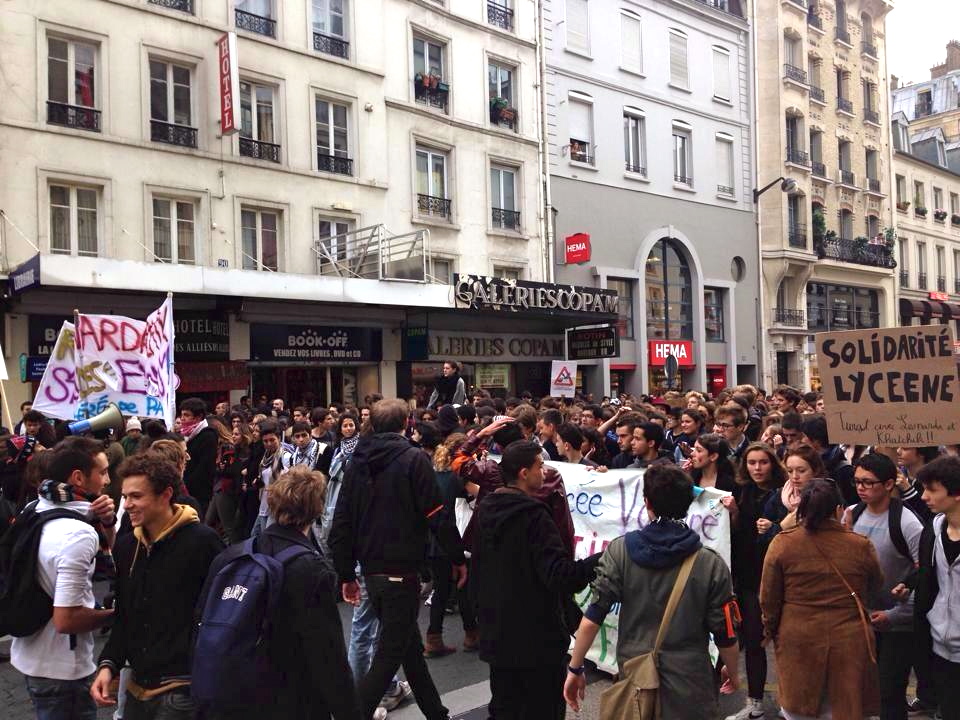 Photos by Mariana Orozco
https://lagente.org/wp-content/uploads/2014/01/1082672_634629236582742_2120334688_n.jpg
720
960
Helen Alonzo
https://lagente.org/wp-content/uploads/2014/04/LAGENTE156H.png
Helen Alonzo
2014-01-21 20:05:31
2014-04-22 08:00:49
DREAMERS are global, protest deportations in France