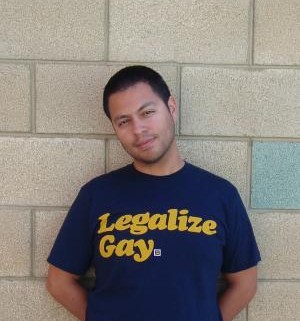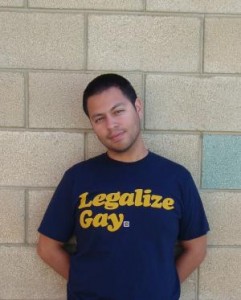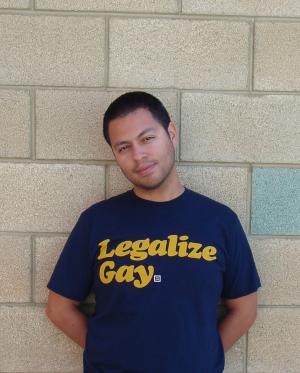 Comedians at last Wednesday's Punk House comedy show at the Westside Comedy Theater used superficial topics such as Facebook, Twilight, vagazzling (yes, that is a portmanteau for bedazzling one's vagina), and even a particularly austere audience member to get viewers to laugh.
So, when budding Mexican-American comedian Manuel Zermeno focused his performance on his gay identity, he immediately stood out.
In his washed-out jeans with a belt-buckle the size of a large mango, Zermeno took off his crisp, white, jean-jacket a few minutes into his routine to reveal the yellow "Legalize Gay" print on his navy-blue cotton tee.
"I am gay," Zermeno said, pausing seriously before continuing with more style quips.
If he grew out his bangs and bleached them, he figures he could pass for a hot lesbian, or the butch one in the group. Zermeno use his jokes to place himself on the gender spectrum rather than the stark, mainstream binaries of male and female.
Zermeno's material centered on gay culture, and though comical throughout, it doesn't try to stay lighthearted. He approached a more serious political issue: Proposition 8 and the current decision to ban same-sex marriages in California.
He shared his realization that, with his many gay friends, he's probably never going to be a best man, but that in a way, he has less to worry about. While he doesn't have to plan out a bachelor party, or write the traditional best-man speech, is this really a burden to be relieved of or an resigned look at the inequalities he faces?
Zermeno's wry humor openly discusses gender and sexuality and brings abstract political issues to the audience through his personal life. His material imparts fashion, inspiration and the human experience. Given his options, Zermeno takes a stand the best way he can.

https://lagente.org/wp-content/uploads/2010/08/manny.jpg
373
300
admin
https://lagente.org/wp-content/uploads/2014/04/LAGENTE156H.png
admin
2010-08-25 18:15:13
2010-08-25 18:15:13
Stand-up for Gays