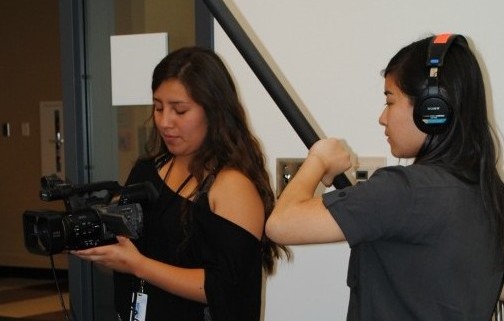 A police officer has a 17-year-old student under arrest, legs apart and hands behind his back. The officer slowly reaches to his belt for his handcuffs and locks them onto his wrists.
Do not be alarmed. Daniel Oh, an eleventh grade student at the UCLA Community School, is interning at the University of California Police Department (UCPD). Officer James Echols is using Oh to model the appropriate arrest protocol and procedures.
This is made possible through UCLA Community School internship program, which partners with different departments at UCLA to provide students with hands-on experience from people already established in a career field.
"I actually like that I have the chance to be in an internship at UCLA," Oh said. "I get a real world experience while I'm in high school, I think that'll be helpful."
The goal of the internship is for the students to gain insight into careers that match their interests, while implementing classroom knowledge in real life situations.
"It is a unique program because it's based at UCLA," said Program Coordinator Jaime Del Razo, a fifth-year Ph.D. student at UCLA's Graduate School of Education and Information Studies. He added that the relationship between the internship program and this university helps them ensure their students are college ready upon graduation from the school.
While only in its first year, this program consists of four different sites at UCLA: UCPD, the Broadcasting Department, the Daily Bruin, and UC All Campus Consortium on Research for Diversity (UC/ACCORD), which is a research unit dedicated to examining educational inequalities in public education.
Eleventh grade student, Janeth Nunez, is interning at the Broadcasting Department and is making a documentary about the interns' experiences in the program because she believes their role in pioneering this program is important.
"When I heard it was an internship at UCLA I thought wow, you don't get an opportunity like this all the time, I have to take it if it's going to teach me something," said Nunez.
Students also build confidence and gain social skills. "It has taught me how to interact with people when you first meet them; at the beginning I was quiet but once I got comfortable I was able to talk to them," Juan Carlos Mejia, an eleventh grade student said
Mejia, 18, is an intern with UC/ACCORD and is currently helping organize data for the California Educational Opportunity Report. In collaboration with UCLA's Institute for Democracy, Education, and Access (IDEA), UC/ACCORD publishes this yearly report to examine California students' educational resources.
Mejia will develop his own similar project by asking fellow students questions about how they are being affected by the budgets cuts and how they feel their principal is helping them receive an education. Having gained much from this program he is happy to utilize his experiences to help others.
"I like it a lot, I'm starting to like talking with others about helping them, it feels good to tell someone else that needs help, to tell them the struggles you went through," Mejia said.
The students in this program develop a sense of agency in their education by working on their own projects. The experience also encourages them to develop long-term career goals.
"Just the fact that it's a new experience and I would have never imagined going to a site and working with professional people… I can't wait till I'm up there too, said Nunez."
https://lagente.org/wp-content/uploads/2011/06/DSC_1040-3-e1307505609168.jpg
325
504
Maribel Camargo
https://lagente.org/wp-content/uploads/2014/04/LAGENTE156H.png
Maribel Camargo
2011-06-06 08:52:17
2011-06-06 08:52:17
Interning for a future