Janet Napolitano became governor of Arizona on January of 2003. During her office she opposed the Bush Administration's plan to create a 600 mile fence along the border region. After her appointment as secretary of the Department of Homeland Security (DHL) in 2009,  she authorized the addition of more fence miles around the border while increasing the number of agents patrolling the border.
Napolitano also enhanced the heavily criticized component 287(g) of the Immigration and Nationality Act, which increases the cooperation of local law enforcement agencies with DHL to capture undocumented immigrants. With training, funding and supervision from Immigration and Customs Enforcement (ICE), police departments can carry similar functions to those of ICE.
During the Bush administration the budget for 287(g) was $15 million. In 2013 the budget had more than quadrupled to $68 million. Critics such as the Detention Watch Network–a coalition of organizations that advocates for immigrant's rights–point out that  through this partnership undocumented immigrants will be reluctant to report any crimes, which will increase criminality in immigrant communities. Additionally, local police departments will spend resources and time on deporting undocumented immigrants rather than tackling criminal acts. Furthermore, critics point out that 287(g) has allowed police departments to carry out racial profiling.
For instance, Maricopa County Sheriff Joe Arpaio is notorious for his participation in the 287(g) program. Under his command, the authorities of Maricopa County allegedly racially profiled Latinos, violating constitutional rights of citizens. U.S. District Judge G. Murray Snow found Sheriff Arpaio guilty of violating constitutional rights and racially profiling.
The chart above illustrates the apprehensions carried out by ICE and Border Patrol targeting ethnic/national Mexicans (which were detained for violations of civil or criminal laws, or for "reasonable" suspicion). In the years ranging from 2009 and 2011, more than three-fourths of apprehensions carried out targeted ethnic/national Mexicans.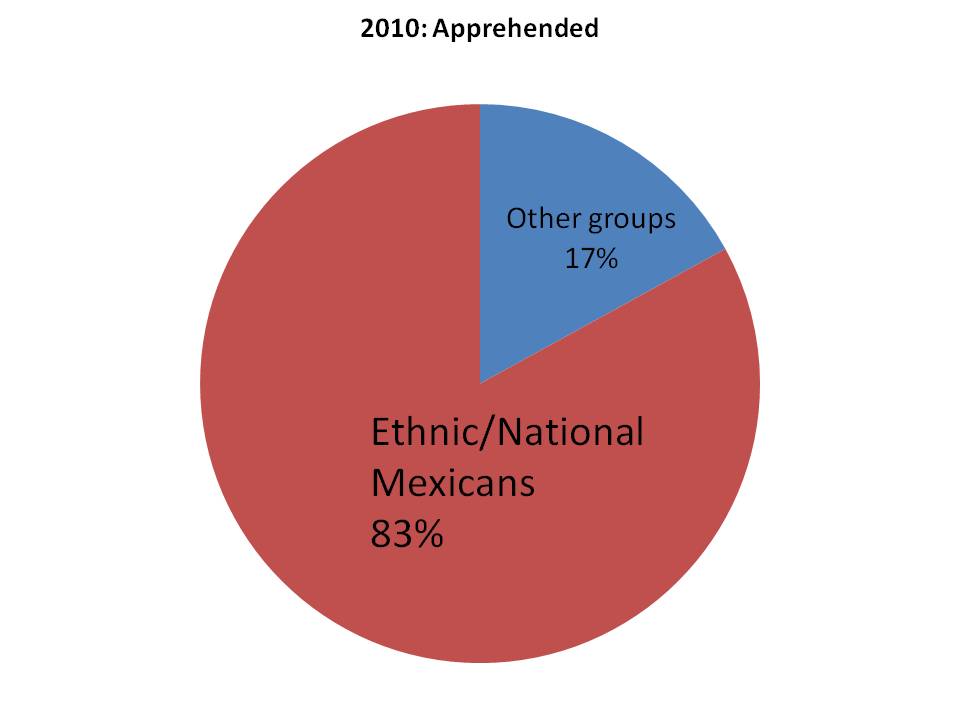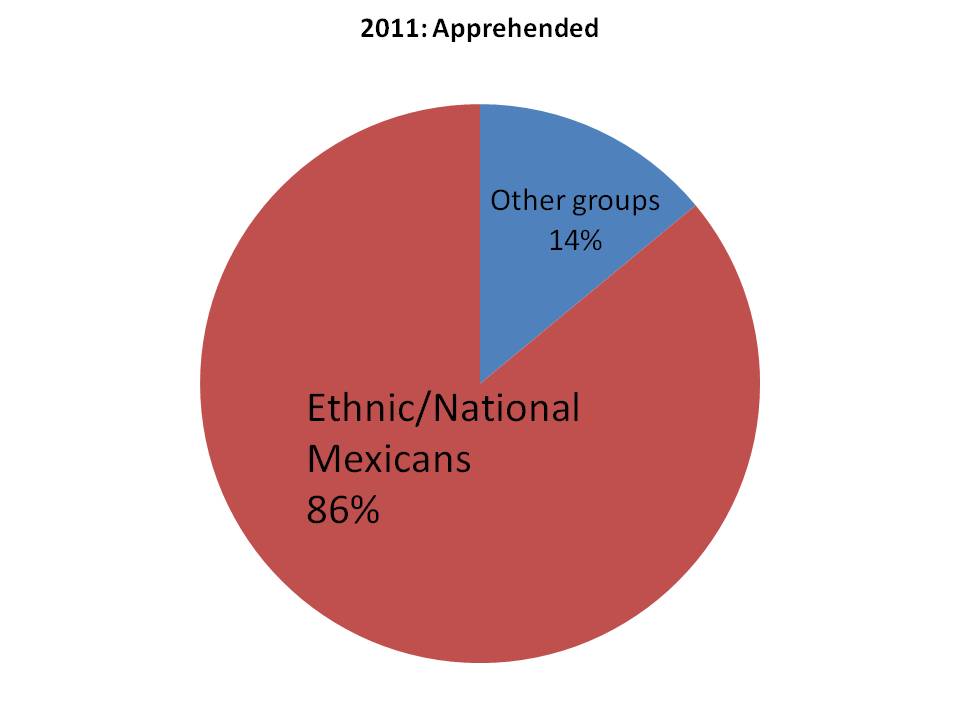 In targeted Latino communities, those found to be "illegal" are "removed" from the country. Janet Napolitano compromised to target those undocumented criminals who pose a threat to society. However, less than half of those deported did not have any criminal convictions. Furthermore, most of the deported "criminal" immigrants committed petty crimes, such as DUI's and misdemeanors. The New York Times reported than in 2009 only 5.6 percent of deported immigrants have committed violent crimes. This is less than the 46,486 undocumented parents who were forced to abandon their children in the U.S. after being deported in 2011, which was 12 percent of the deported immigrants for that year.
Furthermore, the United States Government Accountability Office submitted an assessment of ICE's and local authorities' use of program 287(g), stating that they would "process individuals for minor crimes, such as speeding, contrary to the objective of the program."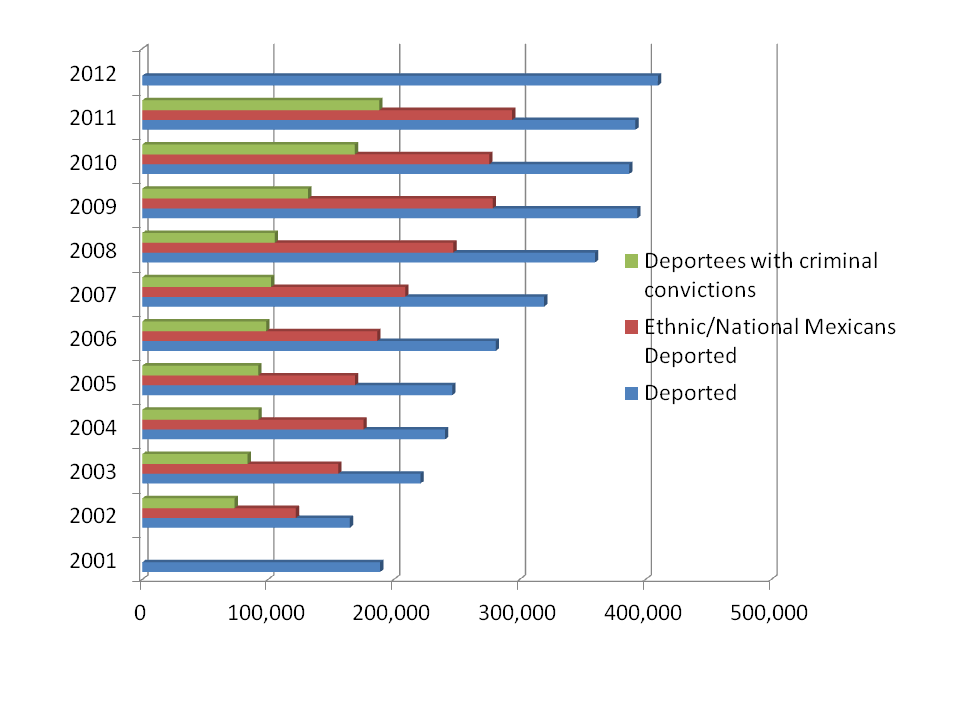 Those who are deported end up in correctional centers, jails, and prisons run by private corporations that have been known to run under unregulated and precarious conditions for the detainees. In 2012, the American Civil Liberties Union (ACLU) submitted a written statement to the House Committee on the Judiciary in which the ACLU condemns the inadequate medical, hygienic, and safety regulations in detention centers and the lack of rape preventative measures.
On November 4th Napolitano sent a letter to all UC students "to express (her) gratitude for the warm reception and insightful instruction (she) received." However, throughout the UC system there was an active opposition movement expressed towards her appointment. Protests spurred on the eve of her campus visits.
At UC Irvine, about 75 students protested Napolitano's appointment. In UC Davis about 50 students rallied for their demands. In UC Santa Cruz 30 students protested outside her meeting with undocumented students. UC Berkeley students chased her and demanded her resignation. Around 40 UCLA students awaited a rally for her arrival to demand the democratization of the UC system. Additionally, UCSD and UCI student governments moved a vote of no confidence on Napolitano.
A day earlier, on November 3rd, students from the UC campuses gathered in UC Santa Barbara to create a UC-wide coordinated body against the appointment of Napolitano. The event was attended by 31 students, 3 teacher's assistants and a worker. The meeting was planned in secrecy; one student asked for everyone to take the battery off their cell phones to prevent any spying from external agencies.
The main goals were to not recognize Napolitano as the UC president and to advocate for the democratization of the UC system. Debbie Tuarte, a second year UCSC undocumented student shared with the group her experience of when she meet with Napolitano on October 30th. She said that students met with Napolitano in hopes of working things out, but the "cold" and "expressionless" way she treated the students deteriorated discussions. She highlighted the occasion in which a student at the meeting asked her to guarantee that she will disburse money for undocumented students, and Napolitano responded by sardonically saying that she did not have her checkbook at her hand. At one point in the meeting Tuarte walked out of the meeting, saying that she will not take money from an "oppressor." She joined the protest outside the meeting and read the following statement:
The place to be is not here in this room with you. The place to look is not to you. The place to look is to ourselves. We are powerful…I will not ask for support from my oppressor. I will not waste my voice on someone who has already forced me to waste so much of my life living in fear. I will not give up my freedom for the change in your pocket. And because of that I decide to not waste my voice here.
Ruben Barrera, a Sociology major, who participated in the protest outside the meeting said that "people came out crying with their heads down" and since then there has not been open communication between the undocumented student organizations at UCSC.
Napolitano has no previous educational experience. The regents alleged that they chose Napolitano for her ability to handle complex public systems. However, doubts are raised. When critics highlight her incapacity to prevent human rights abuses against undocumented immigrants, her active promotion of racial profiling and her violation of constitutional rights stand when changing offices.
But at the end, the fundamental question that UCLA students opposed to Napolitano raised was: Who chose Napolitano? Not students, faculty or workers.
The decision was made by the regents who are also not elected by the general UC population.
If UC students, workers and faculty had no participation in the election of the president, and if this president has no background in education, and if this president has much opposition, why did she take the position? As head of DHS she was paid around $200,000 a year. Now, as president of the UC system she will be paid $570,000 per year, $8,916 a year for car expenses, $142,500 for one-time housing relocation cost, and the UC will pay a monthly rent of $9,950 for her.  A very compelling argument is that she is in for the money, but that may be too simplistic. Is it?
Graphs compiled by Juan Torres
https://lagente.org/wp-content/uploads/2013/12/Deportations-2001-2012-1.png
720
960
Juan Torres
https://lagente.org/wp-content/uploads/2014/04/LAGENTE156H.png
Juan Torres
2013-12-30 22:28:24
2014-02-05 13:00:38
Napolitano as Secretary of DHS and the UC student opposition