I'm helping set-up for a sobriety checkpoint; I have my safety vest on over my uniform and bulletproof vest. That was me two summers ago volunteering as a cadet explorer at my local Police Department. I took pride in being a cadet since I felt a strong connection to my community through my volunteer work.
Gov. Jerry Brown signed Assembly Bill 353, which will become effective January 1, 2012. According to the Official California Legislative Information, AB 353 will prohibit law enforcement to tow an unlicensed driver's vehicle during a sobriety checkpoint if the driver's only offense is not having a valid driver's license. Instead, law enforcement must release the vehicle to a licensed driver whether it's the registered owner or any licensed driver without the owner's consent.
My pride was shaken recently in my Chicana/o lecture. My peers had negative sentiments towards law enforcement from their personal experiences, or through their studies. It was the first time I heard that sobriety checkpoints target immigrant communities, specifically, undocumented individuals. I was shocked; this never crossed my mind. In my eyes, police officers were approachable, caring, mentors and most importantly friends. My peer's comments disturbed me and made me feel guilty. I worked alongside police officers and I too was being associated with these negative feelings. I knew that whatever I said was not going to change my peers' opinion.
Protesting for AB 353, Yesenia, an undocumented student, said she looks forward to learning how to drive. She restrained for fear like her unlicensed brother that she would be stopped, have her car towed, miss a class exam, and forced to pay a quarter's tuition for a class she will no longer receive credit for, as well as pay impound fees to retrieve the car. According to UC Berkeley's Investigative Reporting Program and the California Watch, 17,419 vehicles were towed during the 2010 fiscal year. At most 70 percent were from undocumented unlicensed drivers.
Anti-immigrant groups state that driving will become more "dangerous." Though many undocumented drivers do happen to be unlicensed drivers, this is not by choice. In 1993, California passed SB 976 requiring residents to provide a Social Security number and proof of valid California residency.
California will probably adopt Utah's Driving Privilege Card (DPC), allowing undocumented individuals to drive after completion of a driver's test. However, the card cannot act as a form of identification. In red-bold capital letters it states, "Not valid for identification driving privilege only," along with a red outline around the driver's picture that reminds us that driving is a "Privilege."
As a cadet, I see this benefiting undocumented individuals and law enforcement. Undocumented individuals who have DPC will be able to obtain car insurance and register their car. Through DPC police officers will be able to identify all drivers and determine whether an individual has any warrants, felonies, or a criminal history. This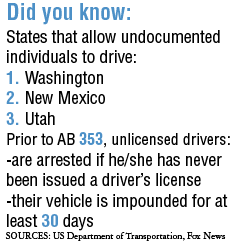 will allow officers to determine how to approach a person. The fear of approaching or letting go an unidentified dangerous individual will be eliminated since every driver will have some form of identification through a driver's license or a DPC.
California needs to shift its attention from the racist undertone of citizenship-status point of view and focus on whether undocumented drivers actually know how to drive. AB 353 along with the adoption of a DPC will keep our roads safe. It will allow undocumented individuals to live an efficient life without the fear of getting one's vehicle towed and the economic hardships that follow. Ultimately, everyone will feel more comfortable living in one's home.
https://lagente.org/wp-content/uploads/2011/12/id.jpg
3342
4782
admin
https://lagente.org/wp-content/uploads/2014/04/LAGENTE156H.png
admin
2011-12-01 18:12:59
2015-01-29 17:38:45
Shifting Towards the Middle Ground