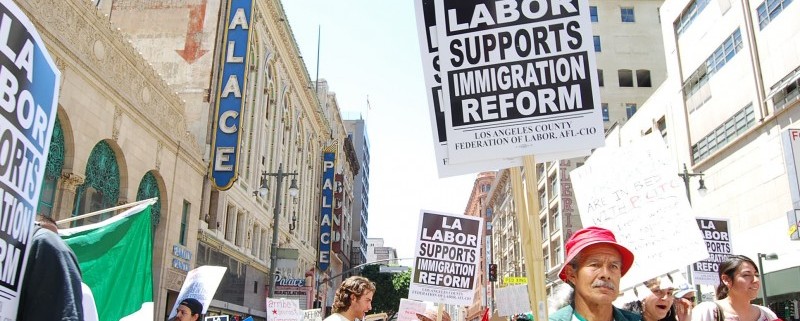 Walking down Broadway, looking for Olympic, the street is empty. The old art-deco buildings tower over us as we look for any signs of an ensuing march.
As we headed towards the intersection of Olympic and Broadway, we met with people with bright t-shirts, pens and forms for us to fill out. They were from Good Jobs LA. Marchers had shirts and carried printed signs that advertised the idea, "We Stand for Rights for All."
On the sidewalk, there is a stack of neon-green signs stamped with "Legalize LA" in stylized font. There are three to choose from: "Legalize LA," "Immigration Reform Now," or a quote by JFK.
"Immigration policy should be generous; it should be fair; it should be flexible. With such a policy we can turn to the world, and to our own past, with clean hands a clear conscience."
Street vendors are a staple of the streets of Los Angeles and May Day is a prime day for sales.  A woman selling sizzling hot dogs with jalepeños and onions; a man with a cart of oranges, making and selling fresh squeezed orange juice; carts, so many carts, selling—and later giving away–American and Mexican flags.
How is la lucha personified? A monstrous statue of liberty, alien (literally!) children, and a masked bride asking America to marry her are dressed for the march.
Walking among strangers in solidarity, yet has anything progressed? Con Obama si se puede some believe, but others are disenchanted.
https://lagente.org/wp-content/uploads/2011/08/DSC_0348-e1312909378809.jpg
535
800
Helga Salinas
https://lagente.org/wp-content/uploads/2014/04/LAGENTE156H.png
Helga Salinas
2011-12-14 16:20:02
2011-12-14 16:20:02
May Day 2011: Where have all the hand-written signs gone?