Want to celebrate summer Latin American-style, but don't have the money to go to Argentina, Cuba, El Salvador, Mexico or any country south of the US border?
La Gente has your guide to local restaurants that embody Latin American flavors.
Go out there, satisfy your tastes buds and enjoy!
Con amor la boquisabrosa,
Maria


Mexico:
UCLA is close to the biggest population of Oaxacaqueños outside of Mexico.
Monte Alban Restaurant is just the place for traditional Oaxacan food. It is nicknamed the "House of Moles" with a specialty of Mole Negro, as well as a variety of other moles. Enjoy coffee with a hint of cinnamon before your main course and have a Cilacayota, a seasonal squash drink originally from Oaxaca to accompany your meal.
*Vegetarian-Friendly*
Price: $
(310) 444-7736
11927 Santa Monica Blvd
Los Angeles, CA 90025
restaurantemontealban.com
Cuba:
The likelihood of going to Cuba for leisure? Near impossible. On a tight budget? Then Miami is out the question. The closest answer I have is Versailles. This restaurant gets crowded near dinnertime, with a wait of 10-15 minutes. I recommend Ropa Vieja, a shredded beef dish, with a side order of Moros y Cristianos (rice and beans) and the alcoholic beverage Sangria, freshly made everyday.
Price: $/$
(310) 289-0392
1415 S La Cienega Blvd
Los Angeles, CA 90035
versaillescuban.com
El Salvador:
La Casita de Don Carlos, is the place to go to enjoy authentic Salvadorian food. They are known for their pupusas and Salvadorian memorabilia. The restaurant décor brings you to Central America and flat screens inside are always showing novelas or soccer games. The food is very affordable and can be enjoyed with a beer of your choice.
Price: $
(213) 387-7748
2046 West Pico Blvd
Los Angeles, CA 90006
Argentina: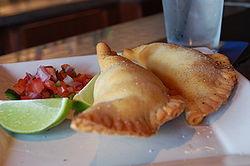 Empanada's Place is known for their Argentine empanadas. This small eatery has an Italian flair, reflecting the influence of Argentina's largest immigrant population. It is a cute café to eat lunch with a couple of your friends. They offer a variety of meat or vegetarian empanadas at about $2.99 each, but they are well worth it. I recommend trying the Arabé, a lemony beef combination, or the Corn, made with sweet corn and melted cheese; each will leave you wanting more.
Price: $
(310) 391-0888
3811 Sawtelle Blvd
Los Angeles, CA 90066
$: Super Chido, it's pocket friendly
$: Comida Cómodo
$$: ¡Mira que Fancy!
https://lagente.org/wp-content/uploads/2014/04/LAGENTE156H.png
0
0
admin
https://lagente.org/wp-content/uploads/2014/04/LAGENTE156H.png
admin
2010-08-10 18:19:08
2010-08-10 18:19:08
Traveling Tastebuds