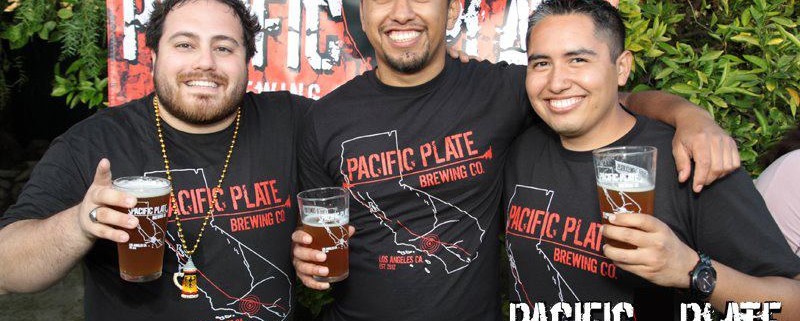 As Latinos, we are used to spicy and savory foods. Even beverages, ranging from aguas frescas to margaritas, are full of flavor. Yet, in regards to the beers we enjoy, there is a serious lack in flavor variety.
The most popular beers among Latino populations in the U.S. are Tecate, Corona, Dos Equis, Carta Blanca, Bohemia, Pacifico, and the varieties of Modelo. These beers are all imported from Mexico and most of them are types of lagers.
Traditional beer is brewed from a barley base. But beers like Corona have corn, rice and/or sugar added in order to lighten the flavor and body of the beer, making them just plain bland!
Have you ever wanted a more flavorful beer different from the typical Corona or Tecate?
Sure, we have our customs of adding salt, lime, hot sauce, or clamato juice to beer. Yet, even micheladas are limited in flavor. The term is even derived from the phrase mi chela helada, which means "my light, cold beer".
The michelada has quickly become the flagship of "Latino" flavored beer to the point where they are commercially canned by major beer companies in a diluted attempt to cater to the Latino customer (I'm looking at you, Budweiser).
So, are there any new beer options out there?
Enter Pacific Plate Brewing Company—a new up and coming craft brewery that is taking up the challenge of designing new beers with traditional Latino inspired flavors.
The brewery's first line of beer includes American and European ales, such as those from Belgium, England, and Germany. Their second line of beer is a collection of Latino American inspired flavors, including Horchata Stout, Agave Wheat, Mango IPA, Cardamom Ginger Saison, and "Copa de Oro", which is a Belgian-golden ale brewed with Orange peel coriander and Hibiscus (also known as Jamaica).
Pacific Plate Brewing Co. is located in Monrovia, California and is currently getting ready to open its doors to the public by summertime of this year. The brewery is owned by Stephen Kooshian, Jonathan Parada, and Steven Cardenas, all of whom are of Latino heritage: Stephen Kooshian's mother emigrated from Nicaragua, Jonathan Parada has family from Guatemala, and Steven Cardenas is a second-generation Mexican American.
Since all the owners have a Latino American heritage, creating Latino American inspired flavors of beer is something that is close to their hearts. Although the beer is innovative—mixing traditional German and English recipes with Latino inspired ingredients—it still maintains its ties to tradition.
"The decision to create such beers did not occur to me in one specific instance, it was more of a process," said Stephen Kooshian, head brewmaster and creator of all the beer recipes. "A friend suggested that we make a beer with an horchata flavor. So I did some research on the varieties of horchata and decided that the ingredients of Central American horchata would mix well into an English Milk Stout."
Research included consulting his mother, originally from Nicaragua, on the most important ingredients of Central American horchata in order "to make the beer as authentic as possible." Stephen explains, "we needed to include the main ingredients: milk, cacao beans, vanilla, and Jicaro, the seed of a Calabash-like plant, which imparts a subtle licorice flavor to the beer."
Ideas for more beers quickly developed between the three as they identified ingredients and flavors popular among Latinos, including mango, agave, cardamom, and cinnamon. And, the constant theme of authenticity is present in all of the beers. Jonathan's aunt, tia Anna, even brought cardamom from Guatemala (the largest exporter of the spice) in order to be used in the Cardomon Ginger Saison.
The guys at Pacific Plate Brewery are confident that their commitment to authentic Latino flavors will attract the large Latino populations in Los Angeles. Stephen promises that Latinos have tested their beers for approval: "We have a lot of Latino friends and we've had nothing but positive responses from when they try our beers."
Pacific Plate Brewery aims to make their beer relevant to the Latino communities in hopes that Latinos will begin to try more craft beer and switch over from the bigger brands. "Our first goal is to provide honest, quality craft beer to the community," said Stephen. "Our secondary goal is to offer these intriguing and familiar flavors to the Latino American communities of Los Angeles. It's well documented that the Latino market has been untapped within the craft beer community, and if there's any place in the country where that market is most important, it's L.A."
The owners of Pacific Plate Brewery recently attended the Annual Brewer's Association Craft Brewers Conference held in Washington D.C. in late March of this year. One of the topics that was discussed in a seminar at the conference was the "untapped Latino market." The seminar reassured the Pacific Plate guys that their unique line of beers was the right thing to do.
"People in the Craft Brewery Industry are well aware of the cultural diversity that craft brew can appeal to, and the Latino market is definitely something that a lot of breweries are looking at," said Stephen. "In my experience in the craft brewery industry, we've come across people of all different backgrounds. But it's impossible to deny that the majority of people in the industry are white."
The craft brewery industry, which has increasingly expanded within the past few years in the United States, remains a predominately Anglo-American business in the United States. The industry is slowly spreading to places like Mexico, yet the power and popularity of the bigger beer companies, namely Grupo Modelo and FEMSA, continue to make it difficult for small breweries to thrive in the Mexican beer marketplace. Even when small craft breweries are successful in Mexico, most of their craft beer is either limited to circulation within their respective city regions or it is exported to the United States. The situation is similar for any rare microbreweries in Central or South American countries.
Still, Stephen hopes that Pacific Plate Brewery will only be among the first to pioneer culturally influenced craft brew. "Being a historian, one of the things that really fascinates me is the beer of other cultures. There are breweries like Dogfish Head in Delaware that brew ancient recipes that they found from Scandinavia, Japan, and Egypt. It's definitely great to see breweries make these incredibly unusual beers, and it gets people from different cultures interested."
At the rate that craft brewery is growing these days, about 15% per year recently, people from diverse cultural backgrounds will begin to embrace the industry. There will be a demand for beer that is both unique and captivating to the palate of these various ethnic populations, including beers that can capture the interest of Latino American populations. Pacific Plate Brewery is a significant part of making craft beer more accessible and enticing to Latino American populations.
For more information about Pacific Plate Brewery, please visit:
www.facebook.com/PacificPlateBrewing
https://lagente.org/wp-content/uploads/2013/05/3.-PPB-Owners.jpg
532
800
La Gente
https://lagente.org/wp-content/uploads/2014/04/LAGENTE156H.png
La Gente
2013-05-15 21:09:30
2015-01-22 19:45:24
LA brewery brings Latino inspired flavors to beer