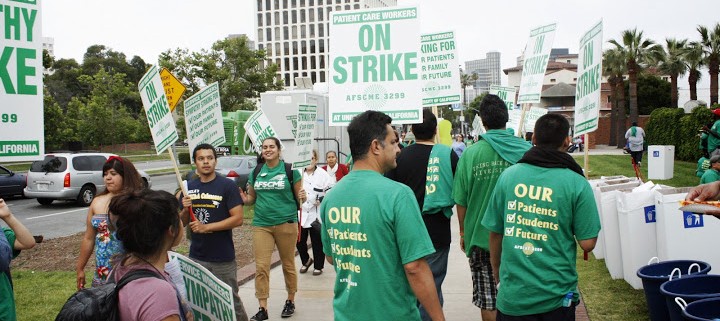 Article by Tlaloc Vasquez
The strike is set to go from 4am Tuesday until 4am Thursday in front of Ronald Reagan UCLA Medical Center. The strike is a last resort for UC Patient Care workers after negotiations with the University of California (UC) failed to produce a contract that both sides could agree on. UC Patient Care Workers strike for safe staffing and respect on the job; they want a just contract that supports pensions, living wages and job security.
According to the Facebook Group entitled Student Solidarity for UC Patient Care Workers' Strike!!, "The UC Patient Care worker strike will be taking place May 21st and 22nd! We are asking students to gather at 4:30PM ON TUESDAY AND WEDNESDAY to join workers on the picket line in front of Ronald Reagan Medical Center. Then we will be having a rally at 6pm!"
UCLA is not alone in this action. 13,000 patient care workers at the 5 UC Medical Centers (Los Angeles, Davis, Irvine, San Diego and San Francisco) will be going on strike. They will be joined by over 8,500 service workers and another 3,400 hospital technical workers across the UC system. Students and workers are asking people to wear green in solidarity with UC Workers on Tuesday and Wednesday.
These workers are the heart of the living organism that is the University of California. They are vital to the vast functions of each UC campus and hospital as they maintain the aesthetic beauty of our campuses and care for thousands of hospital patients year after year. Simply put, without these workers the UC system would not exist.
The paid spokesman for the UC that you will see on the TV or read in the paper will say things like, "We respect our workers, but we think it is inappropriate for them to demand to keep their benefits. We have a worker appreciation day, isn't that enough?"  But I know the truth. At the end of the day, this is a fight for the working people. This is for my friends. This is for Olga in the Student Activities Center. This is for Chris in Covel Dining Hall. This is for Mauricio cleaning the halls of Campbell. This is for all the workers that make UCLA feel a little less like a cold institution and a little more like home.
https://lagente.org/wp-content/uploads/2013/05/forartice.jpg
480
720
admin
https://lagente.org/wp-content/uploads/2014/04/LAGENTE156H.png
admin
2013-05-22 10:26:10
2013-09-02 18:56:47
UC Patient Care Workers Strike for Safe Staffing and Respect on the Job