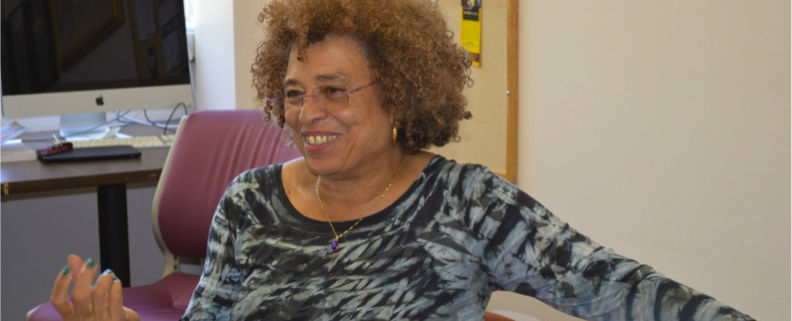 "I've been incarcerated for 16 years and from the looks of it, I don't see myself ever being paroled…Even though I'm limited to what I can draw being in the S.H.U without being chastised by the authorities, I do my best to create works I can be proud of," wrote James Vidales, a prisoner at Pelican Bay State Prison
According to Mother Jones magazine, Pelican Bay State Prison is the sixth worst prison in the United States and the toughest in California. Vidales is imprisoned in the Security Housing Unit (S.H.U.), in which he and 1,000 other inmates are stationed in solitary confinement cells. Prisoners in solitary confinement at this prison spend most of their day alone in a small cell alone, and for 90 minutes they are given free time in a small concrete area without windows and only a rubber ball to play with. They experience minimal (if any at all) human contact, fresh air, and sunlight.
Juan Mendez, the United Nations Special Rapporteur on Torture, has considered solitary confinement as a form of torture. He has asked the United States to allow his visit to solitary confinement units like the one Vidales has been living in for years.
In a gesture of appreciation for receiving an issue of La Gente Newsmagazine, Carlitos E. Galindo (another inmate from Pelican Bay Prison's S.H.U.), sent La Gente a poem in which he anticipates the unification and strength of the Mexica people.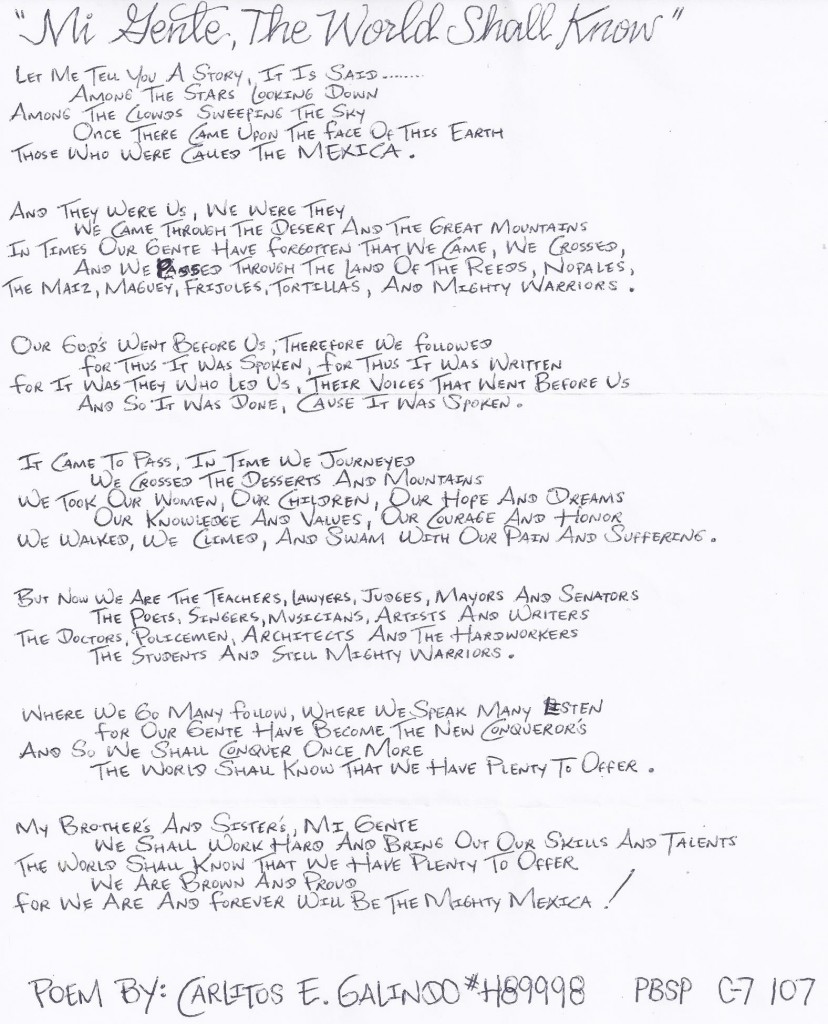 In his letter he recounts the harshness of living in prison: "I've been in prison since 1991 when I was 16 years old and so as you can imagine almost everyone have forgotten about me. It gets lonely here in this dungeon…I try to read books and educate myself and just keep my mind busy but its hard at times."
A research study by Stuart Grassian, former clinical instructor at Harvard Medical School, and Nancy Friedman, Clinical Instructor in Psychology at Tufts University School of Medicine, concluded detrimental psychological effects on people in solitary confinement.  Some of these psychological effects include severe anxiety, hallucinations, and the emergence of aggressive and suicidal behaviors.
Media, such as T.V. and documentaries, characterize prisoners as dangerous individuals unacceptable to society. Yet, many of the drawings, poems, academic articles, and thoughts that  prisoners shared with La Gente newsmagazine tell another story.
"One of the major assaults on prisoners came during the Clinton administration, when the educational institutions within the prison system were dismantled. This had to do with…rendering prisoners illegible for Pell grants," said Angela Davis, renowned former social activist and scholar who is currently teaching graduate courses at UCLA.
In 1994 prisoners became ineligible for the federally funded Pell Grants to pursue higher education. Supporters of the policy opposed spending resources on prisoners when college students were already struggling with high college costs. However, according to The Washington Post prisoners only accounted for 1% of the students who received Pell Grants. But for Angela Davis, the problem goes deeper than just reforming prisons.
Davis has been a prominent voice in the prison abolitionist movement, which seeks to end the prison-industrial-complex (a term used to describe the increase of prisons due to the political influence of prison companies) and to replace it with a more humane society where basic human necessities are provided. "The popularization of prison abolition occurred in the context of the Attica Rebellion of 1971… So I think that prison intellectuals have played an absolutely essential role in the emergence of the prison abolition movement," Davis said. This prisoner's rebellion, in which inmates managed to take over Attica Correctional Facility to demand political rights and better living conditions, served as the one of the most important points in the prisoner rights movement.
But prisoners also include undocumented immigrants who are detained in private prisons and detentions centers. The Department of Homeland Security (DHS) under Republican and Democratic governments has carried an exponential increase in deportations. This has also caused the exponential increase in undocumented prisoners in America.
The appointment of the former Secretary of DHS, Janet Napolitano, as President of the University of California system caused protests throughout the University of California campuses. Discontent emerged especially among undocumented students. Those who were deported during her office in DHS ended up in correctional centers, jails, and prisons run by private corporations that are known to run under unregulated and precarious conditions for the detainees. In 2012, the American Civil Liberties Union (ACLU) submitted a written statement to the House Committee on the Judiciary in which the ACLU condemned the inadequate medical, hygienic, and safety regulations in detention centers.
When she heard of the appointment of Napolitano, Davis "was absolutely shocked to learn that she had been appointed to be president of the UC system." She added, "I still don't understand why, but I will say that, increasingly, the leadership of universities comes from corporate realm."
Debbie Tuarte, a second year UCSC undocumented student, walked out of one of the meetings where Napolitano had sat down with other undocumented students. When she walked out to join the protest outside the meeting, she read out loud to the protesting crowd:
The place to be is not here in this room with you. The place to look is not to you. The place to look is to ourselves. We are powerful…I will not ask for support from my oppressor. I will not waste my voice on someone who has already forced me to waste so much of my life living in fear. I will not give up my freedom for the change in your pocket. And because of that I decide to not waste my voice here."
Davis added, "Now she did announce she had devoted a certain amount of money to undocumented students; that's a good thing, but that is not what's going to solve the issue. And so what I will suggest is to use that to put more pressure on her and develop more recognition and more support for undocumented students."
To Davis, the appointment of Napolitano highlights a structural problem with the UC-system. "This university was originally designed to be a public university and to offer education at no cost to the residents of California. That's no longer the case. Certainly, the UC system is as corporatized as many private institutions and it's not only in terms of the financial support or the leadership, but is also about the kind of education that is encouraged: an education that is subordinated through a process of commodification."
Apart for being a prison abolitionist, Davis has also been a prominent voice in the radical feminist movement. She sees feminism interconnected with issues of race, class, ability, and sexuality. To her, the most important task is to understand the intersectionality of all these issues and to create a movement that addresses them as one struggle. "So as I often say: We have to act as if it was possible to change the world, we have to organize as if it was possible and then one day we will see the fruits of that world."
https://lagente.org/wp-content/uploads/2014/06/Juan1.png
527
792
Juan Torres
https://lagente.org/wp-content/uploads/2014/04/LAGENTE156H.png
Juan Torres
2014-06-22 19:34:45
2015-01-29 17:40:01
Interview with Angela Davis on prisons and UC President Napolitano