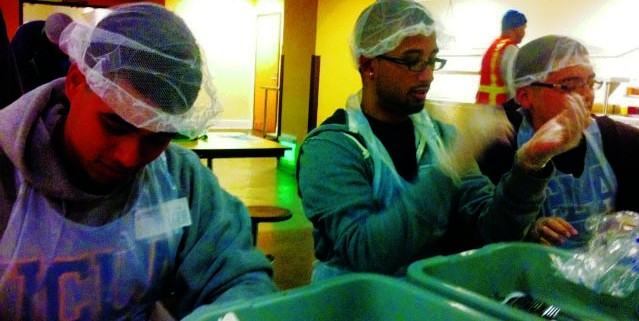 Driving eastward on Interstate 10 at 5 a.m., the most obvious thing I can see is the lack of traffic, but as I look closer, I see the change from the affluent Westside neighborhood around UCLA to the economically-ravaged downtown area known as Skid Row.
With fellow members of Nu Alpha Kappa (NAK), we've made our way to the Midnight Mission center, located in one of the city's poorest areas. Even at this hour, people are starting to line up outside the center to receive breakfast.
Twelve of us come to help serve food and clean the center. As we make our way into the center, everyone is quiet and sleepy.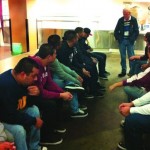 "It's hard for a lot of us to get up at this time, but we know that it's for a good cause so it makes it a lot easier," said Adan Calzada, a fourth-year sociology student and NAK fraternity member.
To most NAK members, it is nothing new to volunteer at the center.  But some do not know what to expect for their first time in this part of town.
"A lot of [members] are not familiar with these parts of Los Angeles. As for me, I grew up in South Central Los Angeles," said Jose Moran, a fourth-year sociology student and member of the fraternity.

As we first walk in, I notice young kids, the youngest looking like he is three years old. At first, the children stay close to their parents, but after a while, they start playing around with fraternity members, and their smiles light up the fraternity members' faces.
"The hardest part of coming here is always seeing how many kids live in these conditions… we try to interact with the kids because they are the future of this country. When people think of homeless individuals, they never realize that there are many children that are homeless as well," said Moran.
The homeless thank the members as they serve food.
"There is no greater feeling than when people thank you and how you can really see it in their faces how much this really means to them," said Victor Chan, a fourth-year biology student and first-time volunteer at the center.
After the food is served, it is time to clean. The members are now livelier than they were when they first arrived. They talk and make jokes not just with each other, but with the leaders at the center as they sweep, mop and wash the center, making sure that it will be clean for lunch.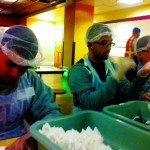 But a difficult issue for NAK members is that they are not able to do more for the people on Skid Row. Many times they feel that they have to turn their backs on the individuals in need.
"It's great how we come out and give three to four hours of our time, but the most important thing we can do is not forget when we go back to UCLA," said Moran.
https://lagente.org/wp-content/uploads/2010/11/midnight.mission.1.jpg
476
639
Jonathan Sanabria
https://lagente.org/wp-content/uploads/2014/04/LAGENTE156H.png
Jonathan Sanabria
2010-11-30 22:09:08
2010-11-30 22:09:08
Out on a Mission: NAK volunteers at a center for the homeless