It's been a month and I can still hear Bardo's Yamaha YC-30 humming inside my ears. I get chills as I reminisce about the electric set that had everyone dancing at the Museum Courtyard of the Getty Center on July 12th. Chicano Batman performed for free as part of the Saturdays of the 405 concert series, held every summer by the Getty Center.
Chicano Batman entered the stage with smiles and waves for the audience. "We are Chicano Batman," uttered Brado Martínez as they began the performance, after a quick set up. They then began the set with the instrumental sounds of "La Tigresa."
The spiritual, mysticism and charged energy flowed throughout the four members, all dressed in their signature, matching sky blue dress shirts. Throughout an instrumental piece in the middle of the set, Bardo took the time to be thankful for everything important and even swayed the crowd towards the ocean to thank it.
The sweet rhythms that flow from the rhythm guitar of Carlos Arévalo, the energetic underlining bass that jumped out from Eduardo Arena, and the unforgiving liveliness of rhythm from Gabriel Villa create the danceable atmosphere that infected everyone on the floor. Bardo Martinez's enchanting, transcendent voice also shrouded the Courtyard throughout the deep, soulful journey.
My soul felt cleansed. The humming hasn't stopped.
Get Cycles of Existential Rhyme. Out now! Chicano Batman will also be playing at FigAt7th in Downtown Los Angeles with Las Cafeteras, Friday August 1st. Free!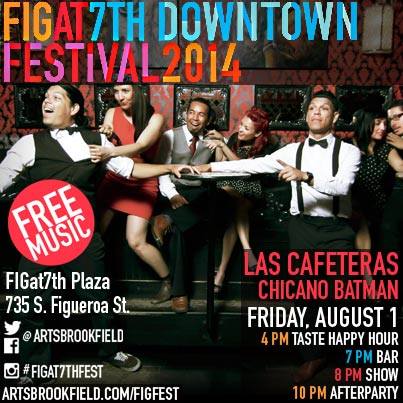 https://www.facebook.com/events/341026152715725/?ref_dashboard_filter=upcoming
https://lagente.org/wp-content/uploads/2014/08/photo-54.jpg
2448
3264
Madelinn Ornelas
https://lagente.org/wp-content/uploads/2014/04/LAGENTE156H.png
Madelinn Ornelas
2014-08-01 16:35:59
2014-11-05 01:18:06
Chicano Batman at the Getty