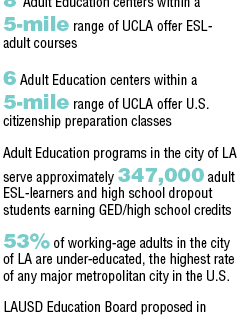 It's 5 am, around the time when most students who have procrastinated head for bed. For Gloria, it's time to wake up and head to work. She works a full eight-hour shift, cleaning the dorms of Hedrick Hall, but at noon she takes a break to learn English.
Gloria is an employee for UCLA Housing and Hospitality Services. She participates in Project SPELL (Students for Progress in Employee Language Learning), a program on campus that offers English as a Second Language (ESL) tutoring for employees to improve their English skills. A volunteer-based program in its second year, SPELL matches employees with student tutors, each pair meeting twice a week for one-hour lessons. The employees range from those who have basic English skills to those studying for their GED. SPELL is a Volunteer Center Initiative that welcomes any non-native English speaker.
SPELL produces many stories of success like Gloria's. As her personal tutor, I have seen an immense improvement in her English skills, as well as her confidence with

the language. " Cada oportunidad a aprender es bueno [every opportunity to learn is good]," Gloria explained as the main reason she decided to participate in the program. She answers in the quiet yet serious voice of someone who gives constant advice from experience. Although sometimes serious, Gloria is mainly a cheery woman who enjoys describing her life experiences and family stories in comical ways. Originally from El Salvador, she arrived in the US in the early 1990s and has since made it a top priority, though a slow process, to learn English.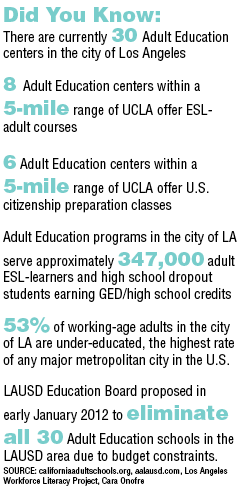 As it is for a majority of immigrants, the fact that LA has a prominent Spanish-speaking community is a major reason why becoming fluent in English has been difficult for her. "At work, I try to speak English, but at home I speak mostly Spanish," she said. She also mentioned that supervisors speak English to their employees, but many opt to direct their workers in their first language—Spanish. Bilingual managers make employees comfortable in using mostly Spanish.
Outside the work place, Gloria realized that learning English was crucial in order to communicate with UCLA staff and, especially, students. "When I first started out, tenía mucho miedo para hablar en Inglés y contestar sus preguntas que me preguntaban [I was afraid to speak in English and answer their questions they would ask]," she confessed, commenting on the  miscommunication that occurred between herself and students she encountered every day.
During the past four years, Gloria would avoid conversation with students who approached her, always due to a lack of confidence in English. Even the little thank-you notes some left at the end of the year were difficult to understand. "I wanted to know what they said and answer them (the students) when they ask questions. I also need to tell them when I have problems," Gloria said, "I knew that I had to speak better English." Gloria's insistent tone in making this statement, accompanied by a head nod, shows she accepts the situation as more of a challenge rather than a looming obstacle.  She believes that English is important because it is how workers, staff, and students interact with each other.
Gloria also encounters the language problem at home. Her children, first generation Salvadoran-Americans, balance both languages. Yet, with her grandchildren, English is more dominant.  "My youngest nieta [granddaughter] speaks mostly English," Gloria said, "they learned it first, so they always answer me in English even when I speak Spanish."
While this occurs, Gloria said that she does not want them to prefer one language, "I want to be able to speak to them in English and Spanish." She wants her grandchildren to speak both languages fluently, emphasizing that "los dos lenguas son importantes igualmente [both languages are equally important]." This is the philosophy that Gloria carries to our weekly lessons: to learn English and set an example for her grandchildren. At home, she sings the English alphabet with her granddaughters to practice phonetics, and at least once a day she takes time to complete an English crossword puzzle to build up vocabulary.
On our first day together, Gloria was nervous about practicing her speech skills because of  frustrating experiences in the past. These days she happily chats with any student, taking every opportunity to practice her English skills. "The students, the RAs, are always very nice. They say, 'Hi Gloria, how are you?' I talk more English with them, and they say, 'You are doing very good with English!' "
Encouragement from students and family is what influences Gloria to continue improving each quarter. Her face grows into a wide smile as she says, "English provides more opportunidades y beneficios. Estoy contenta a aprender mas y mas [English provides more opportunities and benefits. I am happy to learn more and more]!"
https://lagente.org/wp-content/uploads/2012/04/Screen-shot-2012-04-25-at-5.41.57-PM.png
490
245
Maria Teresa Armendariz Guerra
https://lagente.org/wp-content/uploads/2014/04/LAGENTE156H.png
Maria Teresa Armendariz Guerra
2012-04-25 17:49:12
2013-09-02 19:12:33
SPELL-ing Success In Both Languages