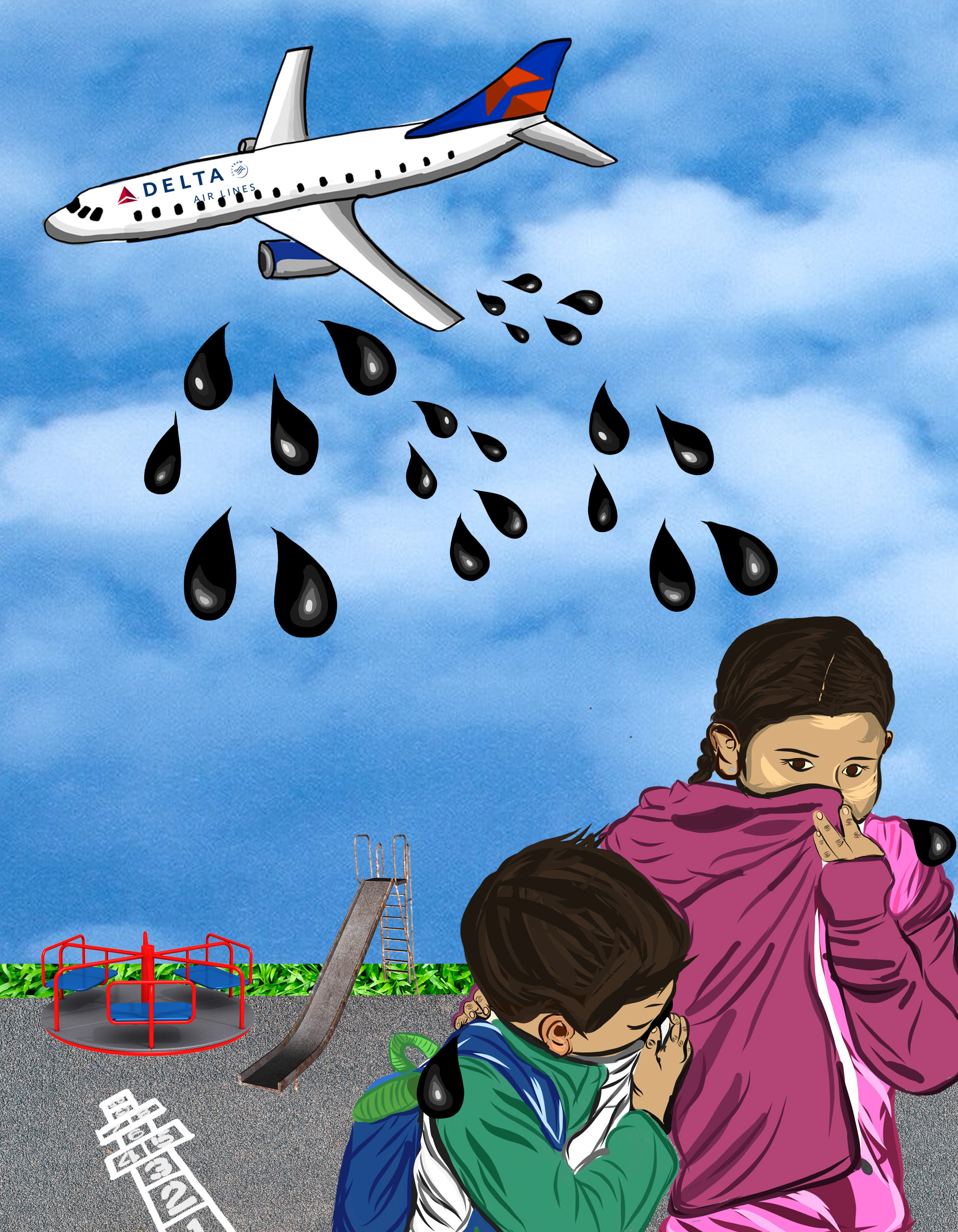 On January 15, 2020, Delta Air Lines pilots dumped airplane fuel over Cudahy, an area of Southeast Los Angeles that is home to the sixth largest Latinx population in LA County, and landed across six schools. Sixty students and teachers received medical attention after being drenched in oil by the Delta plane. Many children were outside when the fuel was dropped. 
The Delta plane was en route from LAX to Shanghai when it dropped the oil. In cases of emergency, protocol calls for pilots to dump fuel above 10,000 feet so that the fuel can dissipate before it reaches the ground. Protocol also calls for pilots to dump fuel in unpopulated areas or above the ocean. In this instance, the Delta pilots dumped fuel 2,000 feet above the ground. In this instance, the pilot admitted that dumping the fuel was unnecessary. 
The negligence that impacted the children and teachers at Cudahy is not an isolated incident. Areas in Los Angeles with higher percentages of Latinx people are more likely to be considered environmentally disadvantaged. For example, South LA contains at least 51 active oil wells while nine percent of residents live near a truck route, and the area had one of the highest asthma hospitalization rates in LA County in 2011. Comparatively, the residents of more affluent areas of West LA have lower asthma rates. In 2020, this divide in environmental conditions has not changed. The residents that live between the 110 and 405 freeways, which are predominantly Black and Brown, go largely ignored by health officials.
Environmental racism goes beyond Los Angeles and California. Instances of environmental injustice is widespread throughout the United States. Flint still does not have clean water and Louisiana has a district known as Cancer Alley. Environmental injustice affects low-income communities of color throughout the country at a greater rate than more affluent communities. 
Particulate matter is a group of manmade and natural suspensions of liquid and solids that makes up air pollutants. These pollutants are linked to low birth rates, high blood pressure, and asthma. Scientists for the National Center for Environmental Assessment found that Black people are exposed to particulate matter 1.5 times higher than white people while non-black Latinx people are 1.2 times more likely to be exposed.
While actions such as banning plastic straws and reducing the number of plastic bottles used are smaller individual solutions, corporations must be held accountable for the amount of waste they produce. Activists like Greta Thunberg demonstrate the power of standing up against climate change, and local activists such as the Youth for Environmental Justice (YouthEJ) have organized to stand up against environmental injustice in low-income neighborhoods. YouthEJ and other groups spread knowledge about environmental issues in schools such as Huntington Park High School, South Gate High School, and other Los Angeles schools that are largely made up of black and brown students. Other organizations such as the Better Watts Initiative also advocate for better environmental conditions, in this case, the predominantly Black and Brown neighborhood of Watts where life expectancy is 12 years less than that of Brentwood.
Climate change impacts everyone, especially low-income communities of color. The conversation on climate change, especially in the popular media, focuses on what the individual can do on a day-to-day basis rather than hold corporations accountable for the toxic waste and ambient air pollution they produce. The impact of the youths' voices are felt around the world, and it is up to everyone to hold corporations accountable and protest against environmental issues in our communities. Efforts to improve the environment must take race and class into account, considering that low-income communities of color are more susceptible to deteriorating health due to pollution.
Visual by: Jessica Martinez
https://lagente.org/wp-content/uploads/2020/02/Jet-Fuel-Piece-1-1.jpg
2700
2100
Daniel Ponce
https://lagente.org/wp-content/uploads/2014/04/LAGENTE156H.png
Daniel Ponce
2020-02-01 19:00:23
2020-02-01 19:00:23
How Communities of Color are Affected by Environmental Injustice