At Olympic and Broadway, on May 1st, people organized themselves with their banners before the rally started. Photo by Charlene Unzueta.
On May 1st, 2012 on Olympic and Broadway in Downtown Los Angeles, people gathered for a rally that began at 1 PM. Music played while people organized themselves behind their banners. As a participant, it was empowering to be part of a rally of diverse organizations that had come together for a general strike.
I began to come to these May Day rallies a few years ago, after learning about them from my family. It is my family that continues to pass their political knowledge and activism onto me. These events for me are great because not only do I get to spend time with my loved ones, but I also like to see other families partaking in the same events as my own.
With the elections coming up this year, May Day 2012 was a sight. It was full of signs asking for change and reform. There were also many signs reminding politicians of the promises they had made the last time they were running for a office, such as stopping the cuts on education and true immigration reform.
On this day, we were able to speak out together about a plethora of issues that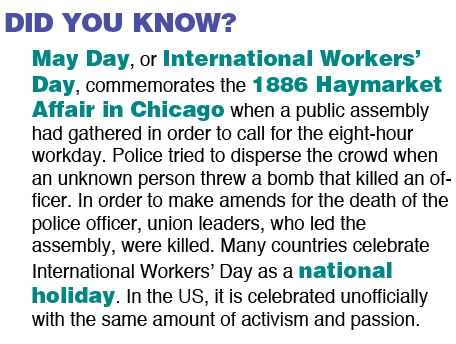 included workers' rights, queer rights, education reform, and immigrants' rights. Because there were so many issues represented there was also a diverse group of individuals that ranged in age, ethnicity, and socioeconomic status.
While the majority of individuals that were there went to support the different causes, there were also cynics amongst the crowd. "They don't even know why they are there…they don't have any real demands."
These rallies are not just for show and on the contrary, May Day has a sense of unity that prevails over any other idea or feeling.
Angelica Salas, an executive director for the Coalition for Humane Immigration Rights of Los Angeles, spoke at the rally about what she believed May Day 2012 represented. "Estamos aqui hoy porque esta mañana se llevaron a un padre de familia, esta mañana levantaron a una madre de su familia y la quitaron de su casa. . . Esto no puede seguir y por eso marchamos."
She discussed how it is unacceptable that 400,000 people are deported every year and that we must organize and mobilize in the streets and at the polls. "Vamos a votar en Noviembre? Es por nuestras familias, nuestros hijos, para el futuro de esta nacion. A registrarnos, a votar, a crear poder, para que republicano o democratico esuche el clamor de nuestro pueblo."
People who would normally not speak out about their complaints held signs proudly and without fear, displaying their concerns such as "Legalize my partner."
Throughout the rally, police filled the streets, and despite the intimidating image of being surrounded by police, we were all united as one. Intimidation would not win on this day.
Did you go to May Day? How did you become involved? How did you learn about the hsitory of May Day?
https://lagente.org/wp-content/uploads/2012/06/mayday.jpg
2256
1504
admin
https://lagente.org/wp-content/uploads/2014/04/LAGENTE156H.png
admin
2012-06-21 10:34:28
2013-10-07 23:28:15
Annual March for Workers' Rights Generates Solidarity