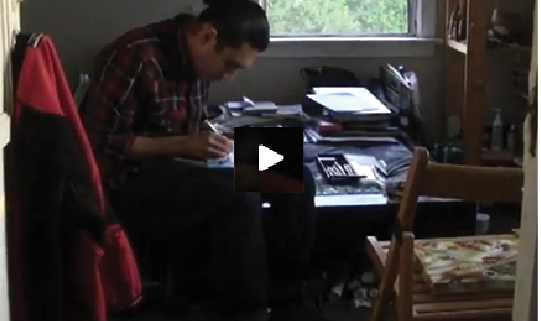 Canvases, paints, brushes, and spray paint of various colors scatter Cesar Uitz' Avala's room from his desk to his shelves to under his bed. With art hanging from the walls, the living room is lined with bookshelves that are filled with Latin American History, Indigenous History and other critically conscious works that inform his art. His computer is opened up to digital illustrations for a children's book. His indigenous flutes are ready to recall sounds of a past time.
Cesar uses indigenous themes, symbols, and images in his artwork as a way to preserve his cultural roots and the roots of many other Latinos in Los Angeles. Cesar works in all mediums, from screen-printing to murals to illustrating books and CD covers. His work reflects his own indigenous and cultural roots from El Salvador.
Cesar was introduced to art by his uncle and began his first steps as an artist by emulating him. Growing up in Los Angeles influenced his artistic style through exposure to graffiti and through working collectively with other artists. Art became a commonality that allowed him to develop friendships outside the growing gangs in his neighborhood.
Cesar only spoke Spanish and Nahuatl when he first arrived in Los Angeles, so as a child he felt isolated because of his linguistic difference as he learned English. Consequently, he sees art as a method to conserve and promote language. His art embodies his trilingual background illustrating a Nahuatl, English and Spanish hybridity. Cesar depicts culturally influenced art because of the highly commercial and competitive art scene in Los Angeles. Art should be conscious according to Cesar. His goals as an artist are to create community, encourage the preservation of indigenous cultural roots, and point out political issues relevant to Latinos.
https://lagente.org/wp-content/uploads/2012/06/Screen-shot-2012-06-06-at-3.52.38-PM.png
479
541
Armando Bustos
https://lagente.org/wp-content/uploads/2014/04/LAGENTE156H.png
Armando Bustos
2012-06-07 06:00:10
2013-09-02 19:14:52
Interview with artist Cesar Uitz' Avala