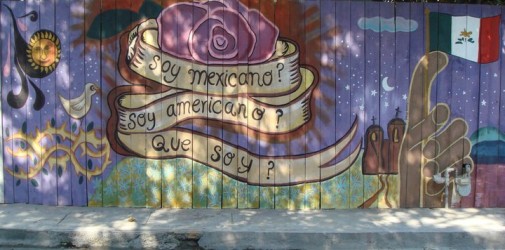 The film "From Prada to Nada" is a rehashing of Jane Austen's "Sense and Sensibility." When their Mexican father dies, sisters Nora and Mary are forced out of their Beverly Hills mansion and in with their aunt in East Los Angeles.
The marketing of the film focused on the materialism of the two girls, especially because they are forced to move to a low-income neighborhood. I feared another attempt at repackaging Latino culture in a superficial film for the masses. Surprisingly, it sweetly and comically portrays two young women learning to embrace their roots and family.
Despite having Latino servants who cook traditional Mexican food and a Mexican father with a big bigote who has mariachi for his birthday, Latino culture hasn't actually been a part of Nora and Mary's lives. Moving to East LA with their aunt and being befriended by a tattooed neighbor may be the archetype of Latino neighborhoods, but the portrayal of this neighborhood moves beyond the cholos and helicopters they first encounter. It becomes a hub of Mexican heritage, Spanish language, artwork, and community.
Nora transitions easily to her new home, learning Spanish, and dressing in colorful indigenous clothing. She uses her lawyer skills to take on a pro bono case defending Latino maintenance workers who were unjustly fired and eventually setting up an office to give free legal advice.
Mary takes longer to adjust, at first only identifying herself as Mexican to protect herself from cholas who call her a white girl and to impress her Mexican TA from school. In the end, she comes to accept her identity as something that is a part of her, not as something to portray.
Growing up, Nora and Mary experienced fragments of Mexican culture because of their father, but they did not have a community in which they could see all the pieces fit together and appreciate it until they moved in with their aunt.
One delightful aspect of the film is the featured street art. There is scene in which Bruno, the tattooed neighbor, teaches kids about the art and its significance (even referring to Judy Baca, a muralist and a professor at UCLA), creating the image of a flourishing community that also has beauty.
Another great perspective presented by the film is the diversity within the Latino community: their entrepreneur father, gardeners and servants in the mansion, the undocumented workers in East Los Angeles, the cholo in the low-income neighborhood, Latinos in the university, and the Latino artists. The range of Latino cast members is greater than a similarly mass-marketed film "Beverly Hills Chihuahua", in which they only seem to exist as gardeners or in Mexico.
The last scene includes a mural with the words "Soy Americano? Soy Mexicano? Que Soy?" These are questions many Latinos—not just of Mexican background—are likely ask themselves as they experience Latino culture in an American society. This film may have felt superficial to some, but at least I cannot deny the depth it presented with those last words.
Three out of four stars.
https://lagente.org/wp-content/uploads/2011/03/soy2-e1300122549351.jpg
250
505
admin
https://lagente.org/wp-content/uploads/2014/04/LAGENTE156H.png
admin
2011-03-31 13:28:44
2011-03-31 13:28:44
From Nada to Impresionada