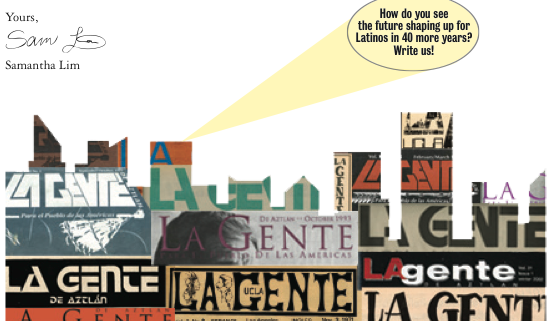 2011 marks La Gente's 40th anniversary, and to celebrate this milestone with our readers, we've asked past Gentistas to reflect on their experiences. We also explored some of our most memorable and influential moments captured in our newly-digitized archives.
Though we began representing the Chicano population during the height of their movement, La Gente has expanded its mission over the years to increasingly represent the diverse Latino community.
Our culture, as well as our community, is growing and transforming. Mexican author Jose Vasconcelos envisioned a world where humanity transcends race, territory and ideology with a new race that blends all others: "la raza cosmica." As a Salvi-Chinese Latina, I find myself meeting more people who, like me, embody the mixing of races and cultures usually thought of as far removed from each other—a confirmation of this evolving reality.
In this issue, we look to the future. We've covered developments in high school and college education, commentary on the future of race relations, expansion of Latinos in the media, and the evolution of our language, to name just a few.
We've advanced far from our beginnings, but a considerable distance still awaits us. Even with the in- creasing presence of Latinos in higher education, we're still often behind our peer graduation rates; the biggest factor affecting us is whether or not our institutions offer systematic support. Undocumented students on our campus have found peer support, but they still wait for institutional aid and immigra- tion reform.
Race and politics remain inseparable. To realize the goal of a unified cosmic race we must actively con- tinue advancements towards equality and maintain our optimism.
Let us celebrate our accomplishments by using history to inspire and appreciate what past generations of Latinos have achieved for us. Like the past, we must remember that our actions today, whether monumental or seemingly innocuous, will affect the future.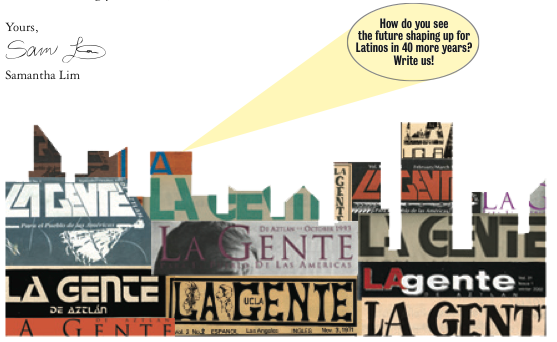 https://lagente.org/wp-content/uploads/2011/06/Screen-shot-2011-06-02-at-8.51.35-PM.png
342
557
admin
https://lagente.org/wp-content/uploads/2014/04/LAGENTE156H.png
admin
2011-06-02 20:56:06
2011-06-02 20:56:06
Spring 2011 The Future Issue: From the Editor