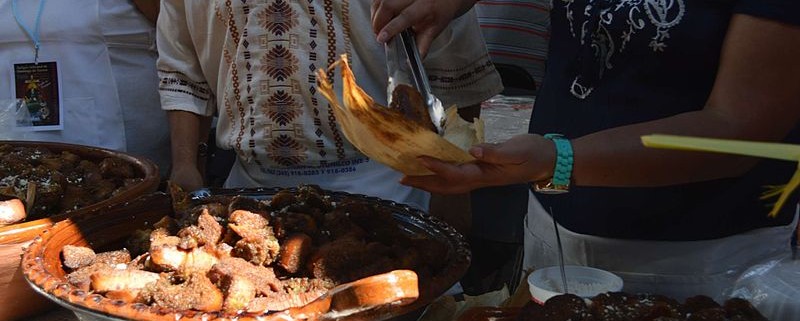 Easter might be over, but it is not too late to experience one of the most traditional and popular desserts of the season: capirotada. This seasonal dessert is the perfect potpourri, a concoction of the least likely ingredients brought together to create a delightful and unique taste. Although it makes use of a wide variety of ingredients (which may differ upon region), the steps to make capirotada are rather simple. Here I provide a recipe to cook capirotada traditional from Tijuana, Baja California, Mexico. Keep in mind that the quantity of ingredients is up for the person cooking, so they may vary.
Ingredients:
     Water (1 liter is suggested)
     Piloncillo
     Cinnamon
     Clove
     Birote/Bolillo bread cut into chunks
     Raisins
     Peanuts and/or nuts
     Monterey cheese strips
     Plantain slices
     Multi-colored sprinkle
Steps:
    Boil water with cinnamon, piloncillo, and clove within a medium-sized pot to make syrup. Once boiled, set aside.
    In another pot, place 2 or 3 corn tortillas at the very bottom so that the dessert does not stick.
    Place a layer of sliced birote/bolillo, and upon it lay and spread out the other ingredients. Use a sprinkling motion so that the ingredients will be randomly distributed throughout the width of the pot.
    Once this layer is done, shower with the syrup so that the ingredients beneath begin to soften.
    Repeat this process until desired quantity is reached.
    Finally, allow the layers to cook on a low flame until birote/bolillo is noticeably soft. When the bread is soft, then the capirotada is done!
https://lagente.org/wp-content/uploads/2015/04/capirotada.jpg
532
800
Maria Perez
https://lagente.org/wp-content/uploads/2014/04/LAGENTE156H.png
Maria Perez
2015-04-23 13:02:04
2015-04-23 13:02:04
Capirotada Recipe