It is that time of year again where we promise ourselves that we will eat healthier, eat less at restaurants, and hit the gym well.  My new year's resolution is to incorporate easy homemade recipes that any college student can make in less than 10 minutes.
Our lives as college students make it hard to follow a recipe from Martha Stewart, Bobby Flay, or Emeril Lagasse because we don't have the time or space to prepare a meal, or sometimes lack the  ingredients.  So I am going to turn to classic Latino dishes into college friendly, 10-minutes Latino wonders.
My first recipe is enchiladas.
Ingredients:
Sunflower Oil
Pinch of salt
Chicken Breast
Flour Tortillas
El Pato Tomato Sauce
Mexican Four Cheeses
Toothpick
Preparation:
1.  Pour EL Pato tomato sauce in a big flat plate. Warning El Pato tomato sauce is consider spicy to some people. You don't desire spicy, substitute it with regular tomato sauce.
Instructions:
1.  Lightly cover the pan with sunflower oil over medium heat.  I use sunflower oil because it is rich in Vitamin E and Omega-6 fatty acids. According to Livestrong.com, the Lance Armstrong foundation, sunflower oil helps control your blood pressure and metabolism.
2. Cook the chicken breast over the medium heat.  Add the pinch of salt during this process.
3. Take out the chicken breast when it's ready, or of your liking. But leave the oil in the pan.
5. Cut the chicken breast in thin slices, or shred the meat.
4. Grab a tortilla, and fry it for 10 seconds in the pan with the leftover oil.  Make sure that you are constantly flipping the tortilla.
5.  Take the tortilla to the flat plate of El Pato sauce.  Flip the tortilla in the sauce, until it's completely covered in the sauce.
6.  Put the shredded chicken and shredded cheese in the middle of the tortilla.
7.  Pin the tortilla with a toothpick, so nothing pours out.
8.  Cook it in same pan again.  Do not flip the enchilada. Pour on more sauce, if you want to, and add cheese to the top.  Cover it with the lid for about 30 seconds, so the cheese can melt.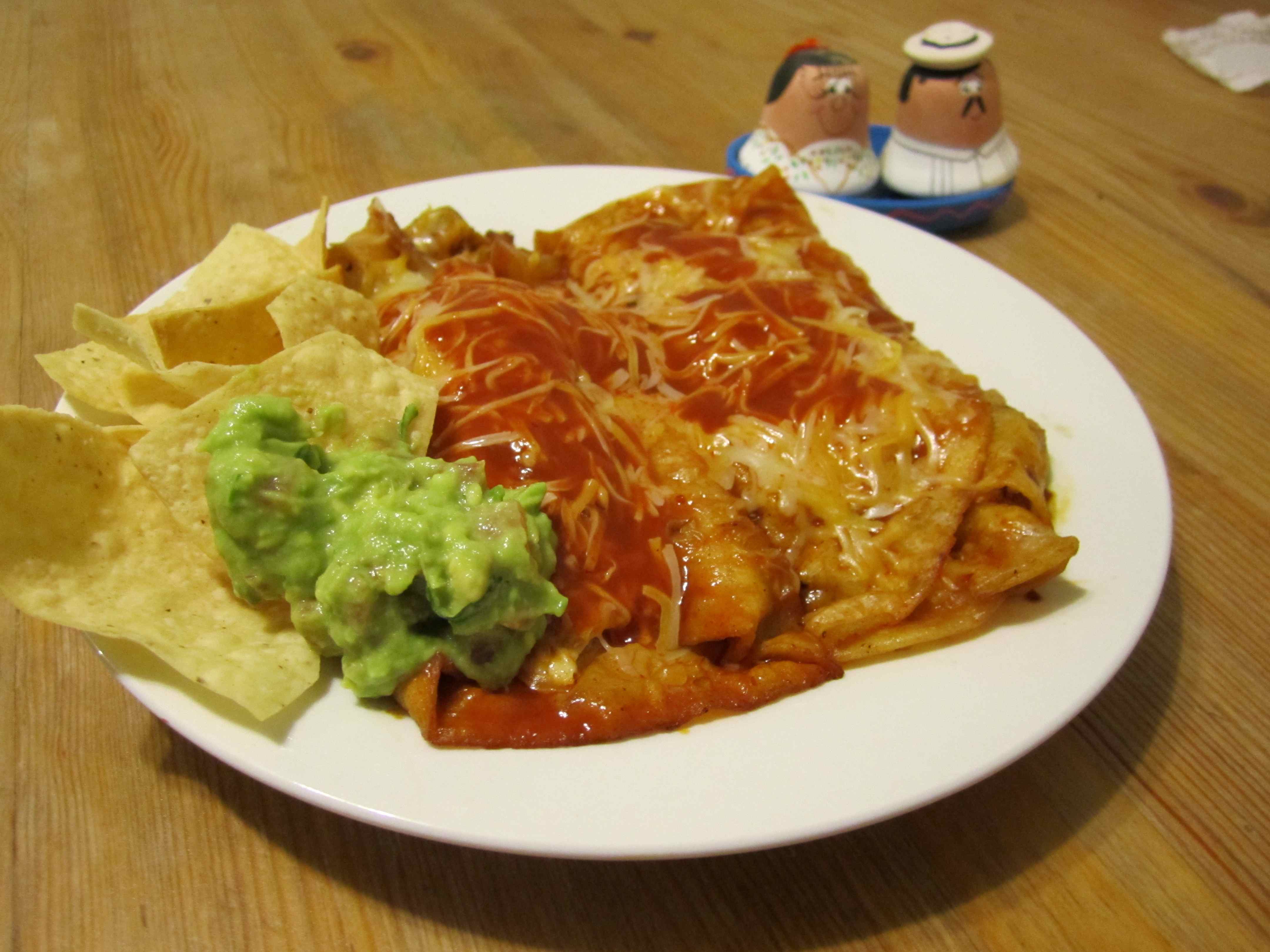 Repeat the process for your desire amount of enchiladas.  I did two.  Make sure that you remove the toothpicks before consuming.
The recipe takes less than 10 minutes to make 5 enchiladas.  The usual recipe for enchiladas involves the oven and longer time period.  Hope you like the shortcut.
Con Amor, la boquisabrosa,
Maria
https://lagente.org/wp-content/uploads/2011/01/enchilades.jpg
3240
4320
admin
https://lagente.org/wp-content/uploads/2014/04/LAGENTE156H.png
admin
2011-01-22 12:15:08
2015-01-22 19:45:24
Ten-Minute Enchiladas