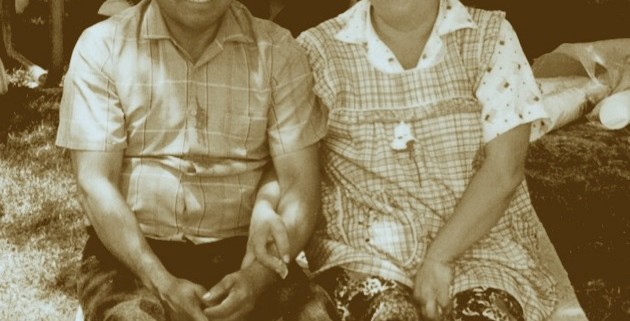 Poet Julia Alvarez writes that she is more of whom she is when she expresses herself on paper. And with that, I can relate. Seemingly, life is practice and motivation for my work of writing, where I effectively express the real me. And I owe my creative influence to the story of my Abuelito, whose work with his hands has inspired my work with my pen. It's taken me a long time to realize my inspiration. It's taken me a long time to just see my Abuelito and to understand his work of sacrifice. Recognition for an artist is life, whether it's an artist of writing, like myself, or an artist of nature, like my Abuelito, El Jardinero.
I remember Sunday gatherings at Abuelita's house, with inappropriate drunk uncles, over-dressed loud aunts, and infinite cousins. It was colorful as the garden around the house: my uncles like the palms, swaying weightless arms and legs like leaves; aunts like roses, faces coated pink and red, sweet too, but quick to poke with their thorns; and cousins like lemons, some more sour and handsome than others. But not until the sun dug into the earth, as does a tireless ant, was the family at its entirety.
He would arrive in his father's green loud truck with silver tools banging like Abuelita's pots and pans. Complicated to understand, with intimidating and imperturbable faces, but he knew the tools well—everyday with those tools, his companions, except rainy days. He tended to them, fixed them as if they were grandsons. In return, the companions cut more sharply. But that's the closest he ever got to a thank you.
He would shuffle into the house, no one noticing. Across his forehead soaked in sweat was a red bandana color of cuts grooving up his arms. Fresh brown and green spots stained his knees, adding to previous stains on his faded jeans. His boots, too, were worn from physical labor. No one in the family understood the path those boots took daily, or if they did, never showed they did. He cut, dug, and planted at large houses with great views of West LA sunrises and sunsets over beautiful landscapes that he probably attended to. He would then sit, hunched like daisies at the sight of light, and put on his huaraches. On the television, an American action film came on that I doubt he understood. For being forced to leave school at a young age, he was very intelligent—bien educado, though no degree nor diploma, but still managed to nourish his family, much like his gardens.
I would sit by his side, silently watching the film with him, paying attention to his tired smile. Like an almond, his face was wrinkled and roasted, and his hair as silver as his tools. His mustache was dark as soil with whiskers as frail and thin as the weeds he cut. Soil underneath his fingernails frowned at him and he constantly opened and closed his aching hands as if mimicking a flower blooming. Retirement was not on his mind, though every day he withered more like trees he eventually dug from the earth. But his eyes, similar to the color of caracol shells, never aged. He burned with determination and sacrifice for family, since a young age knowing love and its selfless duties.
But these gatherings soon ended. And family bonds had withered before I could realize how inappreciative we were of him, how we never stopped to think of how we got to where we were or think of the one that made it possible for us to sprout. He made this garden, this place of colorful and happy people, but we managed to dwindle him to the level of the ants.
Consequently, without having him tell me to do so I fall into his arms now, not a grandson being thankful for his allowance but a grandson hugging him and understanding him as the artist, the grandfather, the man, that he has been since a young age. Through my silent gesture of writing I hope he understands what he means to me; I hope he understands me the way he understands his flowers when their leaves turn brown at the tip and when their stems bend towards the sunlight.
https://lagente.org/wp-content/uploads/2013/06/photo-18.jpg
630
630
Michael Reyes
https://lagente.org/wp-content/uploads/2014/04/LAGENTE156H.png
Michael Reyes
2013-06-10 05:21:10
2013-10-26 07:16:19
El Jardinero