Hollywood's Grauman's Chinese Theater hosted Latino talent and supporters for the opening night of the 14th Annual Los Angeles Latino International Film Festival (LALIFF) providing an outlet and distribution opportunities for exceptional new stories created by or about Latinos.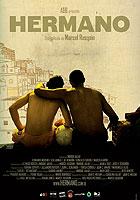 The festival commenced with the film Hermano, Venezuelan filmmaker Marcel Rasquin's first feature-length film, a family drama and sports film about disillusionment and motivation.
Hermano follows two Venezuelan teenagers, brothers by fate, after Julio and his mother saved Daniel from a dump when he was a baby. In a destitute neighborhood ruled by crime, making it on to the Caracas Futbol Club is the only way out for these brothers. They both have proven his talent, but each must make his own decisions about life, growing up, and getting out.
More than a compelling film about family, survival, and determination, Hermano exhibits incredible story-telling, outstanding actors in demanding roles, and impressive cinematography. The slum of La Ceniza is transformed into a central character, engulfing and spitting out its distressed inhabitants, as well as a rich postcard-like backdrop for viewers.
Rasquin described his process of reconnecting with his Venezuelan identity as personal motivation for Hermano. While studying film in Australia, Rasquin was exoticized because of where he came from, although growing up he was always interested in the world outside of Venezuela. This sparked a growth in interest for his culture.
LALIFF Opening night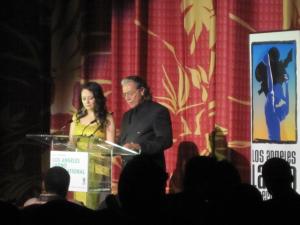 Edward James Olmos, co-director of LALIFF, actor, and director, noted that audiences do not have the opportunity to view about 90% of the films featured by the festival in commercial venues. Olmos stressed that audiences should come out to support and "see the best films that they can see from outside the United States of America."
Marlene Dermer, executive director of LALIFF commented on the importance of showcasing foreign and independent Latino films. "We [as Latinos] need to define ourselves. I love Hollywood films as much as anyone else, but it makes me feel good when I see a film about my community," she said.
Find out more about the program, schedule, and tickets at www.latinofilm.org
https://lagente.org/wp-content/uploads/2014/04/LAGENTE156H.png
0
0
admin
https://lagente.org/wp-content/uploads/2014/04/LAGENTE156H.png
admin
2010-08-20 08:15:29
2010-08-20 08:15:29
Hermano Kicks-off Latino Film Festival