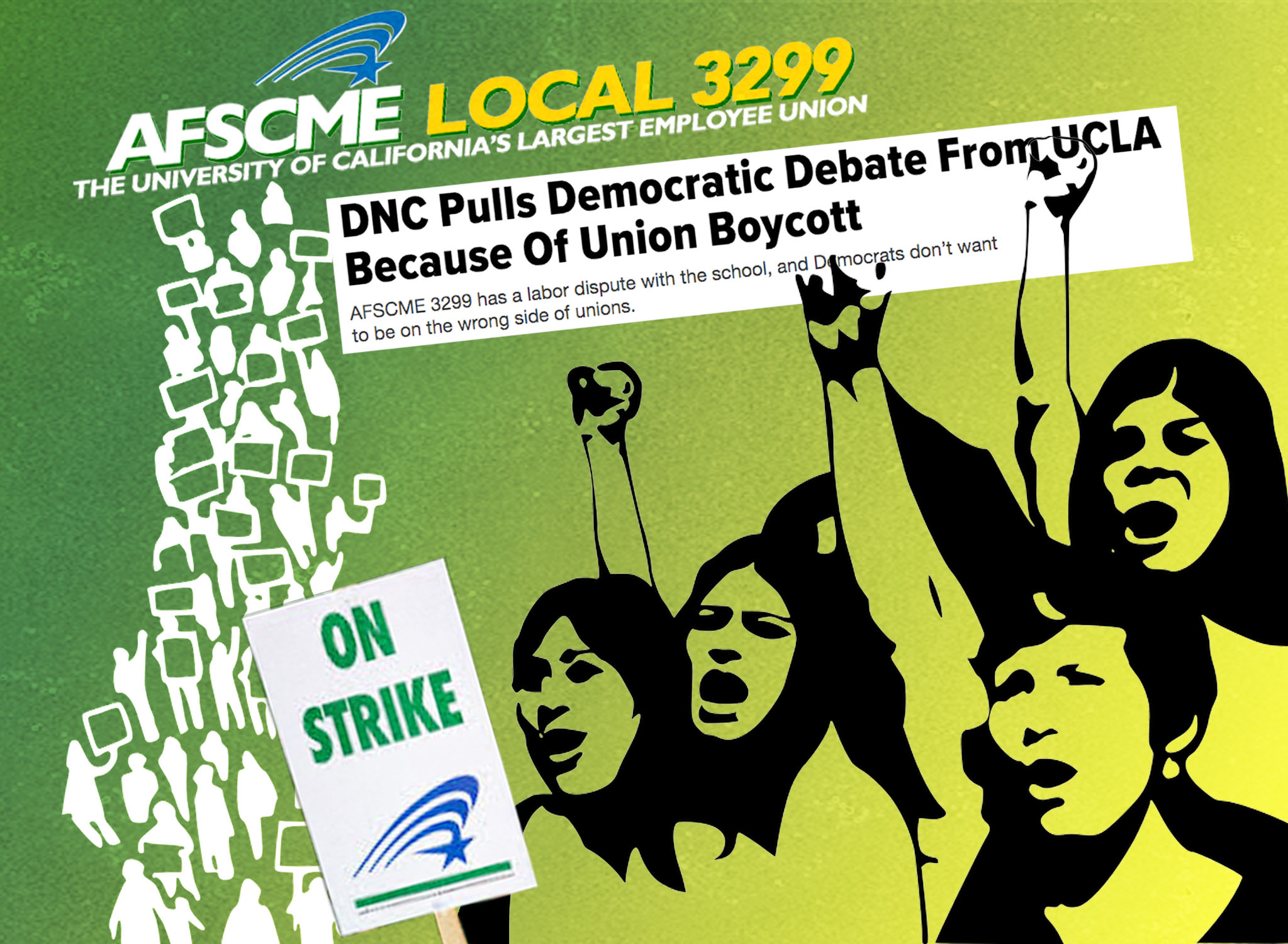 Contributing Writer: Myrka Vega | [email protected]
Visual: Jessica Martinez | [email protected]
The Democratic National Committee (DNC) announced Wednesday morning that UCLA would no longer host the sixth Democratic debate. The debate was previously scheduled to occur in Royce Hall on December 19, 2019. 
In a tweet, @UCLANewsroom stated, "the DNC asked media partners to move the Dec. 19 debate to another venue after renewed and unanticipated objections from organized labor. With regret, we have agreed to step aside rather than become a potential distraction at this important time." 
The announcement of a presidential debate to be held on campus was a source of excitement for many students. When the news first broke out, students expressed interest and immediately wanted to know how they could secure tickets for the debate. Although there was initial excitement, this is a move students are commending, as many of us have witnessed the ongoing, almost three-year struggle between the UC system and The American Federation of State, County and Municipal Employees (AFSCME) 3299  on our own campus. 
Karla Aparicio, a fourth year Political Science major said, "as a student who sees union strikers in their green shirts all the time, it's like, 'Oh shoot, finally we see some change.'"
Aparicio applauded the move by the DNC: "I hope the UC system and UCLA more specifically is able to see that this is a bigger issue. The union workers are not alone… If the DNC themselves are able to create change like that, then it is clearly a bigger issue."
AFSCME 3299 released a statement supporting this move by the DNC. "While a change of venue for this debate is no doubt inconvenient, it pales in comparison to the effect that the University's lawless outsourcing practices are having on thousands of families and communities across California."
While this move is a good start, it is not enough. The UC system must actually meet the union's demands. After nearly three years of advocating for better wages and working conditions, the UC system has continuously failed to do so. Broadly speaking, their demands include wage increases, better benefits (health care, family leave, parking rate caps), and job security. Most importantly, they want to end the excessive outsourcing practices by the UC, which have lead to the systematic mistreatment of their workers.
Union workers are pivotal to the success of these highly-respected institutions. They do so much for students — they feed, care, and clean up after us. Additionally, they help students of color feel at home and welcomed in institutions that weren't initially made for us. They deserve to feel the same levels of care and respect from the administration.
The UC needs to recognize the value of its workers and commit to fair negotiations They cannot stand on the backs of workers and claim diversity, excellence, and equality without acknowledging their own role in neglecting their workers' well-being. 
There is only hope that this move by the DNC can be a wake-up call for the UC to meet the demands of AFSCME 3299. If you want to get involved in the upcoming strike on November 13, 2019, fill out this form created by the Student Labor Advocacy Project (SLAP). They have also provided a PDF that outlines the protections afforded to student workers who wish to honor the strike in solidarity.
https://lagente.org/wp-content/uploads/2019/11/labor.jpg
1500
2047
Angela Vargas
https://lagente.org/wp-content/uploads/2014/04/LAGENTE156H.png
Angela Vargas
2019-11-07 12:11:32
2019-11-07 12:14:18
Increasing Visibility: The DNC's Decision To Prioritize Unions