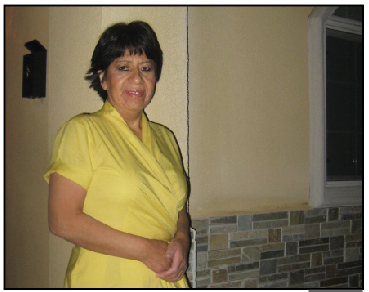 Writing a story about a housekeeper, I believed that I was writing about an invisible person who is normally ignored. For Bennie Herrera, her life was intertwined with her employers, "La manera como soy, posiblemente me tienen confianza, mas que cualquier housekeeper."
Bennie came because of her employer Amelia. Bennie worked for Amelia, in Peru, by

taking care of her three children, and then sold clothes at Amelia's boutique. One day Amelia asked Bennie to come to the US with her and she accepted. She came to the United States from Lima, Peru when she was 20 years old.
When Bennie got to the US with Amelia and her family, the pleasant working environment changed. Amelia's friends saw how well she treated Bennie and soon people started advising her to change. Amelia began to say that she would steal and she would not let Bennie leave the house.
With the help of her neighbors, Bennie was able to leave Amelia's employment to begin her path toward working in convalescent homes and cleaning homes. At one of the convalescent homes, she was introduced to Barney Industrial Company.
Barney Industrial Company gave her two houses to clean. She was 25 years old when she began to train to clean houses. John, one of the managers, taught her how to run her own business of cleaning houses. She then put an ad in a Pasadena newspaper to find homes.
People started to call Bennie, and she was now self-employed, setting her own prices, making more money, and having a flexible schedule. "Me relajo. Puedo cantar, puedo hablar con Dios, puedo pensar," she said. It is more than a job; it allows time for herself.
From 1996 to 2001, Bennie went through a divorce, which took up a lot of her time and money. Her ex-husband tried to provoke her employers to fire her and even told the judge that she worked too much and did not have time for their kids. The judge made her choose between her business and her kids. She chose her kids.
Despite her ex-husband's efforts, there were three households who remained by Bennie and these are the three that have meant the most to Bennie; that of Mrs. Rives, Judi, and Dr. Lavine. "Estas tres no creyeron en el," says Bennie.
They all called her on the first day that her ad ran in the newspaper and they are the ones who have continued to be by Bennie's side. "Con el cariño de ellos, no me he sentido sola," said Bennie.
For the past five years, she has been Mrs. Rives' personal caregiver. She is the one person Bennie works with everyday, while Bennie balances cleaning houses four days a week and working at convalescent homes the other three days of the week.
Their close relationship grew when Bennie was there to console Mrs. Rives for the death of her two sons and, later, the death of her husband. She would be the person Mrs. Rives could cry to, while also making sure Mrs. Rives did not forget to eat. Bennie remembers them crying together and holding each other to get through each death. Mrs. Rives' daughter, Nancy, has even told Bennie that it is because of her that Mrs. Rives is still alive.
Just as Bennie was there to console Mrs. Rives, Mrs. Rives and her other employers were by Bennie's side when she broke her wrist last year.
Judi stood by Bennie throughout her whole divorce and would try to take care of Bennie as much as she could. She gave Bennie furniture, plates, clothes, and other necessities. Bennie remembers that Judi called her when she went to the market just to ask if there was anything Bennie needed. "Ella fue una persona especial, se preocupaba de mi ropa, se preocupaba de mis niños, y se preocupaba si tenia comida en la casa," said Bennie.
At one point Judi moved to Palm Springs. Bennie drove the distance to continue to work for Judi. While Bennie no longer cleans Judi's home, they still have a very close relationship. In just talking about Judi, Bennie is reminded that she needs to call her to catch up.
In Dr. Lavine's household, Bennie transitioned from housekeeper to caregiver. Bennie would arrive at the house, and instead of cleaning as soon as she got there, Dr. Lavine invited Bennie to sit down and have breakfast with the family.
Dr. Lavine would even make Bennie lunch by buying Bennie's favorite things like turkey, tuna, muffins, Diet Seven-Up, and bananas. Bennie remembers Dr. Lavine, "¿Que patrona da eso? Ella se preocupaba que yo desayunara y que yo lonchara. Y cuando no me hizía comida, me daba diez dolares y me decia, 'you promise honey that you'll stop and get lunch.'" Bennie took care of Dr. Lavine until the day she passed away.
Just as many people might believe there is disconnect between the employer and the employee, Bennie realizes that her relationships have been special. "No las veo como extrañas personas." Her relationships tell a different story than just the one of an employee working for a paycheck.
"Mas que todo me miran como familia y no me tratan como housekeeper o como una empleada."
https://lagente.org/wp-content/uploads/2012/04/Screen-shot-2012-04-25-at-4.47.06-PM.png
292
369
admin
https://lagente.org/wp-content/uploads/2014/04/LAGENTE156H.png
admin
2012-04-25 16:52:48
2012-04-25 16:52:48
Offering More than Support