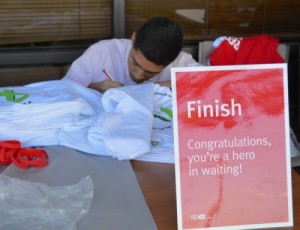 Raymond Ortega, 17, at the finish line of the "Drive 4 Life." 
LA CAUSA students gathered Monday Nov. 11th despite a day off from classes for a fellow classmate who suffers from Aplastic Anemia, which is a blood cell deficiency due to a failure in bone marrow development.
"Ive been fighting it for about four years," Raymond Ortega said.  "At the beginning it was really bad…I would be in the hospital, in and out…at least four to eight months at a time for just having a fever."
After being made aware of their classmate's condition, the students organized a bone marrow match drive, held Monday, outside the facility where they typically have classes. With special help from Delete Blood Cancer and El Tepeyac Cafe, the students organized an event for the community to participate in.
With such a condition, Ortega has had academic and social difficulties. "I didn't really go to school," he said. Further, Ortega shared that many wouldn't talk to him after he opened up about his condition. However, he says that over time he's found a sense of confidence in being able to share his story, especially at LA CAUSA.
Originally, one of Ortega's teachers, knowing of his condition, asked Ortega if a drive could be held in his honor. After Ortega shared his story with his classmates– a lot of whom did not know him– they began organizing.
"Honestly, it was a really quick process," Campos said, LA CAUSA student since October and lead organizer of the drive. She was chosen after peers heard her communicating on the phone; they were fascinated by her communication skills. Campos called the donors and organized other logistics of the drive.
"A lot of people donated; I was really surprised," said Campos. "I'm really proud of everybody."
With over 50 donations and a huge support from fellow classmates, Ortega says, "It feels good (to have) people that support me and other people that have the same thing that I do."
*Editor's note: La Gente wishes all the best to Raymond and his family.
https://lagente.org/wp-content/uploads/2013/11/DSC_0173-e1384217353945.jpg
230
300
Michael Reyes
https://lagente.org/wp-content/uploads/2014/04/LAGENTE156H.png
Michael Reyes
2013-11-11 02:49:55
2013-11-15 02:32:16
Student-led benefit inspired by classmate's illness