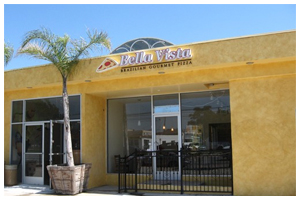 In the midst of the Venice Boulevard, between Sepulveda and Overland, stands a pizzeria  between a leather shoe store and a tattoo parlor.  What do they have all have in common?  They take pride in their Brazilian culture.  Bella Vista Pizzeria takes one of Italy's greatest exports (pizza) and gives it a twist.  In Bella's courtyard I'm surrounded by tall trees that semi-block the light from the window roof; beyond there were the cattle-skin chairs I sat in, setting up an image of the environment of Brazil.
I ordered their specialty: all-you-can-eat for only $12.99.  The workers will come to my table several times with different pizzas, serving you as many slices as you like.  I tried several types as follow:
Carne Seca
Dry beef, leeks, mozzarella cheese and black olives pizza.  I am not fan of the briney taste given off by the dry beef, which overwhelms the mozzarella.
Margherita
A typical Italian margherita pizza made with mozzarella, parmesan, basil, and tomatoes.  It has the delicious classic taste of margherita, the only difference is the ingredients are exported from Brazil.
Vegetarian
Mozzarella cheese, corn, mushrooms, broccoli, bell pepper, and black olives.  A perfect option for vegetarians, the delightful taste of the bell pepper doesn't overpower the taste of the other vegetables.
Romana
Mozzarella cheese, anchovies, tomatoes, black olives, oregano.   I usually dislike anchovies, but the taste of this pizza had such a zesty taste that I forgot I was eating them.
Strogonoff
Beef  strogonoff and potato sticks.  Beef strogonoff is (Russian) sautéed beef. The combination with the potato sticks gives it a crunchy texture.  This is definitely on the top of my picks for pizza.
4 cheese
Mozzarella cheese, catupiry, provolone, and parmesan cheese.  This is the cheesiest of them all, and quite a delight. Catupiry, a cream cheese made in Brazil, makes this unique.
Pepperoni
The classic is ok.  If you are eating here, I will advise you not to chose this option because it is like any other.
Rúcula com Tomate seco
Mozzarella di buffala, dried tomato, arugla. The aroma given by the arugla complements the sweet taste given by the dried tomato.  A must have.
If these taste are too much, the all-you-can-eat comes with dessert.  Not after finishing all of the pizzas they offer, but in between each round of pizza.
Banana com canela
Mozzarella cheese, banana, cinnamon.  At first when I heard that they make dessert pizza, I was pretty surprised.  The combination of the cheese, banana, and cinnamon is pleasant.
Brigadeiro com Morango
Chocolate and condensed milk, and strawberries.  It was first mouth-watering, but by the second bite the condensed milk and the chocolate give an overpowering taste of sweetness.  I don't have such a sweet tooth, so this type of dessert is for the admirer of super sweets.
Overall, Bella is the place to discover new types of pizza, too mingle and to watch fútbol, if you are fan.  I recommend this place for exotic pizza.
Rating: $: Comida Cómodo
Com Amor (Con Amor), la boquisabrosa,
Maria
$: Ajy, it's pocket friendly!
$$: Comida Cómoda
$$$: la dolorosa
https://lagente.org/wp-content/uploads/2010/11/bv1.jpg
200
300
admin
https://lagente.org/wp-content/uploads/2014/04/LAGENTE156H.png
admin
2010-11-03 19:07:43
2015-01-22 19:45:24
Bella Vista Pizzeria