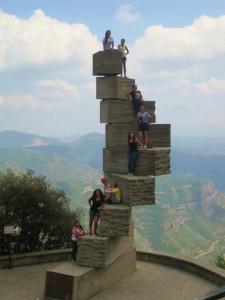 Growing up, I never thought making a trip to Europe was a possibility.  I always thought it would be a trip I could do later in life, once I was older and had a full time career.
Before the summer of 2012, I had only traveled close to home within the U.S. and Mexico. But this past summer, I traveled to three more countries: Spain, France and Italy. Seven months later, I find myself reminiscing and constantly thinking about Barcelona, the Mediterranean, La Sagrada Familia, Casa Milà, Parc Güell, patatas bravas, butifarras, paella, and I wish I could make the trip all over again.
Although, it has been the most expensive trip of my life; I don't regret it. Every penny and every euro was worth the great experience. Throughout the trip our professor led us on many tours of Barcelona, which included the Barrio Gotico, the Vila Olímpica (home of the 1992 Summer Olympics), and the Cathedral of Santa Eulalia. My favorite tour was entering the underground tunnels created and used by the city's residents to protect themselves from aerial bombardments during the Spanish Civil War. Because of these tours I can sincerely say I fell in love with the city. My background as a History major made my experience much more enriching because I was seeing first hand many of the historical buildings and monuments I had learned about in previous classes. Not only was I sight-seeing but I was also further expanding my knowledge of the city's history and culture.
I am glad I decided to participate in this travel study program because many people get caught up in living their lives and sticking to their daily routines instead of traveling and seeing the world. Now that I have visited these countries I have realized that the world has so much more to offer than what we see back home. One of the most impressive sights I witnessed was seeing the creation of human towers. I never thought it was possible to build a tower of ten tiers solely consisting of human bodies.
I encourage everyone to study abroad whether it is for a summer, a quarter, or even a year. If you have the opportunity, take it!. Studying abroad is an eye opening experience that introduces you to different histories, cultures, languages, traditions and foods. Who knows when another opportunity like that will present itself. The experiences and memories will be with you for the rest of your life. My experience abroad created a yearning to continue traveling. I want to add to the countries I have already visited; my list includes Egypt, Japan, England, Australia, as well as all of Latin America and the Caribbean, for now!
https://lagente.org/wp-content/uploads/2013/02/IMG_0535.jpg
3264
2448
Bernadett Leggis
https://lagente.org/wp-content/uploads/2014/04/LAGENTE156H.png
Bernadett Leggis
2013-02-11 08:50:09
2013-09-02 18:59:11
Barcelona: The City of Dreams