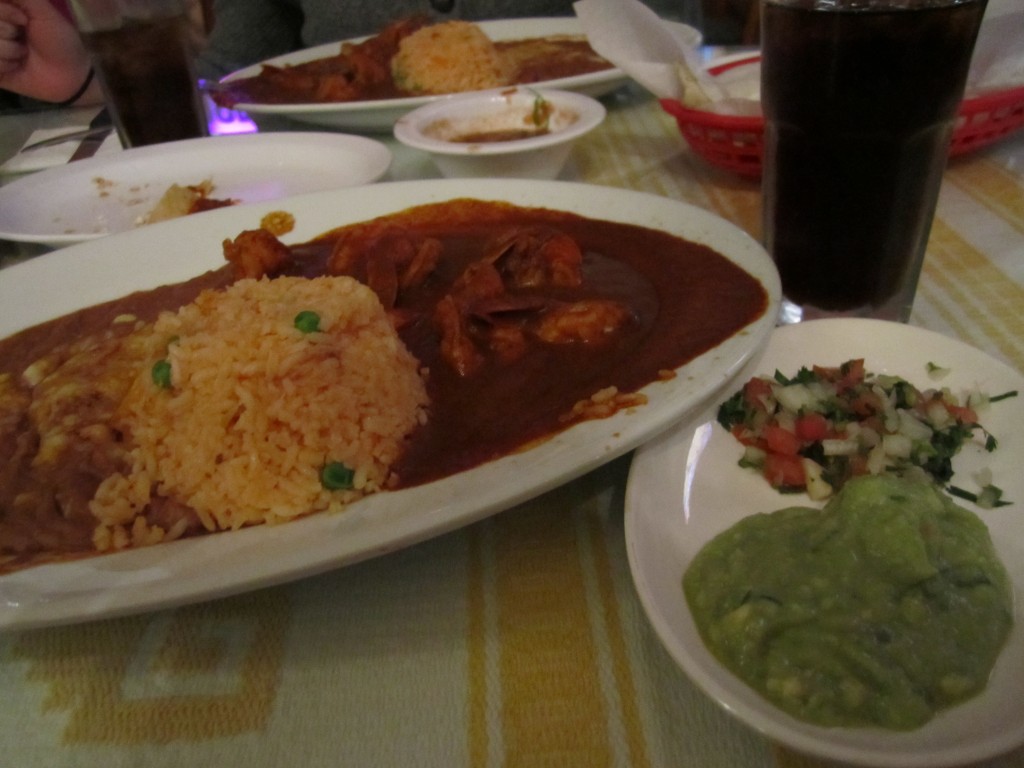 After a week of midterms, I hopped on line 1 of the Santa Monica Big Blue Bus, to find a hole in the wall to satisfy my hunger. "Tener hambre de león" (to be hungry as a lion), is how the saying goes in Latin America, and it suits the hunger I had. My intentions were to find the restaurant Churros Calientes, but traffic on Santa Monica Blvd just made me hungrier.  I decided to get off early.
I got off at Federal Ave and Santa Monica; in less than a block I found an Oaxaqueña restaurant called Juquila.  This restaurants claim to serve "authentica comida Oaxaqueña," in other words the original food from the state of Oaxaca, Mexico.
The environment was calming and the perfect place to have a relaxing dinner and sobremesa (conservation with friends).  I ordered a Camaron a la Diabla (Spicy Shrimp) served with Mexican rice, beans, guacamole, and pico de gallo with a burrito style tortillas (handmade).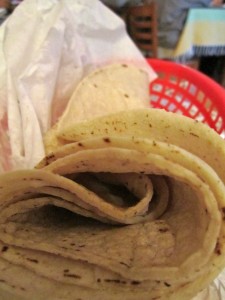 This dish was so fiery, that it can blaze your tongue.  Warning to readers, I love chile, and ordered the spicier option because I love when food makes you sizzle inside and to me it was delicious.  If you cannot handle that much heat, they have a milder option too.  The sauce of the Camarones a la Diabla was consistent, not too watery or too thick.
The rice was fluffy and the beans were perfectly mashed.  The guacamole was just avocados mashed with a hint of garlic, served with pico de gallo if you want to mix it together.  I like it separated because I just wanted the creamy texture of the avocados to help balance the spiciness of the Camarones.
I noticed most of usual clients ordered Parrillada Oaxaqueña.  This dish is a combination of oaxacan meats brought to you in a small grill with grilled chiles, onions, and black beans.
Unfortunely, I was not able to try it, since I was full with my dish.  Next time, it is on my Food bucketlist.
Juqila Restaurant is located at 11619 Santa Monica Blvd, West Los Angeles CA 90025. For more information, please visit their website.
If you are a UCLA student, take the SMC Big Blue Bus 1 or 2
Price: $: Comida Cómodo
Con Amor, la boquisabrosa,
Maria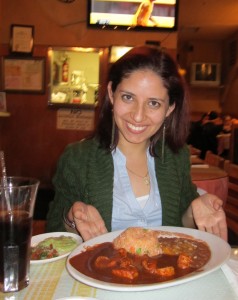 If you like this article, become a fan on my Facebook Fan Page.
https://lagente.org/wp-content/uploads/2014/04/LAGENTE156H.png
0
0
Maria Renteria
https://lagente.org/wp-content/uploads/2014/04/LAGENTE156H.png
Maria Renteria
2011-02-08 21:23:30
2015-01-22 19:45:24
Restaurant Review: Juquila