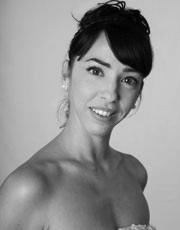 by Raquel Nieves
Classical ballet originated in European courts and for many years was dominated by European countries. Europeans introduced ballet to the states at the turn of the century, and up until the 1980s most ballet stars in America were either from the Soviet Union or England. Today, Latin American dancers are reviving the art of ballet all over the country as it takes on a new demographic and brings in new audiences.
Major ballet companies in the US such as American Ballet Theater, Boston Ballet and San Francisco Ballet found success with the help of Latino dancers. At American Ballet Theater, the United States' most prestigious ballet company, seven of its 17 principal dancers are Latin American.
Strong ballet training is a key aspect of the growing participation of Latinos in classical ballet. For example, Escuela Superior de Ballet, of Guadalajara Mexico, is responsible for more than a third of the winners in American ballet competitions such as the International Ballet Competition and Youth American Grand Prix.
Cuban ballet schools also find success because of the country's rich history in ballet. Cuban ballet legend, Alicia Alonso created the Cuban National Ballet in 1948 and also was a co-founder of The American Ballet Theater in 1940. In addition, ballet has been government sponsored in Cuba after Fidel Castro underwrote a network of state-sponsored ballet academies that are still going strong.
Sisters Lorena and Lorna Feijoo trained with Alonso's Cuban National Ballet. After immigrating to the US, Lorena is now principal dancer with San Francisco Ballet and Lorna, a principal with Boston Ballet. Both Feijoos have danced every lead female role in ballet's repertoire and have also performed contemporary works by choreographers such as George Balanchine, William Forsythe, and Cristopher Wheeldon.
Latin American dancers are extremely talented and bring an amazing caliber and style to the art of ballet. Jose Manuel Carreno, a Cuban principal dancer with American Ballet Theater, seems to jump seven feet in the air with absolutely no effort. His upper body remains fluid and elegant, as he performs impossibly fast footwork and busts out nine flawless pirouettes.
And all aspiring ballerinas can look up to another Cuban dancer, Xiomara Reyes. Reyes, a principal dancer with the American Ballet Theater, has a dance quality unlike any other ballerina on stage. Every step, from a simple plié to the most intricate turn combination, is delivered with complete intent and passion. Reyes trained with The Cuban National Ballet School and has danced with top ballet companies across the world such as Royal Ballet London.
Company after company hires dancers from Mexico, South America, and the Caribbean who quickly scale the ranks from corps de ballet to principal dancers. This influx attracts the press back to ballet, bringing Latino interest and encouraging young Latinos to pick up ballet.  Ballet rehearsals all over the country are becoming bilingual, as Latinos continue to be the up and coming force in American ballet.
Previously printed Fall 09
https://lagente.org/wp-content/uploads/2010/01/LornaFeijoo.jpg
230
180
admin
https://lagente.org/wp-content/uploads/2014/04/LAGENTE156H.png
admin
2010-01-22 22:08:56
2010-01-22 22:08:56
Reviving the World of Ballet